2012 Mock NBA Draft Top 10: Anthony Davis, Bradley Beal Among Hot Names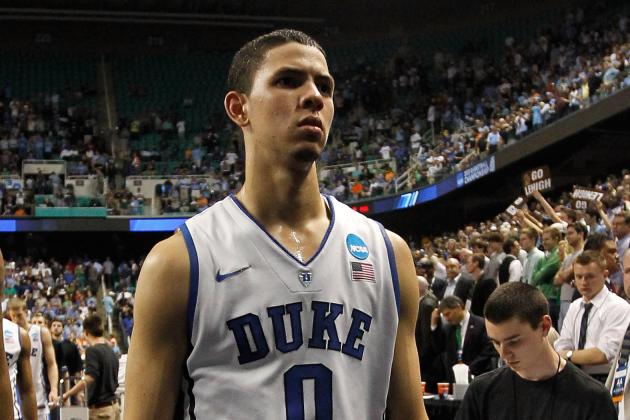 Streeter Lecka/Getty Images
Is this really how Rivers ends his brief college career?
With March Madness in full swing, the 2012 NBA draft is only a few months away. As usual, underclassmen are the talk of the tournament, with Kentucky not surprisingly leading the way with several talented players.
While Duke's Austin Rivers is rumored to be announcing a decision soon, Florida's Bradley Beal and Kentucky's Anthony Davis are high on many team's wish lists due to strong tournament runs.
With the NBA season winding down, here is a look at a projected top 10 in the 2012 NBA draft, based on recent records of the worst NBA teams this season.
Begin Slideshow

»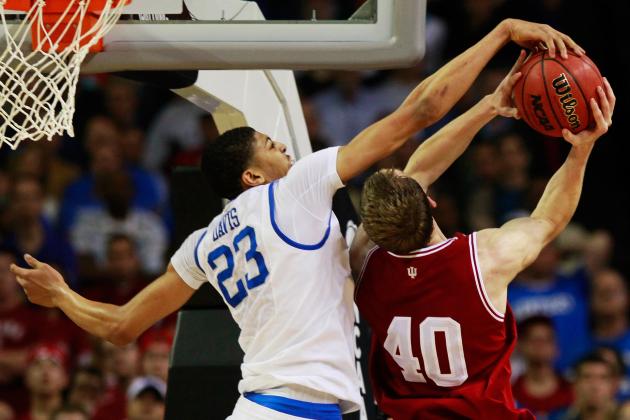 Kevin C. Cox/Getty Images
Davis with one of his many blocks this season
We know Michael Jordan can't possibly do as badly as his infamous Kwame Brown pick. While Davis is far from a sure thing at the next level (see Greg Oden), he is as safe a pick as Jordan can go for in this crop of underclassmen.
Kentucky coach John Calipari pointed out something very interesting about Davis tonight on CBS. He takes the fifth-most shots among Kentucky's starters. That tells you he doesn't feel like he needs the ball all the time. Davis just goes out and plays. And his play has been a major reason Kentucky is the favorite to win the national championship.
The Bobcats need a little bit of everything, but Davis is a solid building block. In a way, he's an upgrade over Emeka Okafor, a player Charlotte had patrolling the lane for a long time.
With the decent rookie campaign by Bismack Biyombo, Charlotte would have two young, athletic bigs on the inside.
While Davis is a good start, I think it would take Kentucky's entire starting five and some key free-agent acquisitions before Charlotte would be competitive again.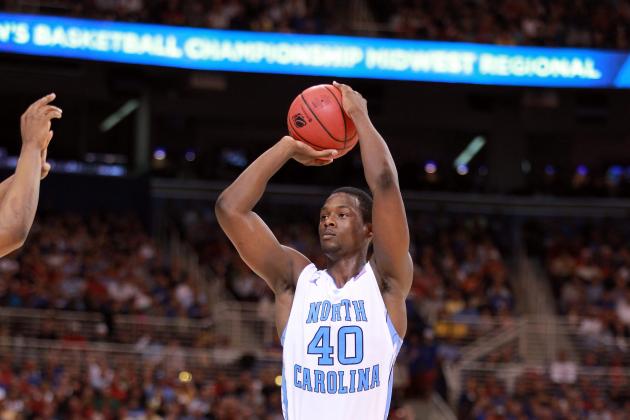 Andy Lyons/Getty Images

Washington is obviously set at point guard with John Wall and center with recently acquired Nene. However, the team after that is largely in flux. Rashard Lewis is aging and small forward is a critical position.
In a league where LeBron James is the best small forward, I see the Wizards selecting someone who can guard a player like James and create points for himself.
I would argue that Barnes' stock has slipped some this season, but I think he still earns a selection as a high lottery pick. At 6'8", Barnes projects as a small forward. While Thomas Robinson at power forward is a safe pick here, Barnes has more "potential" to be a star in the league.
For the Wizards' sake, let's hope he's not like Marvin Williams, another UNC early draft selection who has failed to live up to expectations..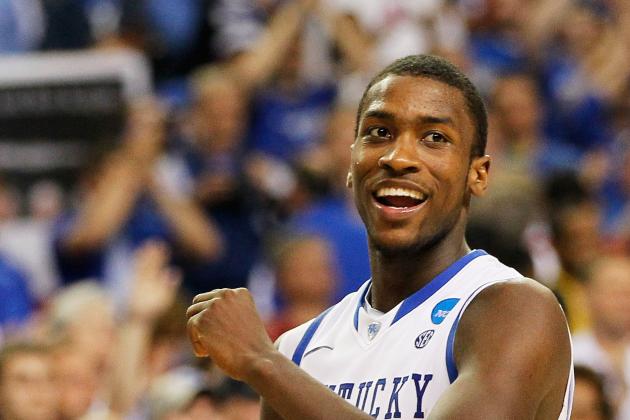 Kevin C. Cox/Getty Images

The Hornets are a mess. We know they are probably losing Chris Kaman and Eric Gordon, and their best player under contract for next season becomes a debate between Emeka Okafor and Jarrett Jack. That's scary!
Small forward is probably their greatest need, which means the Hornets can choose from Kentucky teammates Michael Kidd-Gilchrist and Terrence Jones. While Jones may play power forward at the collegiate level, I see him playing both forward positions at the next level.
That being said, the Hornets will opt for Kidd-Gilchrist here. Averaging a bit more than 11 points and seven rebounds per game (according to ESPN.com), his potential is greater than many sophomores simply because he has only played one season.
This is a tricky pick for New Orleans. Because Kentucky has so many talented players, it's hard to gauge which players will excel at the next level. But despite any such concerns, Kidd-Gilchrist brings raw athleticism to the Hornets, who I think will select him with the third pick.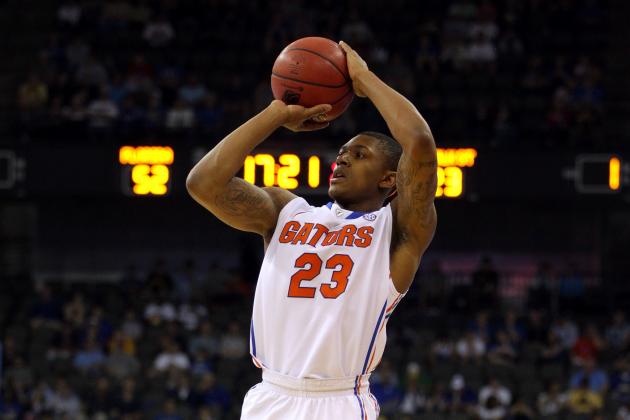 Doug Pensinger/Getty Images
Beal's stock skyrocketed in the past two weeks
If Bradley Beal enjoyed the college life, he should stay three more years in Gainesville and become the next great collegiate shooter.
But if he has his eyes set on the NBA, now is the time to declare.
Beal is a fantastic shooter, great athlete and scorer. NBA teams need scorers. The immediate comparison that comes to mind is Ray Allen. They both have a pure shot, and both played for prestigious programs.
Beal was a star in high school at Chaminade in St. Louis. He effortlessly drained shots from all over the court, and that shooting touch carried over to Florida. If any player has ever benefited from a magical NCAA tournament, it should be Beal.
While we cannot be sure he is coming out, odds are he will. And if he does, the Blazers will snatch him up early in the draft, using the pick acquired in the Gerald Wallace trade.
The Blazers are completely starting over, so there is little use analyzing the role Beal could play in Portland.
What does come to mind is Portland's early selection of Martell Webster several years ago. It took quite a while for Webster to develop into a consistent scorer.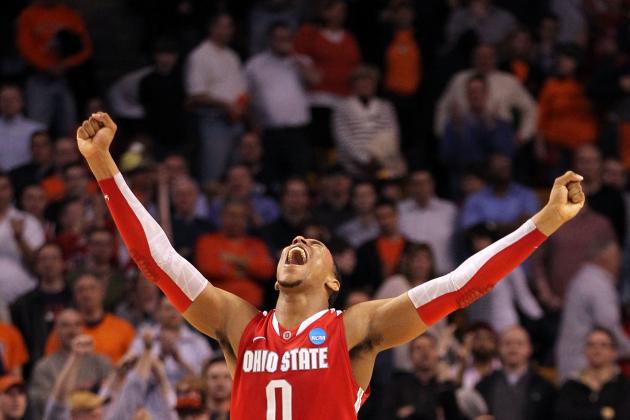 Jim Rogash/Getty Images
Sullinger won't be doing this when the Raptors pick him
The Raptors, like other teams in the lottery, lack star players who can carry them into the playoffs. What Toronto needs with this pick is a winner. Forget the lack of height for a big man. Forget any prior injury concerns.
The Raptors would be wise to take Ohio State star Jared Sullinger. Anyone who watched him bully (a Fab Melo-less) Syracuse in the paint Saturday night, should know he will be a solid, if unspectacular, NBA player.
He chose to stay in school last year when many saw him as a top-three pick. But now that OSU has made the Final Four, Sullinger will come out and deserves to be a very high pick in the draft.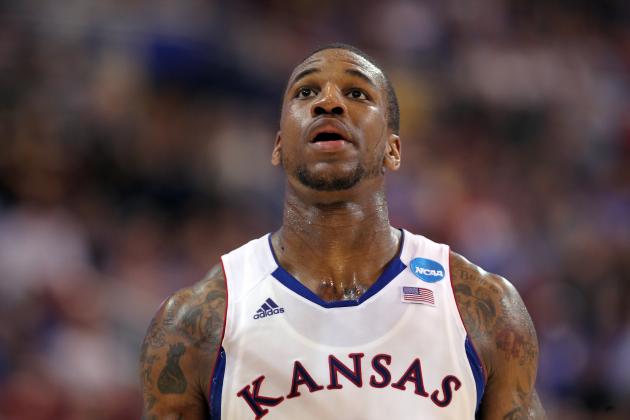 Andy Lyons/Getty Images

Cleveland's biggest need is probably power forward. They have a promising point guard in Kyrie Irving, and last year's other pick, Tristan Thompson of Texas, has been starting as an undersized center. But beyond that, Cleveland probably could use an upgrade at every position and should take the "best available player" should they pick sixth.
Thomas Robinson may well be the college player of the year and could bolster a front line that includes Thompson and an aging Antawn Jamison. Cleveland is very thin at the forward spot in terms of quality players. Robinson could provide minutes at both the power forward and center.
He has been a beast all season for the Jayhawks. Assuming he is on the board with this pick, the Cavaliers have a no-brainer of a selection.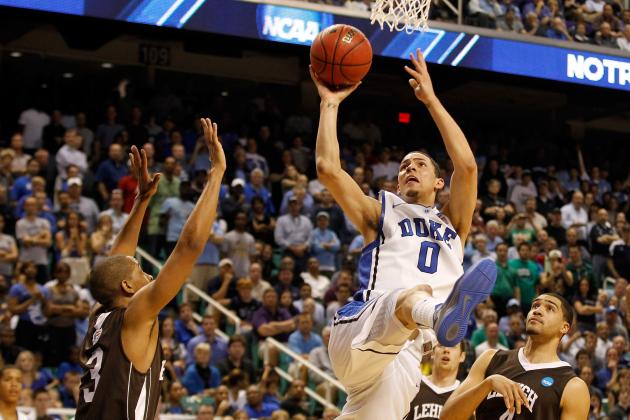 Streeter Lecka/Getty Images

The Kings are young and messy. Recently, Isaiah Thomas of Washington Husky fame has been starting at point guard while Tyreke Evans has been used more as a shooter.
With DeMarcus Cousins still maturing at center, the Kings need veteran help and would be wise to trade this selection.
I want to propose a wild theory. The Kings should trade the pick to the Boston Celtics. In return, the Kings get Rajon Rondo, a player long-rumored to be on the trading block.
The Celtics receive the seventh pick, the Kings first-round pick (top-three protected) in 2013, and Tyreke Evans, ending the experiment with the mercurial guard.
Would the Kings go for this? Who knows? But assuming they would, this allows Boston to select the Duke phenom.
How intriguing would this be? Doc Rivers coaching his own son as a Celtic.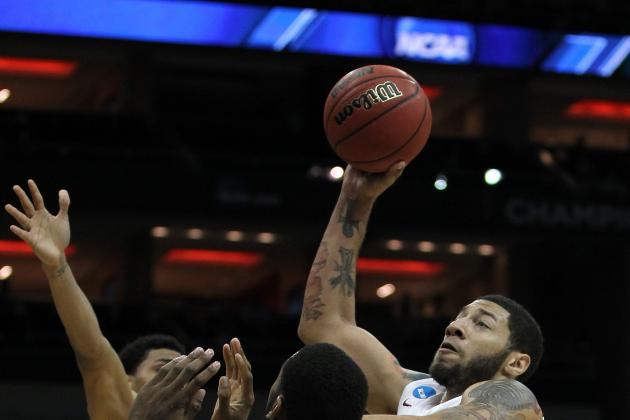 Jonathan Daniel/Getty Images

The Pistons will be in a tough spot midway through the lottery. There won't be any immediate impact guys, but Drummond is a big guy (6'11") who might seem like Greg Monroe. But quality big men don't grow on trees.
The Pistons are OK at point guard, shooting guard and small forward, so perhaps they take a chance on the talented UConn big man. His stats were not eye-popping. But he has the potential to be a starting center in the league.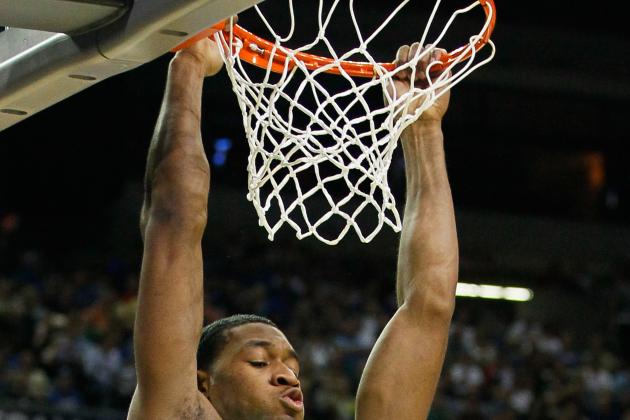 Kevin C. Cox/Getty Images

Assuming a healthy Andrew Bogut can slide into the center position next season, Perry Jones III projects as a starting power forward to go along with young phenom Steph Curry.
After a slightly disappointing regular season, Jones has been good during Baylor's run this March. Still, his NBA draft stock probably has dropped a bit from last season. But he remains super-athletic and with the Warriors could be a lethal force in transition.
Wouldn't this be a nice story for Golden State? Oh, I forgot, they traded this pick several years ago for Marcus Williams. Perry Jones III will instead be taking his talents to the Utah Jazz.
Where is Mr. Williams these days?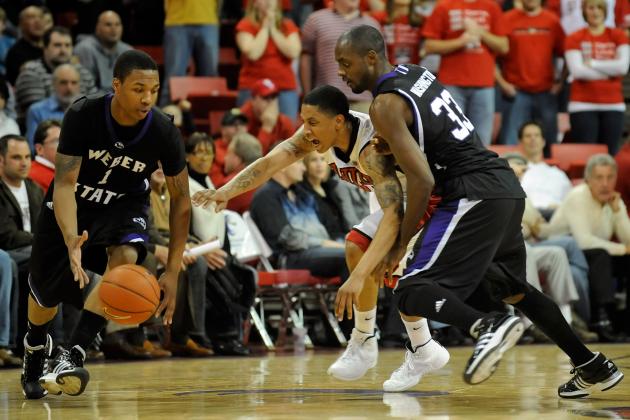 Ethan Miller/Getty Images

The Blazers will look at several point guards but will ultimately choose Lillard, the high-flying guard from Weber State who averaged nearly 25 points per game this past season (according to ESPN.com). Granted a medical redshirt for a shortened junior campaign, Lillard was fantastic this season.
While the Blazers may consider UNC's Kendall Marshall and Washington's Tony Wroten, Lillard ultimately gets the nod as the most accomplished scorer of the group.