2012 NCAA Tournament: The 3 Best Performances from Saturday's Elite 8 Action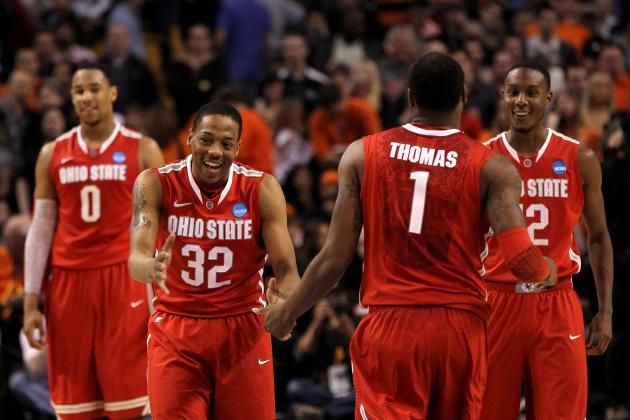 Michael Heiman/Getty Images
Lenzelle Smith Jr and other Buckeyes celebrate Ohio State's 77-70 win over Syracuse.
Whenever the NCAA tournament comes around, you know heroes and goats are going to emerge.
During Saturday's Elite Eight action, Louisville and Ohio State emerged victorious, while Florida and Syracuse fell short of a Final Four trip. Both games were close, with Louisville beating Florida by four and Ohio State prevailing over Syracuse by seven.
While both teams won because of a team effort, individual performances stood out. Louisville's star fouled out with four minutes left (when the Cardinals trailed), but two players picked up the slack.
The Buckeyes had their star out for 13:42 in the first half, but even with him back, they needed someone to make clutch shots.
And someone responded.
Here are the three best performances from Saturday's action.
Begin Slideshow

»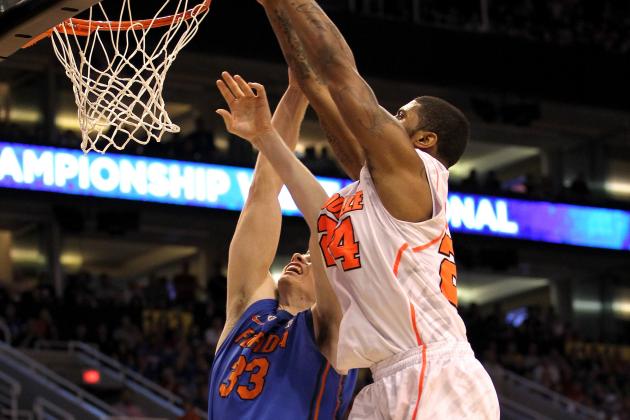 Jamie Squire/Getty Images
Louisville's Chane Behanan fights for a basket.
With Erik Murphy and Patric Young down low, Florida seemed to have a huge edge. Chane Behanan took away a lot of that advantage.
Behanan had 17 points and seven rebounds, including the go-ahead basket that powered Louisville over Florida 72-68. With Missouri, Marquette and Michigan State, nobody expected Louisville to make the Final Four. Behanan helped make the unlikely dream a reality.
With the Cardinals down 11 and Behanan with just six points, he drained two free throws, then knocked down a three. Behanan made another jumper, and after five more Louisville points, the Cards trailed by one.
The Gators made a free throw, but Behanan answered with a short, tough floater to tie the game. With the Cardinals down 68-67, Behanan made the same shot, putting Louisville up 69-68.
Down low, Behanan fought for rebounds, scored in the clutch and powered Louisville's victory over Florida.
His reward? A trip to the Big Easy to compete for the championship.
Jim Rogash/Getty Images
Jared Sullinger and Lenzelle Smith Jr celebrate Ohio State's win over Syracuse.
Many thought Ohio State would run all over Syracuse with Jared Sullinger, Aaron Craft and DeShaun Thomas. Instead, they needed help from an unexpected source.
Lenzelle Smith Jr. scored 18 and made big shots in the clutch as Ohio State held off Syracuse 77-70 to advance to the Final Four. Aaron Craft scored just five points in 39 minutes, and against a top seed, that's tough to overcome.
Smith Jr. made it a whole lot easier.
After scoring just two points (on free throws) in the first half, most expected Smith Jr. to be a non-factor. Instead, he nailed tough threes, making two tough ones from the right wing. Thanks to Smith Jr., the Buckeyes held a small lead in a tight game.
With under three-and-a-half minutes remaining, Smith got the ball on the right wing. He penetrated, stopped and launched a tough floater. He nailed it, and four of his free throws in the last minute sealed the win for Ohio State.
Thanks to Smith, the Buckeyes are headed to the Big Easy.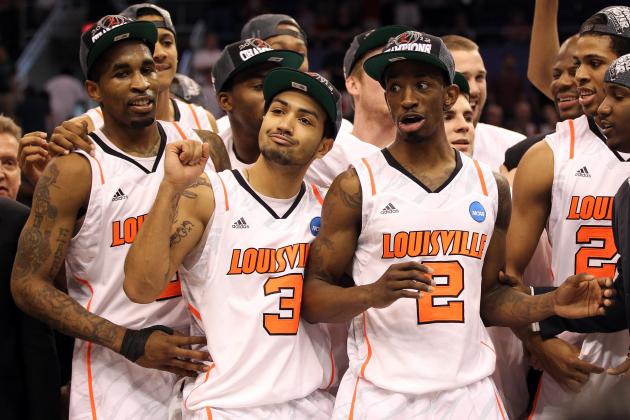 Jamie Squire/Getty Images
Russ Smith and teammates celebrate Louisville's 72-68 win over Florida.
As I mentioned earlier, Louisville's star fouled out in a tight game with just under four minutes remaining. So who stepped up? Russ Smith.
Louisville was trailing 65-64 when Peyton Siva committed a foul that sent Patric Young to the free-throw line (he made one of two shots). The foul was Siva's fifth, fouling him out. Russ Smith was forced to take over at point guard, and he excelled.
Smith handled the point guard duties, and while he made one bonehead turnover that gave Florida the ball with 19 seconds left, Bradley Beal traveled and handed the ball right back to Louisville.
Smith made two free throws, which was huge, because instead of taking a quick three, Florida could've tied the game and forced overtime.
However, before Siva fouled out, Smith made a huge impact. Louisville trailed by six when Smith drained a triple from the right corner, and on the ensuing possession, Smith drove into the key, pulled up and drained a jumper.
With a game-high 19 points and 13 of Louisville's last 26 points, you can't say that Smith wasn't the most valuable player for the Cardinals. He's been huge off the bench all tournament, and he hasn't cooled off.
Because of that, the Cardinals punched their ticket to the Big Easy.