NCAA Tournament 2012: Where Do the Florida Gators Go from Here?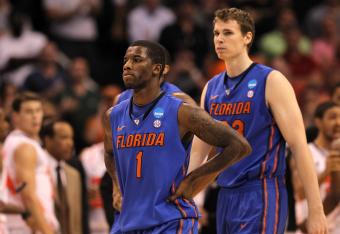 Jamie Squire/Getty Images
For the second year in a row, the Florida Gators crashed the NCAA Tournament party, stormed into the Elite Eight and then dominated…for 35 minutes. That last five minutes, though, has been a little problematic for Billy Donovan's boys.
With a double-digit lead deep in the second half against Louisville, the Gators were seemingly on their way to New Orleans. Rick Pitino had just gotten teed up, the Cards were in foul trouble and Patric Young had just finished off one of the nastiest alley-oop dunks in the history of mankind. Somewhere, Joakim Noah was dancing.
Seems like everyone got the memo that the game was over, except the Louisville roster.
So when the Cards didn't flinch and kept harassing Florida, the Gators did the unthinkable: they folded. All of a sudden, the free-wheeling, high-flying, confident Gator team that has looked so good this tournament turned into a timid team scared to close out a game. They missed free throws, threw the ball away, traveled like a middle school team and kept staring at the clock, praying it would run out.
Smelling blood in the water, the Cards pounced. And for the second year in a row, the Gators choked away a chance at another Final Four.
Sure, you could argue that Donovan should have taken a timeout or two to stop the bleeding, but you would hope that the veteran backcourt of Kenny Boynton and Erving Walker would deliver more than simply deer-in-the-headlights expressions down the stretch.
For all the three-pointers he hit and assists he dished out in his career (second and first in Gators history, respectively), Florida fans will happily bid adieu to the diminutive Walker, whose big shots occasionally bailed out his team but whose silly turnovers, questionable shot selection and poor play in the final minutes of back-to-back seasons will likely be the lasting images in Gator fans' heads.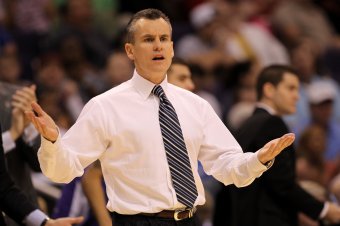 Jamie Squire/Getty Images
That's hardly fair, but it's the way things go in sports.
As for Donovan, tonight's game was a chance to add another gem to his resume; a win would have been his fourth trip to the Final Four in 16 seasons at the helm of the University of Florida.
That said, there is no dismissing Donovan's masterful coaching yet again this season. He took a team that literally limped into the tournament, having lost six of its last 10 games while learning how to play without injured super-sub power forward Will Yeguete, and injected them with confidence, creating brilliant game plans in tournament games against Virginia, Norfolk State and Marquette.
As for the Louisville game, only time will tell. Donovan's Gators tore through the Cards' vaunted defense like no team had been able to all season. In the end, however, Billy D couldn't find the right buttons to push to close out the game.
So where do the Gators and Donovan go from here?
Based on his strong tournament performance, Bradley Beal looks more and more like a one-and-done player. The big question (pun intended) is whether or not Young returns. While Donovan is bringing in three highly recruited players next season, all three play guard.
Translation: if Young takes his talents to the NBA, the Gators will be paper thin on the post.
Trips to the Elite Eight and Final Four are rare. Just ask Pitino, whose last trip to the national semifinal was in 2005, seven years ago. Mike Krzyzewski didn't get past the Sweet 16 for five consecutive years before breaking through in 2010.
It will be interesting to see where Donovan's team goes from here. Can he reload and rally the troops for another tournament run, or, like Pitino, will we hear from him again in 2019?
This article is
What is the duplicate article?
Why is this article offensive?
Where is this article plagiarized from?
Why is this article poorly edited?

Florida Gators Basketball: Like this team?