NBA Power Rankings: Teams Whose Starters Can't Beat the New York Knicks' Bench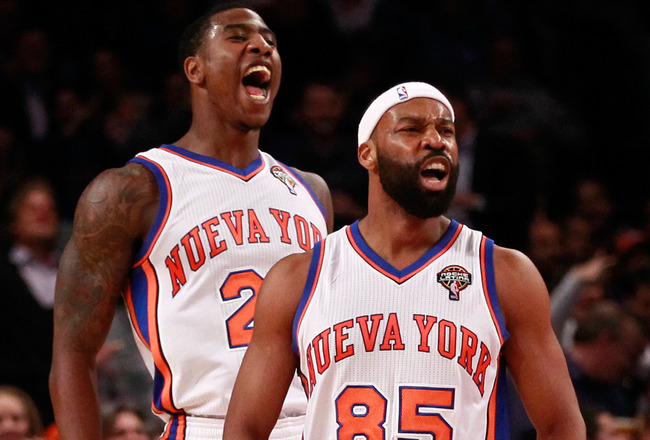 Chris Trotman/Getty Images
The New York Knicks' bench is a complete unit.
Ball distributor? Check! Baron Davis is a strong floor leader capable of making all his teammates better.
Athletic young player with upside? Check! Rookie Iman Shumpert is a first-round talent who has already seen time as a starter.
Athletic wing man? Check! J.R. Smith disrupts plays on defense, can throw down highlight-reel dunks and also hit the three.
Sharpshooter? Check! Steve Novak should never be left open, but every game it seems the opposition forgets where he is. He reminds them with the "Discount Double Check" move as he runs back down the court after hitting a three.
Defensive presence? Check! Jared Jeffries plays aggressive defense and rebounds. Occasionally, he'll even hit an open shot—bonus!
They even have their own "sixth man" of sorts; while Jeffries is out, rookie big man Josh Harrellson will step in and provide hustle, rebounds and more hustle.
Sadly, there are three teams in the NBA that probably wish they could trade their starters for the Knicks' bench squad. Here is a look at these sad stories.
Charlotte Bobcats (7-39)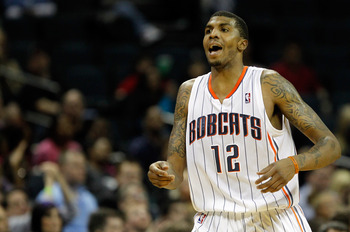 Tyrus Thomas
Streeter Lecka/Getty Images
Starting Five:
PG D.J. Augustin
SG Gerald Henderson
SF Corey Maggette
PF Tyrus Thomas
C Bismack Biyombo
In 12 seasons, Corey Maggette has only managed to stay healthy for 70 or more games a mere five times.
His frontcourt mate, Tyrus Thomas, unofficially leads the league in teasing the world with his athletic ability. Unfortunately for him and for the Charlotte Bobcats, Thomas follows up huge games with a series of very small, inauspicious ones.
D.J. Augustin is good, but not great, at point guard.
Gerald Henderson and Bismack Biyombo are both very young and show promise, but at this point in time they are far too inconsistent to rely upon.
Overall, the New York Knicks bench is superior in every way other than blocked shots.
New Orleans Hornets (12-36)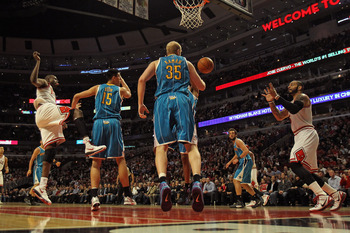 Jonathan Daniel/Getty Images
Starting Five:
PG Jarrett Jack
SG Marco Belinelli
SF Trevor Ariza
PF Gustavo Ayon
C Chris Kaman
Find a casual basketball fan and show them head shots of these five men. Ask that person if they know who these men are. You might even have to ask if the person knows what these men do for a living.
More than likely, you still won't get 100 percent recognition of the starting five of the New Orleans Hornets. That is a problem (albeit one that commissioner David Stern helped create).
Jarrett Jack is serviceable and Gustavo Ayon is a hustle player. Ariza is talented enough to be a team's second option, as is Chris Kaman. The only problem is, the current starting five does not have a real No. 1 player.
The New York Knicks' second unit wins this one based on superior athleticism and play-making ability.
Sacramento Kings (17-30)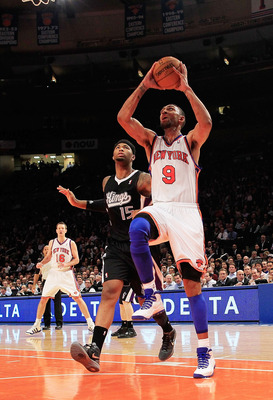 Chris Trotman/Getty Images
Starting Five:
PG Isaiah Thomas
SG Marcus Thornton
SF Tyreke Evans
PF Jason Thompson
C DeMarcus Cousins
Someone out there reading this must think I'm crazy.
If we were playing a game of NBA 2K12 with two equally skilled gamers, and I bet on the one using the New York Knicks' bench to win the game, then I would think I was crazy, too.
The starting five of the Sacramento Kings has multiple players with All-Star-caliber talent, starting with DeMarcus Cousins and Tyreke Evans.
But talent is not enough. This group cannot find a way to win, and it speaks to team chemistry and leadership.
Perhaps rookie point guard Isaiah Thomas can provide that leadership and help improve chemistry, but at this moment the Knicks' substitutes clearly outpace the Kings in these areas.
The Knicks players enjoy playing together, and it shows in their positive results.
Keep Reading

New York Knicks: Like this team?