2012 NFL Draft: Reevaluating the Dallas Cowboys' Biggest Personnel Needs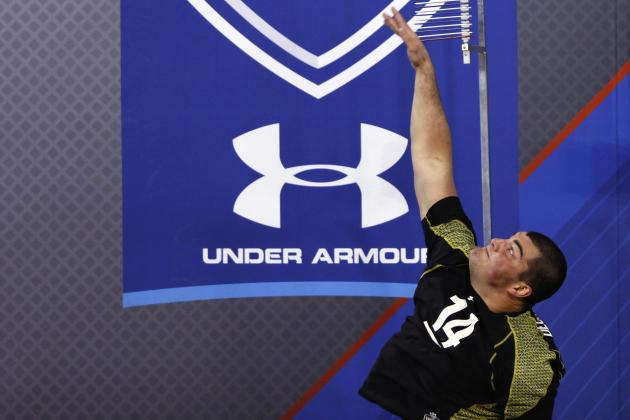 Joe Robbins/Getty Images

The Dallas Cowboys quickly filled vital gaps during free agency. After eight signings, the Cowboys can now start planning their direction in the NFL Draft.
There are still needs that have to be filled, but the Cowboys put themselves in a position where they do not need to reach for a player at one position. Instead, they can draft the best available player from a horde of positions.
The Cowboys have to make the postseason next year. There is no one in Dallas who would accept a three-year drought from the postseason.
The draft is where the Cowboys can continue their successful offseason. Here is how I rank the Cowboys' personnel needs.
Begin Slideshow

»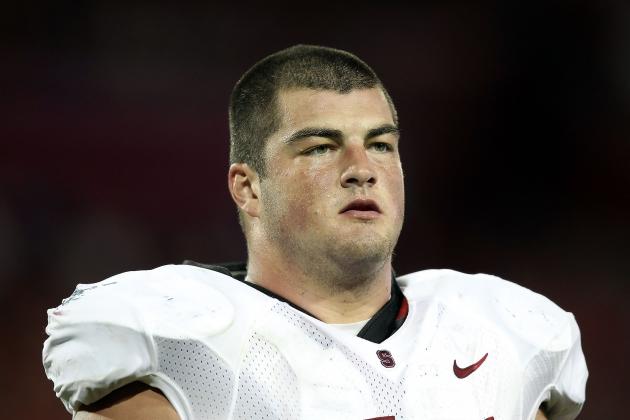 Christian Petersen/Getty Images

Current Depth Chart: C: Phil Costa, Kevin Kowalski – OG: Nate Livings, Bill Nagy, Mackenzy Bernadeau, David Arkin
The Cowboys did a lot of work on their offensive line quickly in free agency. They signed two guards who will both compete for a starting job on the line.
The Cowboys still have work to do. They need a reliable stud up the middle. The Cowboys addressed some of their depth concerns but not their need for a stud lineman.
That is why I believe the Cowboys will likely use their first round pick on another stud offensive lineman to protect Tony Romo.
Dream Solution: David DeCastro OG Stanford (Round 1)
David DeCastro is one of the better interior offensive line prospects in recent memory.
DeCastro would instantly start day one in Dallas and would create a great young nucleus with Tryon Smith. If DeCastro lasts until the Cowboys first pick, expect the Cowboys to quickly add him to their team.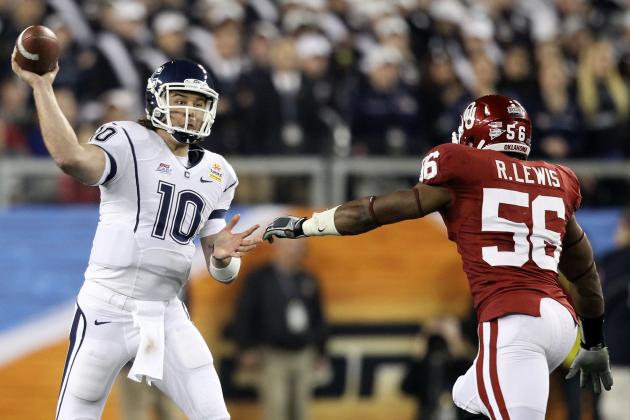 Christian Petersen/Getty Images

Current Depth Chart: DeMarcus Ware, Anthony Spencer, Victor Butler, Alex Albright
The Cowboys used their franchise tag on Anthony Spencer, which means Spencer will be the Cowboys starting outside linebacker for at least another season.
Spencer does do some things well like stop the run but he does not create enough havoc on the quarterback. The Cowboys still need to add a pass rusher who can help Ware and Ratliff rush the passer.
Dream Solution: Ronnell Lewis OLB Oklahoma (Round 2)
Ronnell Lewis is a fast athletic linebacker who excels at rushing the passer. There is no reason the Cowboys should pass on this player in the second round. Lewis will bring a mean attitude to the Cowboys defense as well as help the pass rush.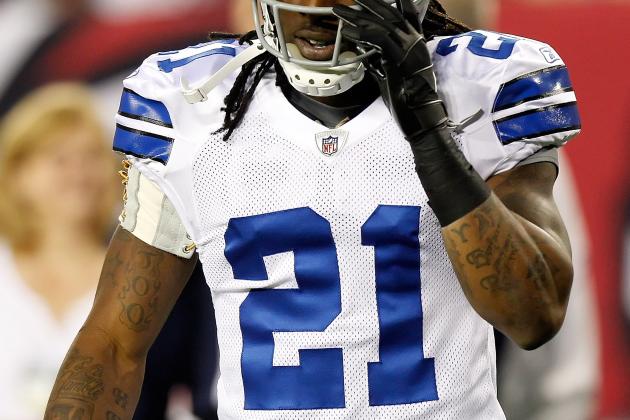 J. Meric/Getty Images

Current Depth Chart: Brandon Carr, Mike Jenkins, Orlando Scandrick (Justin Taplin-Ross, Mario Butler, C.J. Wilson)
The Cowboys spent the most money at cornerback during free agency. The Cowboys signed Brandon Carr to a big contact to help re-make the secondary.
The Cowboys need a lot of corners for Rob Ryan's defense to succeed. Justin Taplin-Ross is supposed to have big potential and could compete with a rookie for the Cowboys fourth corner.
The Cowboys added a starting corner in free agency so I expect them to wait to select a corner in the draft.
Dream Solution: Trumaine Johnson CB Montana (Round 3)
Trumaine Johnson is a big cornerback who could develop while playing in nickel and dime coverage.
Johnson has great size for a corner and could become an asset for the Cowboys secondary quickly. There will not be a corner with more potential in the 3rd round.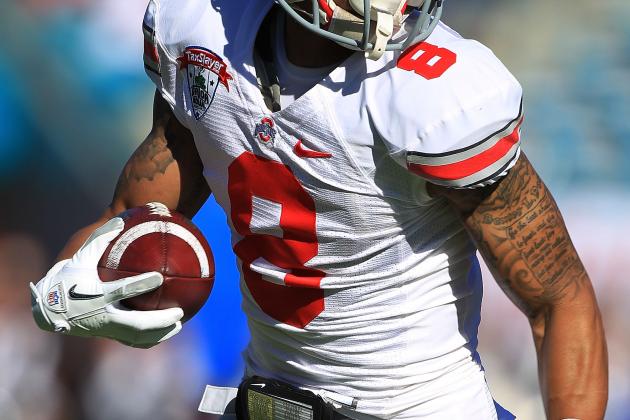 Scott Halleran/Getty Images

Current Depth Chart: Miles Austin, Dez Bryant, Kevin Olgtree, Dwayne Harris (Andre Holmes, Raymond Radway, Teddy Williams)
Laurent Robinson decided to cash in and sign elsewhere—leaving a big hole in the Cowboys receiving corps.
Dez Bryant and Miles Austin are both injury-prone and the Cowboys have no one to replace them. Kevin Olgtree was re-signed and the Cowboys like what they see in Andre Holmes, but they need more help at receiver.
Dream Solution: DeVier Posey WR Ohio State (Round 5)
Hopefully the Cowboys will add a veteran receiver in free agency so they can use a later pick on DeVier Posey.
Posey is fast and can be an effective receiver in the slot. Eventually, Posey can recreate the role Robinson played in the 2011 season.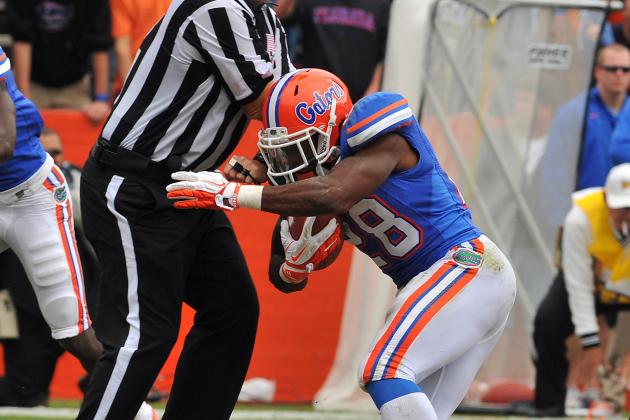 Al Messerschmidt/Getty Images

Current Depth Chart: Dwayne Harris, Felix Jones (KR), Dez Bryant (PR)
The Cowboys have yet to address their return game in free agency thus far.
Dez Bryant and Felix Jones need to focus their time on offense. The Cowboys cannot afford either player suffering an injury in the return game.
Dream Solution: Jeffrey Demps RB Florida (Round 7)
Jeffrey Demps has decided to focus on becoming a member of the Olympic team rather than a member of a NFL team.
That does not mean he is not worth a shot. Even if he makes the Olympic team, the Olympics are over before the NFL season starts.
The Cowboys could entice Demps to play football again and take over as their full-time returner.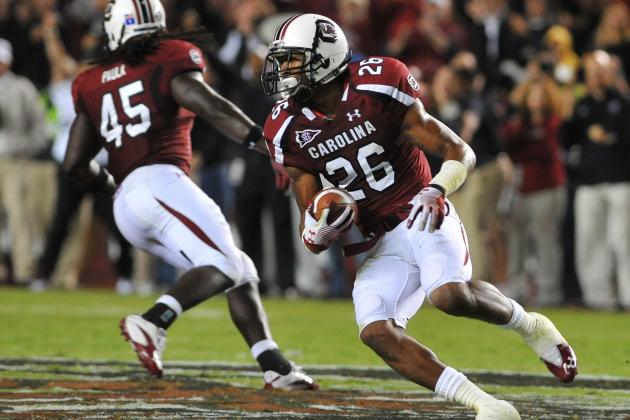 Al Messerschmidt/Getty Images

Current Depth Chart: Gerald Sensabaugh, Brodney Pool, Barry Church, Danny McCray (Mana Silva)
The Cowboys added their starting strong safety for the 2012 season in free agency.
Brodney Pool is an upgrade over Abram Elam but he is not the long-term answer. The Cowboys need a playmaker at the safety position—and hopefully they can groom one from the draft this year.
Dream Solution: Antonio Allen SS South Carolina (Round 4)
Antonio Allen is a linebacker converting to safety in the NFL. Allen played a small linebacker position for South Carolina and made big-time plays.
Allen could develop into a playmaking safety. Allen will learn the position from Pool for a season and then take over in 2013.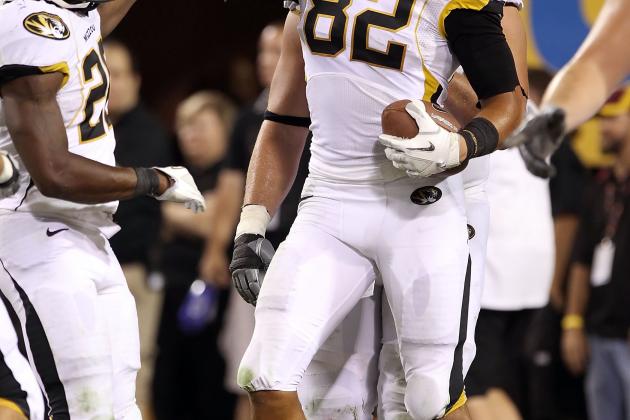 Christian Petersen/Getty Images

Current Depth Chart: Jason Witten, John Phillips
The Cowboys lost Martellus Bennett to the New York Giants. They also failed to lure any free agent tight ends to Dallas.
John Phillips is more than capable to be the Cowboys second tight end. Phillips allows the Cowboys to wait until the draft and select a player they can groom behind Witten.
Dream Solution: Michael Egnew TE Missouri (Round 6)
Michael Egnew is a very athletic tight end that needs to be polished to be effective in the NFL. He has the speed and the big frame to be a monster.
If the Cowboys can select Egnew in the late rounds, they could have the steal of the draft. The Cowboys can develop Egnew to someday replace Witten.