MLB Preview: Six Players Who Need to Step Up for the Red Sox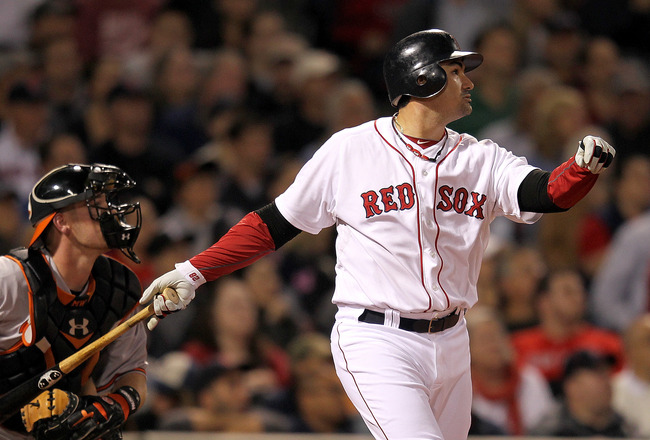 Adrian Gonzalez and the Boston Red Sox seek redemption in 2012 after a heartbreaking collapse in 2011.
Jim Rogash/Getty Images
After the Boston Red Sox suffered a collapse of epic proportions in 2011, a new regime under Ben Cherington and Bobby Valentine will be seeking to redeem the franchise in 2012.
However, the Red Sox have far more questions than answers as Opening Day is less than two weeks away. Several players need to rise above what occurred last year and have comeback seasons.
The Red Sox remain one of the biggest questions marks in an American League that has grown more competitive in recent years. As a result, several Boston players need to deliver in order for the Red Sox to reach the playoffs, let alone win the World Series.
Here are six players who must step up. They are in no particular order.
Jon Lester and Josh Beckett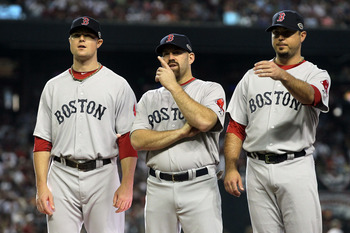 Lester (left) and Beckett (right) will have all eyes on them following their involvement in the Septemeber collapse
Jeff Gross/Getty Images
I put Beckett and Lester on the same slide because their situation is nearly identical.
Both are fantastic pitchers and both will have good seasons if healthy. But they will need to step up in the clubhouse and emerge as leaders.
Despite what the mainstream ideology of the collapse was in 2011, whether it be fried chicken, drinking, video games, or any other ludicrous action, it comes down to the fact that the Red Sox lacked leadership and motivation. There was little chemistry and a lot of tension in the clubhouse, leading to the team having several abysmal runs.
The first to take the blame were Jon Lester, Josh Beckett and John Lackey for supposed antics during games. Since then, each pitcher has taken a lot of heat, not only in Boston but the nation as a whole. After being subjected to the butt of endless jokes, these two pitchers will undoubtedly be determined to prove everyone wrong.
Both Lester and Beckett have apologized several times for the collapse and promised a better 2012. Lester especially has come off as sincere and determined, while Beckett has come off as more hot-headed and controversial. Still, no one can deny that he wants to better himself this season.
He has dropped the weight he gained in 2011 and is ready for a re-awakening.
Under the watch of Bobby Valentine, there will no longer be issues of presumed alcohol drinking or chicken consumption in the clubhouse, which is a good sign, at least from a public-relations perspective.
Nonetheless, unless injury plays a factor, both men are more ready than ever to have comeback seasons. The issue is their health and consistency, which were exposed last season in September.
As of now, both seem in top shape. Despite September, Beckett had a fantastic 2011 and Lester was serviceable for the most part. However, they need to emerge as true leaders, which was not apparent last season.
Lester wants to reconcile his relationship with Red Sox Nation, while Beckett wants to prove he still is able and willing to be a player that the clubhouse can look up to. I expect these two to have particularly great seasons, barring health issues.
Prediction:
Josh Beckett: 17-6 with a 2.95 ERA
Jon Lester: 18-5 with a 3.05 ERA
Carl Crawford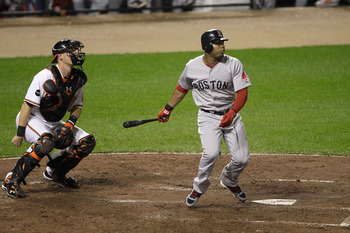 Following an abysmal 2011 season, Carl Crawford has Red Sox Nation observing him in aspirations for the return of the real Carl Crawford.
Rob Carr/Getty Images
Of all the position players, Carl Crawford's performance in 2012 is the biggest concern.
Following the 2010 season, Crawford left the Tampa Bay Rays for a seven-year,m $142 million dollar contract with the Red Sox. The idea was that the money was going for a five-tool player in the prime of his career.
Sadly, it turned out that the Red Sox received a shadow of that player instead.
In 2011, Crawford struggled throughout the entire season. Nagged by a wrist injury, Crawford began the season hitting .137 and never did have any long-lasting hot streaks at the plate. Almost every single stat for Crawford in 2011 was a career low, including stolen bases, which baffled many.
His power numbers decreased, he took fewer walks and stole a mere 18 bases. For a player of his stature, those numbers were absurd.
You have to place some of the blame on his nagging injuries and adjustments to the bright lights of Boston. But you also have to blame Crawford for not showing the heart and desire he did in Tampa Bay.
His injuries also seem to be ongoing, as Crawford will more than likely miss Opening Day and begin this season on the disabled list. What he brings to the team solely depends on his wrist. The effects of the injury were clear when he was at the plate, and he suffered because of it.
Despite all of that, you can now see the drive and motivation in him that others such as Lester and Beckett have picked up following the collapse of 2011. Crawford has supposedly worked rigorously over the winter. However, the question remains whether he can return to his previous form.
Can Crawford be that dynamic five-tool player once again? To an extent, he should be able to. He can still run and hit. So much like Adam Dunn's scenario, you have to look for a better 2012 because there really isn't a way that this season could be worse.
While I don't predict a Jacoby Ellsbury-like season, it isn't difficult to imagine a decent increase in numbers for Crawford.
Prediction:
.270 BA, 13 HRs, 66 RBI, 30 SBs

Andrew Bailey
Replacing Jonathan Papelbon as the closing pitcher in Beantown, Andrew Bailey has big shoes to fill in 2012.
Elsa/Getty Images
When Jonathan Papelbon signed a lucrative contract with the Philadelphia Phillies in the offseason, the Boston Red Sox were unsure of who would replace the most successful closer in Red Sox history. This resulted in Ben Cherington trading Josh Reddick to the Oakland Athletics in return for 2009 Rookie of the Year, Andrew Bailey.
The 28-year-old pitcher will now be Boston's primary closer in what potentially could be a very dangerous trade for the Red Sox. When at his best, Bailey is one of the elite closers in the game, posting a 1.84 ERA with 26 saves in his rookie campaign.
In 2010 and 2011, Bailey struggled with injuries but still managed to post a 1.47 ERA in 2010 and a 3.24 during an on-and-off 2011. He's averaged 25 saves in the past three seasons and will have more opportunities to get saves in Boston.
There is no question about his ability, but there is a question about whether he can stay healthy and handle the bigger stage of Boston. Time and time again, closers who jump from a smaller team to an elite playoff contender have struggled. Boston is no exception.
Pitching in a city where baseball is like religion will be the true test of whether Bailey is as elite as he was in Oakland.
Personally, I have faith that Bailey can handle the Boston limelight. But can he remain consistent and healthy?
If healthy, it isn't unrealistic to predict 35-plus saves for Bailey. However, it also isn't unrealistic to predict Bailey will have one or two stints on the disabled list. He already has had some muscle strains in spring training, although it seems as though they are not serious.
Either way, I can't set my expectations to Papelbon-esque numbers. But I feel he'll have a very solid season. He is without a doubt a question mark, but if healthy he will be a very worthy asset.
Prediction:
33 saves with a 2.10 ERA

Daisuke Matsuzaka
With one year to prove his worth, Daisuke Matsuzaka wants to earn an extension with the Red Sox following the season
Stephen Dunn/Getty Images
Being projected to return in the early part of June, Daisuke Matsuzaka is hoping to earn an extension with the Red Sox following this season.
Despite having a solid 2007 and 2008 campaign, Matsuzaka has done anything but live up to his massive expectations with the Red Sox. Struggling with injuries from 2008 on, Daisuke has never found his comfort zone in the United States, nor has he been fully healthy.
It is safe to say that Matsuzaka hasn't shown himself to be the dominant pitcher from Japan who Theo Epstein envisioned when he signed him to a $100 million contract.
Nonetheless, this spring Matsuzaka has seemed more motivated to prove his worth to the organization. Maybe his motivation stems from his family's love for residing in the Boston area or due to Bobby Valentine's ability to interact with Japanese players, but it does seem as though Dice-K will be ready for a comeback season.
And now more than ever, it is evident that the Red Sox need Matsuzaka to efficiently work as the No. 4 starter. The Red Sox lack starting pitching depth, and Matsuzaka will be a key in determining just how far the Red Sox go this season.
No matter how you look at it, it is hard to argue that Andrew Miller or Felix Doubront is a more attractive option than Daisuke. Although that saddens me, it is true that he is the most experienced and successful of all the other suitors for the No. 4 spot in the rotation.
When healthy and on his game, he can easily be a No. 2 or No. 3 starter. Sadly though, we have rarely seen that side to him in his previous five years with the organization.
What I expect is a healthier season and a more driven Matsuzaka. He will not pitch at the level of Beckett or Lester, but nine or 10 wins would be very helpful.
Prediction:
9-5 record with a 4.15 ERA

Daniel Bard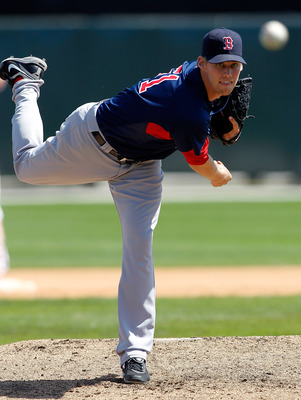 Daniel Bard doesn't know where he's going to pitch, but wherever he does pitch, he is the most important pitcher to this team in 2012.
J. Meric/Getty Images
No matter what anybody says, Daniel Bard is the most important pitcher to the Red Sox in 2012.
Let's face it.
Jon Lester is going to put up quality numbers, Josh Beckett will deliver, and Clay Buchholz will be a solid third guy if healthy. We know they will deliver to their usual expectations. However, Bard is the enigma who will need to perform at a very high rate.
As a relief pitcher, we know what Bard is capable of. Serving as one of the most hard-hitting and dominant setup men in the game, Bard has been a key component to the Red Sox bullpen. However, this spring training, Ben Cherington has been set on re-establishing Bard as a starting pitcher.
However, Bobby Valentine is not patient or confident in Bard's ability to start due to his poor past as a starter and disappointing numbers thus far this spring. We are two weeks from Opening Day and the fireballer has no inkling as to what his role will be in 2012.
That's not a good scenario for a young pitcher of whom much is expected. Wherever he pitches, whether from the bullpen or from the rotation, he is expected to perform at a premier level. We have seen him do it from the bullpen, but he has never proven to be all that consistent as a starting pitcher.
So it is difficult to predict how Bard will do when you have no idea what role he is going to play. If he returns to the bullpen, there is no question that he will deliver. Why wouldn't he? The only situation in which I could imagine him performing at a low level is if he is either injured or rattled that he couldn't cut it as a starter.
As a starter, I really don't have confidence based on what I've been seeing or what I've seen in the past. With the right training and conditioning, anything is possible, but Bard just does not seem to have it as a starter. Besides, he's too important to an already questionable bullpen. To me, his numbers don't seem to justify moving him into a starter's role.
No one, however, can disagree that Bard needs to have a big year. Will he have it? It depends on what happens before Opening Day. He's too talented to perform poorly, but he may not have it in him to play the role that the Red Sox want him to play.
Keep Reading

Boston Red Sox: Like this team?