It seems as though Boston Red Sox general manager Ben Cherington and manager Bobby Valentine have reached a disagreement about a key player to the 2012 Red Sox campaign.
According to CBS Sports' official website, it seems as though Cherington wishes to keep Daniel Bard in the starting rotation following some rocky spring outings, while Valentine wants Bard as a setup man for Andrew Bailey.
The early initiative this winter had been to revert Bard back into a starting pitcher to take the mound as the fourth man in the starting rotation. However, due to Bard's struggles in his previous endeavors as a starter, many questioned whether or not he could handle this position, even with more experience under his belt this time around.
During his first tenure as a starter in 2007 at the minor league level, Bard posted a 7.05 ERA between two levels. He also struggled with walking batters as he allowed 78 batters on base in 75 innings pitched. Disastrous results led to the idea of placing Bard in the bullpen, which had been a complete success for the Red Sox since 2009.
Throughout spring training, Bard has started four games, serving a 1-2 record with a 7.11 ERA in 12.2 innings pitched. He also has walked 10 batters out and struck out six. While showing signs of sheer dominance in certain points of his outings, his relapses into obscurity have been far more noticeable. As a result, Valentine has grown incredibly critical of Bard's position on the team this upcoming season.
Valentine, who expected Bard's rocky transition to be flawless, has been upset with Bard sparsely using his changeup. He has also gone out of his way to publicly express his displeasure with Bard's performance thus far, while Cherington shows a Theo Epstein-like quality of keeping faith in his players despite early struggles.
Where does Daniel Bard belong?
When previously asked about Bard's position on the squad, Valentine claimed that, "I'm not there yet," in terms of his decision to place Bard in the pen or in the rotation. Clearly, he isn't sold on the fact that Bard can expand his pitches and stretch out his consistency past two innings, which are essential to being an effective starting pitcher.
Debates have spiraled back and forth throughout spring training, and it can not be fair to say that Bard is at full responsibility for how these past few weeks have panned out.
Struggling with Valentine's antics throughout several interviews on top of not even knowing where he is going to pitch from this season, Bard's plate is certainly full. He is being pushed quite harshly, especially in terms of his changeup, as he expressed in a recent interview with WEEI, saying, "It doesn't matter what my changeup is if my two best pitches aren't fully ready. So I really went into this last [start] wanting to establish my fastball in the zone and use the slider as my put-away pitch.''
While speculation runs wild for now, it is safe to say we will have an answer by Opening Day, but where will he play?
In the eyes of this analyst, it strikes me as odd that Bard still is even being considered as a starting pitcher at this point. Of course, performances in spring training don't truly reflect what is to occur in the actual MLB season, but why would Cherington tamper with such a strong weapon of the Red Sox bullpen?
Whether you like Bobby Valentine or not, one philosophy that can not be disagreed upon is one he states all the time: teams can't win without a very solid bullpen.
Stripping Bard from the bullpen is damaging enough. Mark Melancon and Bailey can be incredibly effective, but they remain question marks until proven otherwise. Bard has proved he can handle late-inning situations and he has adapted incredibly well in his position. Why change that up?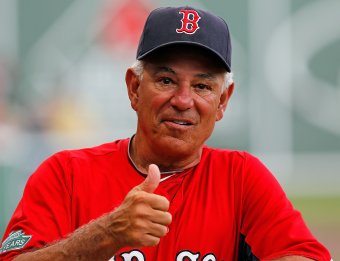 J. Meric/Getty Images
Why not give Alfredo Aceves, Aaron Cook, Felix Doubront, Andrew Miller or Michael Bowden more consideration? All of those men named have more experience throwing more innings from the get-go and could have a better chance of finding success in the rotation. While the Bard experiment cannot be deemed an instant failure, it could truly hurt the Red Sox pitching staff as a whole.
If he fails to perform in the rotation, both the rotation and the bullpen will suffer. Potential replacements for the fourth and fifth spots aren't glamorous, but it is possible one of those names at least does well.
Why tamper with something that wasn't broken when you have other options?
Contrary to popular belief, Bard does not have to be a starting pitcher. As a matter of fact, not taking the risk here will benefit Boston. He could be solid in the rotation, but there are many others who could throw just as well.
At the end of the day, I can not picture Bard finishing the season in the rotation unless there are several injuries because what he brings to the table in the bullpen is practically irreplaceable. What he potentially brings to the starting rotation is not.