NCAA Tournament 2012: Latest Reaction, Scores and Highlights for East Region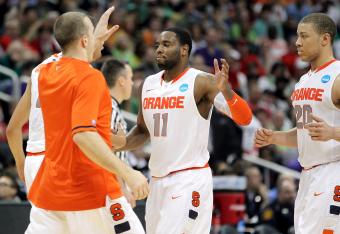 Gregory Shamus/Getty Images
Here's the game we've all been waiting for. Tonight we will find out which team will be representing the East region in the Final Four of the 2012 NCAA tournament.
Tonight we will see:
No. 1 Syracuse vs. No, 2 Ohio State at 7:05 p.m. ET on CBS
Will Ohio State big men Jared Sullinger and Deshaun Thomas continue their dominance or will the 2-3 zone of Syracuse be too much for them to handle?
Follow along with me for live news, scores, insight, reaction, analysis, highlights and more all throughout the game.
Thank you everybody who followed along with me during the game. I hope you enjoyed my commentary on the game.
Check out some of my other NBA and NCAAB articles at
http://bleacherreport.com/users/539848-adam-friedgood/archives/newest?rel=nofollow
or follow me on Twitter: Afriedgood
Be sure to follow along tomorrow when:
#1 Kentucky takes on #3 Baylor at 2:20
#1 UNC takes on #2 Kansas at 5:05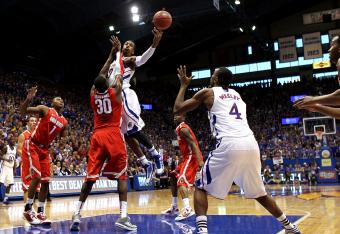 Ohio State will play the winner of UNC/Kansas in the Final Four. Both teams have dominant big men, just like Sullinger, so I expect the next game to be an extremely tough one for OSU regardless of who they play.
OSU and Kansas played earlier in the season and Kansas won by 11, but Sullinger didn't play in that game. It will be much closer this time around if these two teams meet in the Final Four, you can guarantee that.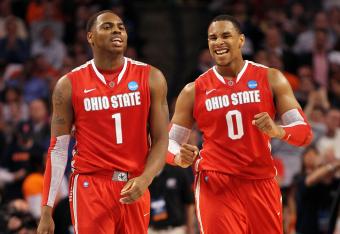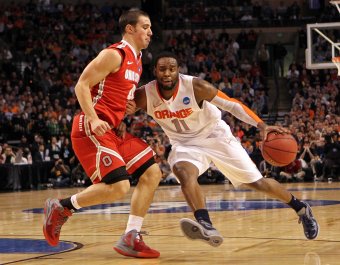 Jim Rogash/Getty Images
Individual Stats
Ohio State:
Jared Sullinger: 19 points, 5-9 field goals, 6 rebounds

Deshaun Thomas: 14 points, 6-14 field goals, 9 rebounds
Lenzelle Smith Jr.: 18 points, 4-10 field goals, 3 rebounds
Syracuse:
Scoop Jardine: 14 points, 5-12 field goals, 6 assists
Brandon Triche: 15 points, 4-10 field goals, 1 assist
Baye Keita: 3 points, 1-3 field goals, 10 rebounds
Team Stats
Ohio State:
Field Goals: 21-51 (41%)
Free Throws: 31-42 (73%)
Three-Pointers: 4-12 (33%)
Rebounds: 36
Blocks/Steals: 7
Turnovers: 11
Syracuse:
Field Goals: 22-53 (41%)
Free Throws: 20-25 (80%)
Three-Pointers: 6-17 (35%)
Rebounds: 22
Blocks/Steals: 12
Turnovers: 13
Jardine hits a three in garbage time, but Ohio State continues to knock down their free throws.
The game is over. Ohio State advances to New Orleans.
Final Score
Ohio State 77 Syracuse 70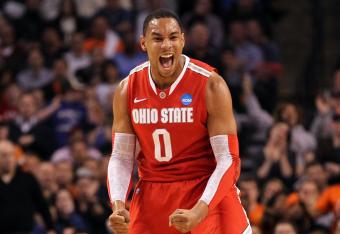 It was a valiant effort, but Sullinger proved to be just too much for Syracuse to handle.
Triche misses another shot and that should do it for Ohio State.
Triche misses the shot and Dion Waiters fouls out of the game on the following play.
Sullinger only hits one of two and Ohio State calls timeout.
This next play will be extremely crucial for Syracuse.
Ohio State 71 Syracuse 67
Cuse' refuses to die. Dion Waiters with the and-one that cuts the lead to only 3.
Ohio State 70 Syracuse 67
Team leader, Scoop Jardine, can only watch as Boeheim has kept him on the bench for most of crunch time.
Craft knocks down two free throws.
Kris Joseph comes back and hits a quick lay-up. Waiters causes a steal and Triche will now go to the line for two. Craft has now fouled out with his fifth foul.
Ohio State 68 Syracuse 64
Quick basket by Triche. May be too late though.
Ohio State 66 Syracuse 60 with 61 seconds left in the game
Bad foul so late in the shot clock. Sullinger knocks down both free throws. It will be tough for Cuse' to comeback now.
Ohio State 66 Syracuse 58
Deshaun Thomas hits a very tough shot and then Waiters turns the ball over.
Ohio State 64 Syracuse 58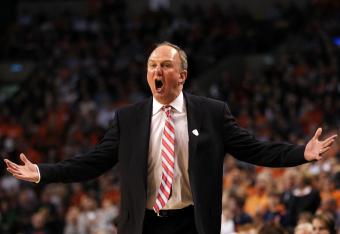 Coach Thad Matta wants to prepare his team for the final 2:12 and calls timeout. Does Cuse' have the comeback in them or will Sullinger continue to dominate both ends of the floor and win this game for Ohio State?
Lenzelle Smith Jr. with the very tough floater. He now has 12 points in the half.
Triche comes back and hits a very tough jumper of his own.
Ohio State 62 Syracuse 57
Waiters and Christmas both return to the game with 4 fouls. Let's see if this effects both of their play on the defensive end.
Kris Joseph with the great defensive play, but way too wild on the offensive end.
Ohio State 60 Syracuse 55 entering the final TV Timeout
And Keita now picks up his fourth foul. Double Bonus for both Ohio State and Syracuse.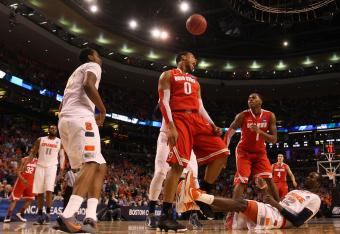 Baye Keita continues to be the only rebounding force Syracuse has. He leads all players right now with 10 rebounds.
Sullinger is proving he is in fact the best player in this game though.
Ohio State 59 Syracuse 55
Lenzelle Smith Jr. and Brandon Triche trade three-pointers. This is shaping up to be an instant classic.
Ohio State 55 Syracuse 54
And as soon as I say that Jardine scores a basket to give himself 11 points.
Deshaun Thomas has been finding many easy shots with Sullinger back in. Sullinger, Buford and Thomas are now all scoring in double figures this game.
Scoop Jardine is the leading scorer on Cuse' with 9.
Ohio State 52 Syracuse 48
With Sullinger in, Ohio State finally has their field goal average at 42%. They are 6-9 so far in the second half.
Cuse' has been using their great free throw shooting to get back in the game. They are 7-7 this half.
Ohio State 50 Syracuse 46
This article is
What is the duplicate article?
Why is this article offensive?
Where is this article plagiarized from?
Why is this article poorly edited?