WWE WrestleMania 28: 8 Twists and Turns the 12-Man Tag Match Could Take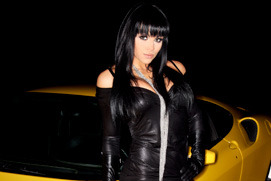 Aksana (photo from ohsodivalicious)
At this year's WrestleMania, the GM's 12-man tag match, which will determine who will gain control of both SmackDown and Raw—John Laurinaitis or Teddy Long—looks set to be a match filled with twists and turns as this power struggle angle finally culminates.
Indeed, as we head into the bout, we have to accept that anything can happen. Nobody can be trusted to play fair and the motives of everyone are suspect. Not only do we have to think about the wrestlers in the match itself, but also the wide array of supporting characters who have become intertwined in the angle in recent weeks (Aksana, the Bella Twins, Vickie Guerrero).
So what will go down on April 1? Well, here are just some of the possible twists that could happen.
Begin Slideshow

»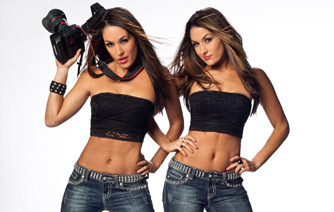 photo from ohsodivalicious.com
On this week's SmackDown, after her sister's match with AJ, Nikki Bella commandeered the mic and announced that she and her twin had divided loyalties in the upcoming GM match—good girl Nikki was siding with Team Teddy, while the heel-leaning Brie was backing Team Johnny. Presumably, both girls will be appearing in their side's corner at WM.
While the twins are relatively small supporting players, WWE bookers have probably pointed out this information as some sort of hint about how things may go down in the GM match. It seems possible, even likely, that either Nikki or Brie will interfere in the match and try to sway the outcome.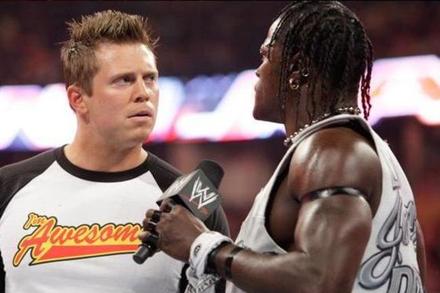 photo from wwe.com
No one is quite sure what The Miz will do at WrestleMania. He has yet to be booked in a match (and unsuccessfully attempted to qualify for Team Johnny twice); rather embarrassing because he main-evented last year's WM as WWE Champion.
Rumors are strife that he will interfere in a major match, and that will be his role at the event. Most have assumed he will do a run in during The Rock/John Cena main event, but is it possible he will instead get involved in the GM match?
Maybe he will act on behalf of John Laurinaitis, but a babyface turn where he acts to help Team Teddy at the event isn't entirely out of the question either. After all, his stagnant character desperately needs freshening up, and a drastic new change in character could be the cure for at least some of his problems.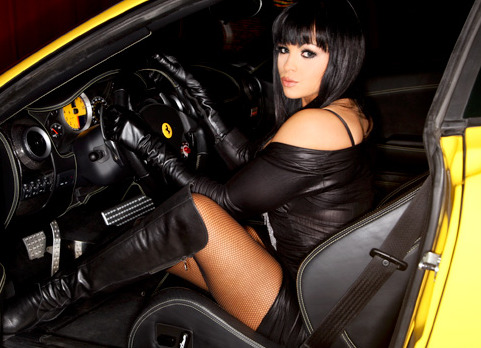 photo from ohsodivalicious.com
The Aksana/Teddy flirtation storyline on SmackDown has been going on for months now, and presumably has to be heading somewhere.
The most logical development may be the Lithuanian diva turning on the SD general manager at WM and costing him and his team the match. It could turn out she was in cahoots all along with John Laurinaitis to romance and betray Long.
This makes sense. After all, Aksana just seems a little too perfect and too nice as she acts besotted by Teddy; she has to be up to something.
We don't trust her one little bit.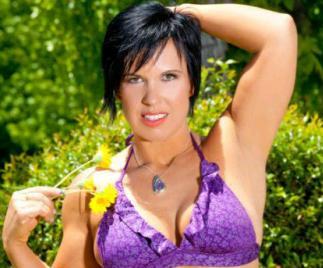 photo from diva-dirt.tumblr.com
With her two clients, Dolph Ziggler and Jack Swagger, officially announced as being on Team Johnny this week on Raw, Vickie will undoubtedly be at ringside during the GM bout at WM 28, making her presence felt. Certainly, no one would put it past the villainous manager to interfere and attempt to cost Team Teddy the match.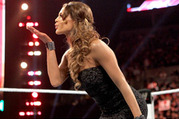 photo from wwe.com
As most will know by now, Zack Ryder was announced as being on Team Teddy on this week's SmackDown. Is it possible Ryder's on/off girlfriend Eve could get involved in the bout in some manner or other? The outrageous way she's been behaving recently, we certainly wouldn't put anything past her.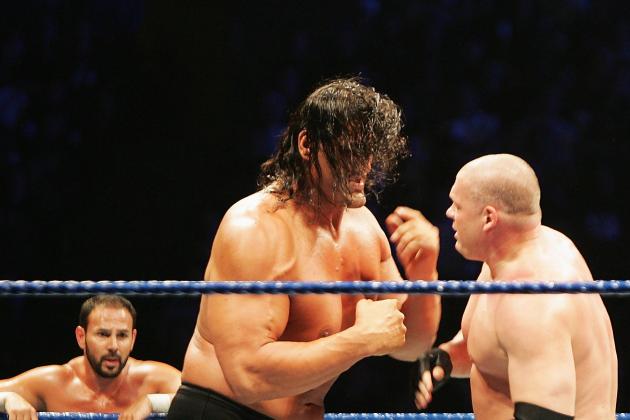 Gaye Gerard/Getty Images

Teddy Long has seemingly recruited Khali because he feels the giant is more than enough of a match for the fearsome Mark Henry (who is on Team Johnny). On paper, it looks to be a good, astute pick.
However, is Teddy correct in thinking he can trust the giant? He has a villainous track record, after all, and it wouldn't surprise us to see him turn on his team and cost them the match, before revealing Laurinaitis made him an offer he couldn't refuse.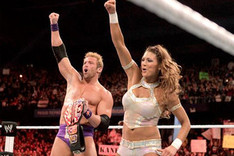 photo from wwe.com
This is something that has not been widely considered: What if Eve, in the pockets of Laurinaitis, seduces Ryder into turning on Team Teddy and handing the victory over to Team Johnny?
While it might seem unlikely that the WWE booking team would turn fan-favorite Ryder full-blown heel, it would be an interesting development that would get loads of people talking. Certainly, Ryder has been shown to be smitten enough by Eve to believe he would realistically do such a thing if she asked.
It would also freshen up Raw's stale midcard, as a newly-turned Zack, complete with an evil new attitude, sought to revive his career, announcing he was done with the fans and no longer intended to play by the rules.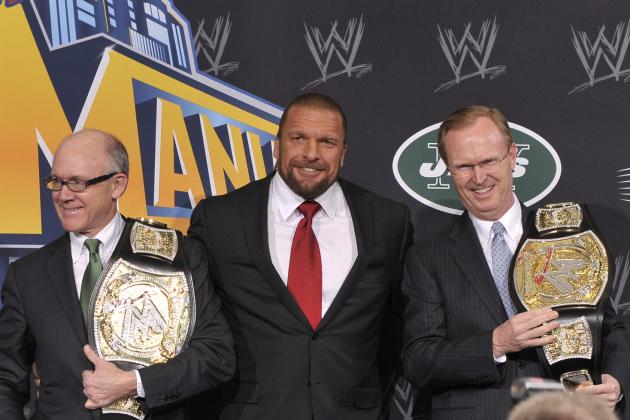 Michael N. Todaro/Getty Images

Triple H has made no secret in the past of his distaste for Raw GM John Laurinaitis, even threatening him in various backstage segments. With this in mind, is it possible that HHH could come out, before his scheduled match with The Undertaker, and cost Team Johnny the match?
No doubt the prospect of sending John packing (per the stipulations, if his team loses, he has to leave) is hugely appealing to the COO and might convince him to intervene.