NCAA Bracket 2012: 5 Reasons North Carolina Will Defeat Kansas in Elite 8
March 25, 2012

Mike Ehrmann/Getty Images
North Carolina hasn't had to play a power conference team en route to the Elite Eight. That will end on Sunday when Kansas takes their best shot at the Tar Heels.
Here are five reasons why the Tar Heels will continue marching. 
Reggie Bullock 
Bullock has been off and on throughout his sophomore season at Chapel Hill. He can score over 20 points or put up a low, single-digit number while struggling from the perimeter.
However, as of late, Bullock has averaged 15 points in the past two games while shooting 8-of-15 from beyond the arc. 
His ability to knock down the outside shot is paramount to North Carolina's success because of the focus on John Henson and Tyler Zeller down low.
If he continues to shoot well, North Carolina has a great chance of moving on in the tournament.
Harrison Barnes
It's now or never, Harrison. You're a fantastic player, but 3-of-16 from the floor against Ohio won't get it done.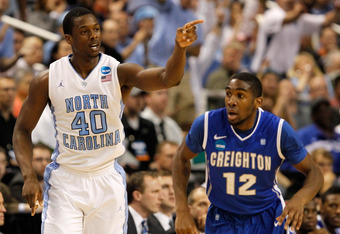 Streeter Lecka/Getty Images
Barnes is a steady player capable of stepping up in big-game situations. 
Most collegiate players won't ever play in a game to go to the Final Four. 
It's time to prove your worth by carrying your team in a big-time situation. Stars take over in games like these. We'll see what Barnes has in store. 
Talent
Without Kendall Marshall, North Carolina's talent level is still slightly better than Kansas. It definitely gets closer, but I would still give the edge to the Tar Heels.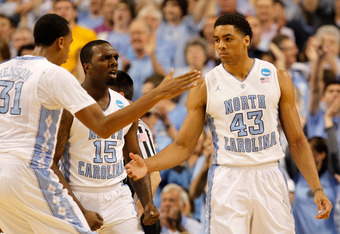 Streeter Lecka/Getty Images
When you have three potential NBA lottery selections with Barnes, Henson and Zeller to go along with James Michael McAdoo, you deserve to have the edge.
Does that mean North Carolina should easily secure victory? 
Absolutely not but it sure helps. 
Inside Play
Henson and Zeller underneath provide uncanny length and athleticism. They both run the floor well, can guard the 4 or 5 positions and can rebound and score with a high success rate.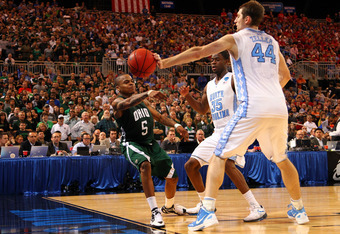 Dilip Vishwanat/Getty Images
They average 31 points and 20 rebounds as a tandem.
Combine their statistical production with their ability to block/alter shots and this is the best frontcourt in the country. 
Motivation 
Many "experts" have North Carolina going home before the Final Four. While this shouldn't be and isn't the only reason why they will be successful against the Jayhawks, kids take petty things seriously. 
They heard what the experts said and responded by saying how ridiculous they thought it was.
Kids can go one of two ways in situations like this: 1. Prove the experts wrong. 2. Believe what the experts say.
I think that North Carolina is ready to prove some people wrong.