NFL: Marion Barber's Unexpected Retirement Puts Short RB Shelf Life on Full View
March 24, 2012

Christian Petersen/Getty Images
Running back Marion Barber's unexpected retirement should force teams to look at the bigger picture of life in the NFL. These great running backs don't last forever.
We talk all the time about how an NFL running back's career expectancy is extremely short compared to most of the other positions—but a running back's prime is significantly shorter.
A running back will hit the scene and dominate for a few years, only to get worn down and replaced after a while. Such is the way of life in the NFL, and if anything, Barber's retirement is a huge reminder of that.
It was just few years ago when Barber was one of the premier backs in the league as a member of the Dallas Cowboys. He had his best season in 2007, when he rushed for 975 yards and and 10 touchdowns with the 'Boys. The next two years, he rushed for 885 yards and 932 yards, respectively, notching seven touchdowns in each season. But those three years seemed to be the pinnacle of his success.
He came, he saw and he conquered for a short time, and now at the young age of 28, he has retired from the NFL.
It was good while it lasted, right?
I can only imagine that Barber leaving the game is a wake-up call to general managers, coaches and running backs all across the NFL. Running back is the most physically demanding position to play in the NFL, and it may be the toughest gig in all of sports.
Running backs get absolutely beat up every single time they touch the ball. They aren't expected to slide or go out of bounds like quarterbacks, they are taught to fight, scratch and claw for every single yard.
Oftentimes, playing NFL football is equated to "getting in a car crash" every single weekend. Running backs get into a car crash every time they touch the football. Even when they aren't carrying the ball, they are often used as decoys into the line of scrimmage and they must pick up the charging rushers is pass coverage.
It's a tough gig, so it's no surprise that these guys don't make it that long in the league.
Moral of the story? Appreciate your star running backs while you have them. Your Adrian Petersons, Arian Fosters and Chris Johnsons. Chances are they won't be playing at the level you've grown used to for much longer.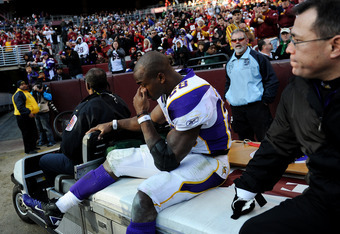 Patrick Smith/Getty Images
You need more proof? Foster dealt with hamstring injuries all year, Peterson had to have reconstructive knee surgery and Johnson had his worst season as a pro.
Good running backs are hard to come by in this league, and great ones are about as rare as they come.
If you have a great running back, cherish every yard they can give you. They won't be able to do it for long.