WWE: One Fan's Take on Wrestlemania and the Two Matches That Will Define an Era
March 24, 2012

Matthew Stockman/Getty Images
Hi all in Bleacher land,
I have not written in a while and in part this is because there has not been much in the wrestling world that has gotten me excited lately.  But I must confess, the hype surrounding this year's WrestleMania XXVIII and some of the interesting comments made here on BR has inspired me to take hand to keyboard and throw my two cents into the ring as it were and comment on the two premiere matches at WrestleMania XXVIII, fellow wrestling fans have to say. 
Undertaker V Triple H:  A tale of Two Legends
There have been quite a few incredible WrestleManias in the 28 years since Vince took his big gamble, and of course, every pay-per-view claims to be all that.  The last few WrestleManias have even delivered, with matches like HBK vs. Undertaker at WM 25, and last year's awesome match between Triple H and Undertaker.  But I must confess, this WrestleMania has me excited about wrestling in ways I have not been in a long Time. 
Your two biggest matches, Rock vs. Cena and Triple H vs. Undertaker have been hyped to fever pitch, and in these two matches you have five of some of the great entertainers in the business (I am not messing up my math here, HBK is special guest referee for the Triple H vs. Undertaker match...but if you are on this website you likely know that).  But aside from the likely hood that these two matches will be spellbinding (any bets on whether either of these matches edge out HBK vs. Undertaker I as greatest of the last decade if not longer?), they have implications for the company and more importantly for the fans that we have not seen in a long time.  One talks about an era ending, the other is a battle between eras, and in a way, one of validation for an era and the superstars who represent it.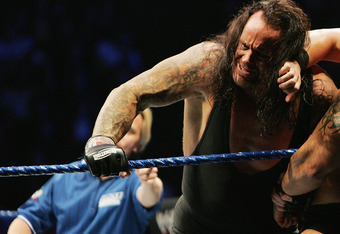 Gaye Gerard/Getty Images
I would like to comment first on the Triple H vs. Undertaker match.  For me, the whole idea of the Undertaker's streak being emblematic of an era really started with WM 25.  In a way, impressive as the streak was and is, Undertaker winning so many did not have the impact it has now since the Undertaker rarely tasted defeat (at least cleanly), especially in those high profile matches that typify WrestleMania.  With WM 25, it brought to light how special an already special performer Undertaker is at WrestleMania.  The match he and HBK put on, I can honestly say was the single greatest match I have ever seen.  And I am no newbie to the wrestling world.  Few, superstars could have pulled off that kind of performance.  It proved why HBK is Mr. WrestleMania...but it also, for me, proved that Undertaker IS WrestleMania. The man and the event feed off each other in a symbiotic relationship forged out of a legendary career. 
Only a talent like Undertaker could be so much a part of the grandest annual event in Sports entertainment.  Only an event like WrestleMania could showcase an icon of what all wrestlers aspire to be.  Only a legend himself, HBK, could really showcase just how good Undertaker is, especially at WrestleMania.
This of course then brings us to WM 27 and WM 28 in a few short days.  If there were any two talents that could have the right to end the streak, it would be either HBK or Triple H.  Triple H punctuated his own status as legend with his performance at WM 27, laying low the Undertaker despite losing the match.  And now, like HBK, Triple H will get his crack at Undertaker one more time to try to end the streak.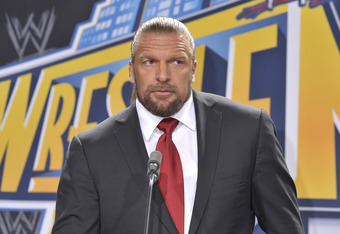 Michael N. Todaro/Getty Images
As much as I am looking forward to this match, I really see no good way for this to end, and so I look forward to watching two legends clash, for the last time in all likelihood.  I feel that this is not the way it should have been.  In many ways, the streak has become like the motor industry—too big to fail, and any ending at this point will not quite be fitting.
If Undertaker wins, in a way, it will be great since going out with 20 wins sounds better to me than 19.  But it will also be a bit of a let down.  Who else will be there to end the streak, who will be worthy?  With respect to those on the roster, absolutely no one is worthy for that kind of legendary win.  And I say that as someone who is a big fan of some of the up and coming and here-and-now talent.  No one deserves to take that away from Undertaker, nor deserves to have that mantle that a win like that would bring.
If Undertaker loses....well how would it advance the sport?  Triple H does not need the feather in his cap, he is already a living legend in his own right.  If there were a star on the Zenith of being the flagship of his era, a star on the cusp of forging a new dynasty, on the precipice of re-defining what it is to be a superstar and needed that push to cement them as belonging to the pantheon of truly greats then at least the loss would have been for a good purpose. 
When you have a character like the Undertaker and a streak like 19-0 at WrestleMania, a loss needs to be for a purpose dramatic enough to counter-balance what that loss would take away from the fans.  I love Triple H, but him winning serves no greater purpose to justify the loss of one of the iconic streaks in professional wrestling has brought the fans.
But above all, there needs to be a clean finish one way or the other.  The streak, the character, the history and the role all involved have played in the WWE and in wrestling is too important for the all too frequent screw job finishes that WWE has used way too often in recent years.
I suppose it is possible that Undertaker wins and then announces his retirement.  I suppose that while this is no way near as satisfying an ending , it allows Undertaker to finish on top and allows the fans to hold on to that iconic, legendary feat known as the Streak.  I am very excited to see this match and very interested to see how the WWE will handle this legendary match with these legendary figures.     
The Rock vs. John Cena
This has the makings of a classic brawl: Two awesome entertainers who represented an era, two wrestlers at or near the top of their game, two dudes who just plain don't like each other.  Of course the obvious question now is: Who will win?  The next, somewhat less obvious question is: What will it mean for the winner and loser.
Before I go into this scenario, I would like to stress again that this match MUST have a clean finish one way or the other.  No outside interference baloney.  This is one of those dream match, once-in-a-lifetime events that actually is coming true.  This is also an event that SHOULD be a one time event or else it looses all the gravitas and implication it has.  This match, if one wins, will be a handing of the torch, a validation of their entrance into the realm of legends.  If the other wins, it is a repudiation of all that has come since them.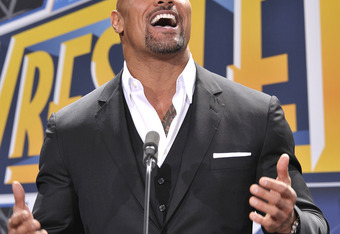 Michael N. Todaro/Getty Images
I also want to be honest—I love the Rock and think he is a genius at the craft, but in my heart I am rooting for John Cena (more on this later).  Just want all to know where I am coming from before going into my thoughts on the match.
I am not sure how this will pan out.  But In honesty, I think this will end with a Cena victory.  Before you curse me out, hear out why I think this will be booked this way:
Cena has everything to lose.  Of course, so did HBK in WM 25, and that did not stop WWE from booking him to retire.  But this is different.
John Cena, love him or hate him, is going to be around WWE for a long time, year in and year out.  He is their massive money maker, controversial as he is.  He is one of the if not the face of WWE.  Punking him out on the grandest stage of them all is absolutely not going to help WWE long term.  No hating on the Rock, but lets be honest, Vince is not going to pull a Jets and bring in a temp intending to replace their starting quarterback.  The Rock, while I believe he is sincere about his love for the WWE and wrestling is not going to go on tour 310 days a year, he has too many other projects going on.  However this plays out, Cena can't be seen as having been irredeemably humbled by a wrestler from a previous era.
Of course, creative could just decide to have some screw job finish, or outside interference, or something else.  This would be a real waste as it would cheapen what should be a legendary match and a match that should happen but once.  Anything else would really cause a loss in confidence in WWE, at a time when I, as a fan, was just beginning to re-discover a love for WWE that I hadn't had in some time.
The best way to handle this is to take a page from previous WrestleMania matches—make it a classic.  No Super Cena, no having one wrestler get beat up for 20 minutes only to stage a comeback the last few minutes and suddenly win.  These two need to beat the hell out of each other for a good 30 to 40 minutes.  These two men deserve it, the fans deserve it.  anything else, no matter who wins, would be an unforgivable disappointment and cheapens both eras and careers.
With all this having been said and how much a Cena victory makes business sense (and how much I am rooting for it personally) going forward, I would like to see Cena lose a few matches.  Clean.  In the long run, a losing streak can really flesh out a character and give us a reason to care about him again.  Plus, this feud has brought out a more serious side to John Cena, less corny, more real.  WWE needs to allow him to bring out more of this real side.
As I said before, I am a John Cena fan.  I love the fact that he is a role model for kids.  That he does a lot of work for the military and make a wish.  Call me a mark, but I like rooting for someone I find to be a good, honorable person both as his persona and who he is the other 50 days of the year.  This should not change.  The five moves of doom—well look, many popular wrestlers are mediocre workers, hell, Cena is better than another guy you might have heard of: Hulk Hogan.  The corny jokes—well, I find it to be so bad it's good, but I can see how many would find that annoying.  I understand these are different times.  I understand it is a PG show with some fans longing for a trip back to the attitude era.  I agree, make Cena more edgy, make him more human while not making him weak...
Or do nothing.  Fact is, as a PG show, WWE not only needs to cater to dudes, but husbands, wives, and kids.  Booed as he may be, people still pack in to see shows.  Besides, as one wrestling impresario once opined, "controversy brings cash and Cena has made WWE a lot of money.
Personally, I want to see Cena level someone with a chair and deliver a nut shot now and again.  But I digress.
Well, that's it for me.  It feels good to get these thoughts out and am honored to share them with you, fellow Wrestling fans.  I look forward to your comments and reading how you feel about these issues.