50 Ugliest Baseball Card Photos Ever
Chris McGrath/Getty Images

As the world's least photogenic person, I admit that this exercise contains heavy doses of hypocrisy.
Were I talented enough to command a baseball card, one would no doubt find my likeness on this list—eyes half-closed, stifling a sneeze, forehead gleaming in nervous perspiration.
But I'm not talented enough, and I've been waiting two decades to find some silver lining in that sad truth.
So with that as preamble, let's make fun of some ugly famous people!
Begin Slideshow

»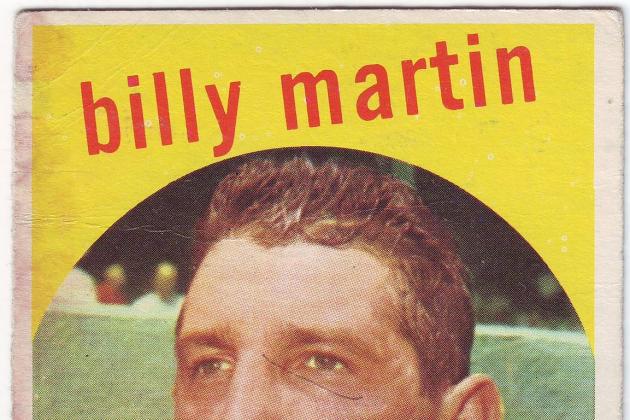 Based on Billy Martin's expression, I assume that somewhere behind the cameraman there's a buxom blonde bathing in a frothy mixture of vodka and George Steinbrenner's intestines.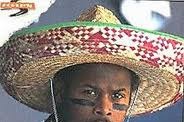 And here I thought there was no diversion so flamboyant it could distract from the first name "Bip." I stand corrected.
According to the geniuses at Topps, the future will look like scrambled pornography.
OK, so they were kind of right.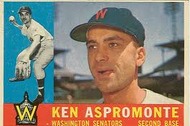 OK, Ken, for this shot show us how you might try to throw a baseball if you were strapped into prenatal stirrups.
Boom. Perfect.
I think we got it folks!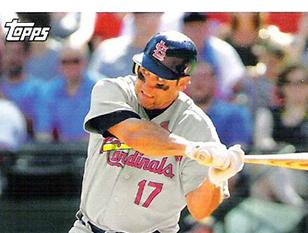 Cleanup in aisle underpants.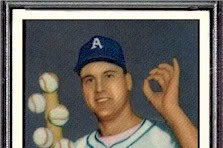 I think Gus Zernial is trying to tell us how much he loves Brussels sprouts on the stalk.
I think...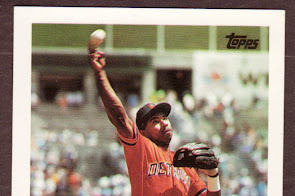 Based on the anticipated trajectory of this throw, Skeeter Barnes has only a novice understanding of baseball.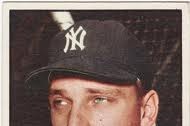 Roger Maris gives the camera his best I'll-never-be-as-attractive-or-charismatic-as-Mickey-Mantle look.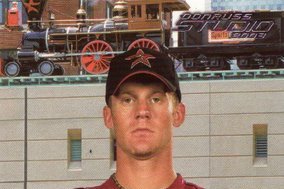 Those seeking a definitive explanation for the death of the trading card industry need look no further.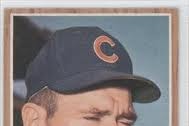 Given what I'm seeing here, Cardwell is a most unfortunate surname.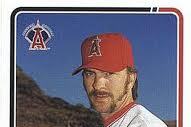 If you want Metallica tickets, Ben Weber knows a guy.
Randy Johnson is looking at the camera like he knows this isn't going to end well.
And he's right, it won't.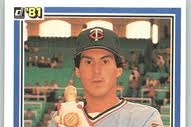 This is the father of current Twins backup catcher Drew Butera.
Yes, he found a mate.
So much for evolution.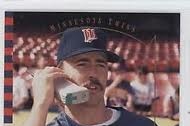 "Yes, I'd like to order 37,000 Cabbage Patch Kids and everything in Al Capone's vault. What's that? A complimentary Rick Astley fountain pen? I'll take it!"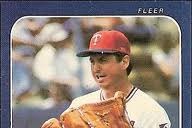 OMG! ROFL! THAT GLOVE IS LIKE WAY TOO BIG FOR THAT MAN! SO SILLY! SOMEONE GET HIM A STANDARD-SIZED GLOVE BEFORE GAME ACTION BEGINS! LOLOLOLOLOL!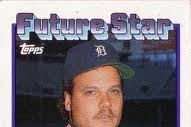 I'm not a mind reader, but I'm pretty sure Steve Searcy forgot he was in front of the camera.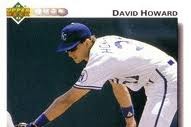 Upper Deck wanted to use a picture of David Howard drinking warm milk, but decided it was too risque.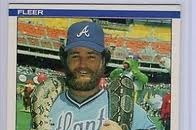 At no point before or after has the Phillie Phanatic been the most normal thing in a photograph.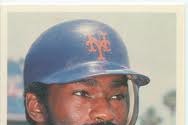 Laugh all you want, but George Foster's sideburns are equipped with blue tooth technology.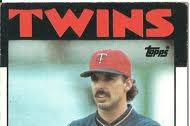 Teammates called Gary Gaetti "Rat."
I doubt they had to explain that nickname even once.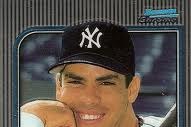 I would hope that the man or woman responsible for arranging this pose is now in another line of work.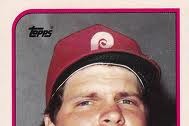 What are the chances John Kruk is thinking about biscuits and gravy right now?
Is there a percentage greater than 100?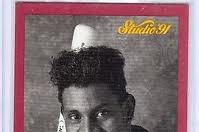 Before he made his name as a muscle-bound slugger, Sammy Sosa was the world's happiest Chia Pet.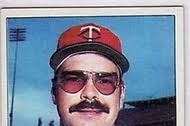 And here Craig Kusick makes a strong case for night-time baseball sans lights.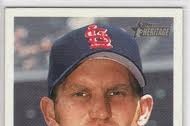 I can confirm that a man named Richard "Stubby" Clapp played 23 games for the St. Louis Cardinals in 2001.
I cannot confirm the authenticity of this baseball card.
But I want so very badly to believe.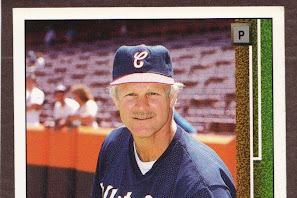 I was going to say that Jerry Reuss looks like a bizarro, creepster version of Steve Zahn, but that would be unfair.
Steve Zahn also looks like a creep.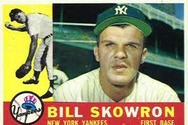 It feels redundant to tell you that Bill Skowron's nickname was "Moose."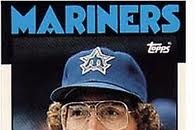 Pete was known around town as the "Ladder," because no one wanted to get caught under him.
Hi-yoooooo!!!!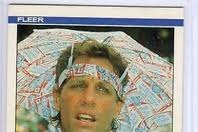 In this photograph, Jay Johnstone captures that distinctive Cubbie spirit by making an ass of himself.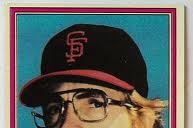 Joe Pettini was as good at baseball as he was at smiling. In other words, he had a career .238 slugging percentage.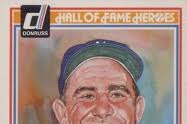 As Berra himself might put it, Yogi Berra isn't not unattractive.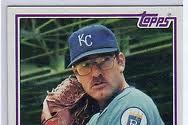 Watcha got in that glove there, Mikey? Baseball? Tennis Ball? Human fetus?
A dejected Fernando Valenzuela realizes he has not been cast in the television adaptation of Fame.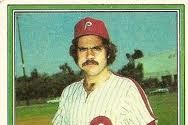 Two years after this photo was taken, Warren Brusstar ceased to exist and instead became a man-shaped grove of chest hair.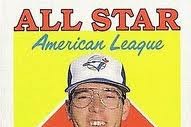 When Tom Henke makes the All-Star team, he smiles.
So maybe we don't name him to anymore All-Star teams...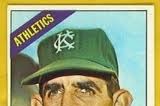 "No, I'm not familiar with prosthetics. Why do you ask?"
- Don Mossi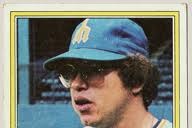 Mario Mendoza's strengths: fielding, glasses-wearing.
Mario Mendoza's weaknesses: hitting, skin pigment.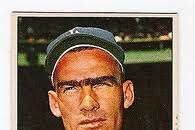 Photography can be an unforgiving medium.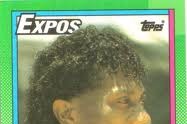 In Pascual Perez's defense, it was the 1980s and he was batsh*t insane.
Seriously, run a google search on Pascual Perez. Dude was head sick.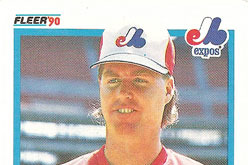 Zane Smith looks just about how you'd imagine a guy named "Zane" would look.
By that I mean he looks like a mutant rodent sent above ground by his sewer brethren to purchase Blue Collar Comedy tour DVDs.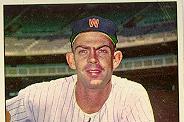 I can see the sad arc of Washington Senators' history in Don Lock's unibrow.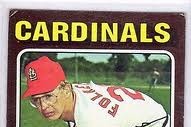 Either Rich Folkers just threw a bad pitch or he soiled himself—maybe both.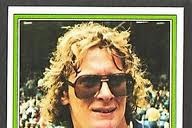 "Ah jeez. Just my luck. Topps sends a camera man the one day I decide to stick my head in a camel's anus."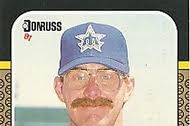 "People always ask me, 'Ken, why Seattle?' Easy! Beautiful ocean views, temperate climate, a vibrant arts scene and ample access to methamphetamines!"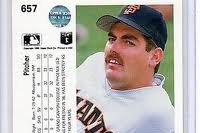 There's no sure way of knowing what Randy McCament scribbled under the bill of his hat.
Perhaps it's a bible passage or a bit of inspiration.
Or maybe it's a reminder to look into this "orthodontics" business everyone keeps yapping about.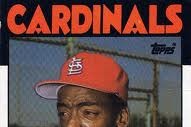 Willie McGee's expression tells me that he's just seen a picture of Willie McGee.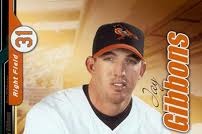 It's been a dark century for the Baltimore Orioles. In the case of Jay Gibbons, perhaps they wish it'd been a bit darker—you know, like trapped in a windowless dungeon dark.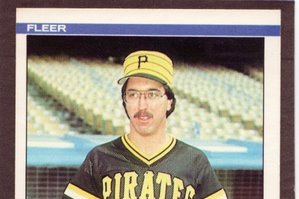 Sometimes it is difficult to separate ugly uniform from ugly picture.
This is not one of those cases.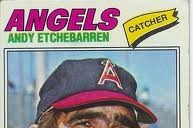 If there is a disease called catcher face, Andy Etchebarren has it.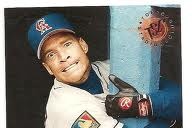 In today's episode of Unsurprising Facts about Rex Hudler, we reveal that Hudler was arrested in 2003 for marijuana possession.