28 Unbelievable YouTube Knockout Videos You've Never Seen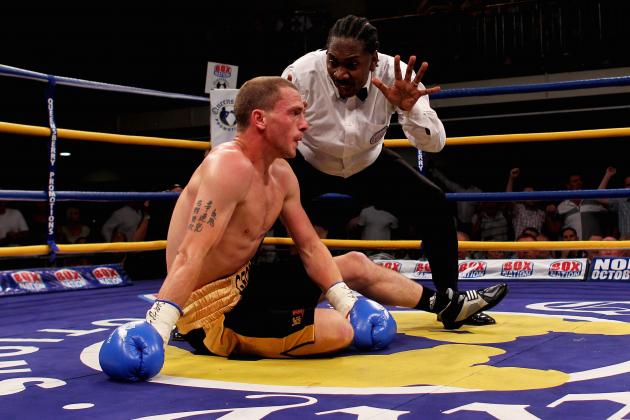 Dean Mouhtaropoulos/Getty Images

Except for perhaps the walk-off home run, the knockout is the most exciting event in sports—one explosive play or sequence that ends the contest and leaves the crowd on its feet and breathless.
And when it comes to combining ferocious brutality with stunning beauty, nothing this side of a natural weather event can compare. It is a truly primal moment, and the aftermath can be legitimately scary to all who witness it, even as they were thrilled only seconds before.
YouTube is full of great knockouts and knockout compilations, so this list should not be in any way viewed as definitive. This isn't a "best of" list. It is simply a collection of KO's, some shocking, some dramatic and some simply amusing.
Despite the title of this slideshow, I'll admit upfront that I have included a few pretty famous knockouts that will actually be familiar to most of my readers. These are particularly historic or noteworthy KO's, and if you haven't seen them, you should.
And if you have, you probably won't mind seeing them again.
Begin Slideshow

»
I am going to start with this one, because honestly, the sooner we all see this guy's mullet and forget about it, the better.
I generally hesitate to criticize anybody who has the guts to climb into a ring or cage to fight, but I'm always willing to make an exception for jokers who have clearly not spent the proper time preparing themselves for the challenge. And the mullet making his pro debut here doesn't look like he's done a month's worth of legitimate training.
This is labeled as "the world's worst boxer." That might be a fair assessment. I've never seen another amateur or pro who looked this bad.
Alright, the mullet has both these guys beat for worst haircut (although not for lack of trying on the part of "Insane Zane"). After watching this video for about the third or four time, I'm not sure he's actually any worse than either of these guys, though—particularly "The Shadow," the "creator of the illusive fighting style."
At what point does a value judgement like "worst" just become a sort of ridiculous academic debate?
Honestly, it's stretching to call this boxing at all. It's pretty clearly just some sort of unregulated toughman contest. I can't imagine there is a boxing commission in the country that would issue a license to either of these guys.
Okay, I know just about everybody has seen this knockout, but after the last two abominations, I felt like the Boxing Gods were hungry for something truly worthy of the sport.
Ricky Hatton was among the most popular talented fighters of his generation. Against Pacquiao, he was simply over-matched.
The editing on this particular video is well done. Here he is, Manny Pacquiao at his best.
Montreal is one of the greatest fight cities on the planet and at 18(12)-0, Quebec Province native and light welterweight prospect Pier Olivier Cote is in an excellent position to take advantage of that built-in fanbase.
This first round, one-punch TKO of journeyman Cesar Soriano took place on the under card of the first bout between Jean Pascal and Bernard Hopkins.
Tony "TNT" Grano, 19(15)-2(2)-1, is a power-punching heavyweight prospect. It is unlikely he will ever progress beyond "gatekeeper" status, but he is the kind of gritty ring warrior who people are happy to buy tickets to watch.
His fourth-round knockout of Travis Kaufman broadcast on Showtime in September of 2009 was exciting and controversial. Early in the round, Kaufman had Grano in a lot of trouble when Grano threw what looked like an intentional low blow and also appeared to deliberately spit out his mouthpiece in a gambit to stall for time. But then Grano legitimately connected with some very big shots to put Kaufman away.
Hardcore boxing fans would welcome a rematch.
This link is from Grano's last fight against tough veteran and former world title challenger Brian Minto in January, broadcast over the Internet by Gofightslive.tv.
I couldn't resist including it, since I was sitting about 10 feet away in press row.
Mike "The Rebel" Perez, 18(12)-0, is a Cuban defector who now lives and fights out of County Cork, Ireland, where by all appearances the local fans seem to have taken him in as one of their own.
It's easy to see why. With his powerful and compact frame and his explosive, two-fisted power, he has drawn comparisons to Mike Tyson.
Some boxing writers and fans see Perez as a potential future world champion. He is an exciting and powerful puncher, but is overdue for a step up in competition.
So Mike Perez does draw comparisons to Mike Tyson. But in all honesty, there can only ever be one Iron Mike.
Here is Tyson as a a 15-year-old amateur, dropping an older, more experienced opponent at the very start of his legendary career.
And now here's Mike Tyson five years later, as a a full-grown man, on the night he made history as the youngest heavyweight champ of all time.
I will sometimes hear Tyson's early dominance dismissed, because he supposedly fought against weak competition. While it's true that he didn't face the class of heavyweights from 10 years earlier, in the 1970's, it is also true that his competition seemed weak mainly because of how great he was in comparison.
Tyson at his best was an ideal knockout fighter. He swarmed opponents with flurries, punching violently from a dizzying assortment of angles. And he was like a shark once he smelled blood.
YouTube is full of Tyson highlight reels, like this one.
This is a clip of James "Buster" Douglas KOing Mike Tyson shortly before Tyson turned 24. It is perhaps the most famous upset in boxing history, and one of the most famous knockouts. But it happened over 20 years ago, so I'm including it for any younger fans who never saw it.
And this particular clip does a nice job of isolating the brutal poetry of Buster Douglas' final assault.
A lot of writers and fans view Douglas as among the worst heavyweight champions of all time. Looking at his overall record, that assessment seems fair.
But watching this clip, or the fight in its entirety, I can never help but think he is also one of the worst cases of unfulfilled potential.
This was The Ring "Knockout of the Year" for 2002, so it's another one that doesn't quite meet the true criteria of the list, but it seems like the natural follow up to the previous slide.
If Tyson's defeat to Douglas in 1990 was the beginning of the end for his career, this knockout loss to Lewis a dozen years later was the final swan song.
In truth, I don't really remember any serious fans or writers giving Tyson a shot against Lewis. This was over five years after he had been dismantled by Evander Holyfield. He was now only a shadow of the relentless, swarming juggernaut he had been in his early 20's.
But this was the night the legend died forever. He fought three more times afterward, losing to journeymen Danny Williams and Kevin McBride.
Mike Tyson is regularly discussed as among the top heavyweights of all time, just based on the early years of his career. David Tua does not show up in those conversations, but if the debate is over the greatest knockout artists of all time, he's going to get mentioned every time.
This is a clip of him laying out Michael Moorer, a former world champion and among the best heavyweights of the '90s. Again, this knockout isn't exactly obscure, but it is among the most dramatic you can find on YouTube, and anybody who hasn't seen it needs to.
Here's a longer compilation of some of his most exciting moments.
This first-round knockout by Australian cruiserweight Danny Green of fellow Aussie Paul Briggs in 2010 was very controversial, and on first glance, appears to be a clear-cut case of a fighter taking a dive. Green was irate in the post-fight press conference.
But on closer look, the knockout seems to have been legitimate. Green later addressed the press with a video isolating the moment Briggs moved directly into Green's jab, which does look to have compacted his skull into his brain stem in a nasty manner.
This clip demonstrated just how dangerous boxing can be and just how delicate the human skull and brain stem are, particularly when trained fighters are lobbing punches at them.
This is another fight from the same promotion who brought the world "The Shadow vs. Insane Zane," profiled in my second slide. I have waited until this point in the presentation to bring back another one of their fights, because I feel it would be unnecessarily hostile to my readers to show too many of them in a row.
As far as I can tell, these events were put together by people who really hate boxing and want to make it look bad.
This features a tow truck driver versus a boxercise instructor. As we see clearly demonstrated here, boxing-based aerobic classes are no place to learn the sweet science.
This is another one from the "promoters" who saw fit to put the "Shadow" in the ring.
The thing that really amazes me about these "fights" are the size of the crowd. The Grano-Minto fight I had in an earlier slide had about the same-sized crowd and that featured two top-50 heavyweights and an entire card of legitimate pros.
I've watched amateur cards in front of maybe 150-200 fans where every single boxer on the card, male or female, would have easily beaten any of these clowns. Any of these guys would get lit up by the most green beginners at the Friday night sparring at the gym where I work out.
The girls walking the fighters to the ring are pretty cute, so maybe that's the angle: A cheering crowd and pretty girls touching your arm is enough to make any joker think he can actually fight.
Anyway, this one features a self-described street fighter. What street, I can only imagine. Sesame Street, maybe?
Look, at one point in my youth, I, too, was a soldier stationed overseas. And I'll be frank: I didn't always behave in the most respectable manner.
But at least I never crashed a local, televised boxing card, swaggering around the place like a bantam rooster, throwing down challenges, only to ultimately get pounded silly while the crowd and television announcers ruthlessly mocked and laughed at me.
I mean, even the biggest degenerates in my unit never did anything close to that.
My company commander in those days was a former I-AA defensive back and he has a favorite saying: "If you get in a fight, you damn sure better win." And he meant it—guys who got into fights and also lost got in a lot more trouble than the ones who at least won.
So I can only imagine what kind of hell he would have unleashed on any of us who had gone out and gotten our butts kicked on local television.
This next clip is intended to demonstrate that even professional boxers can act ridiculously cocky, too.
This is Usman Ahmed, who fights out of Derbyshire, England, and currently sports a 6-5-1 professional record. Clearly he sees himself as some modern day version of Naseem Hamed. The only problem is that lacks Hamed's explosive speed, power and cat-like reflexes.
I'm not even sure that he can dance as well.
This is actually one of the most famous knockouts on YouTube, Kostya Tszyu putting Zab Judah on silly street. But I had never seen it with this Cedric the Entertainer narration until I was researching this story, so I couldn't resist including it.
I have seen a lot of comments on this video to the effect of, "What the heck could Judah possibly be arguing about?" But I can testify from personal experience, when you get knocked cold in a fight you are always the last person in the room to know it happened, and the information comes as a complete surprise.
That kind of disappointment can be tough for a professional athlete to process, particularly with a scrambled brain, so Judah's initial protests are entirely understandable.
The epic temper tantrum that followed...not so much.
Judah, by his own account, has matured a lot since those days. He will probably never reach the pinnacle of the sport that he felt sure he was destined for early on, but he remains one of the more talented and high-profile boxers of his generation.
He looked very good just last Saturday night, when he knocked out previously undefeated Vernon Paris on the NBC Sports card.
With a career record of 20(4)-15(4)-1, welterweight Lenin Arroyo is what you might call a "ham-and-egger." And since October of 2008, he has been on a particularly steep slide, going 0-8, mostly as an opponent to undefeated prospects. In his last four fights, he hasn't made it past the the fifth round.
With only four career knockouts on his record, he would not seem to be much of a power puncher. But as he shows here in this April 2007 fight against Juan Carlos Rodriguez, at one point, at least, he had some pretty decent explosiveness and the reflexes necessary to capitalize on an opening.
Pipino Cuevas, 35(31)-15(6), is on nobody's shortlist for all-time greats. But at the height of his career in the late 1970s, he was one of the most feared punchers in the sport.
He came into this 1980 clash with Thomas Hearns the WBA welterweight champion, the winner of 12 straight title fights, 11 by stoppage.
But in this fight, he ended up being a stepping stone for Hearns in his ascent towards elite status.
Just so nobody leaves this slide show remembering Pipino Cuevas only as the guy who got chopped down by Thomas Hearns, here's a great example of why he was one of the most feared punchers of his era.
In this slide, he knocks Miguel Angel Campanino senseless with a quick, lead left hook.
Roberto Duran ranks very high on a lot of people's all-time pound-for-pound lists, and probably tops more all-time lightweight lists than anybody else.
But the much taller Hearns was a terrible matchup for him, style-wise. This one has to ranks as among the most shocking knockouts of all time, because nobody else ever did the Panamanian legend like this.
He got stopped twice more later in his career, but this was when he was still not too far removed from his brilliant prime—in his last fight immediately before this one, he had gone 15 competitive rounds with Marvin Hagler at a time when Hagler was crushing pretty much everybody who stepped before him.
When a fighter gets a nickname like "Manos de Piedra" (Hands of Stone) you know that means he could punch people out. YouTube is full highlight reels and tributes for this popular star who fought in five separate decades. This link is just one great example.
In this clip above, Duran finishes off Monroe Brooks with a brutal left hook to the body.
This classic knockout clip of Marvin Hagler is a pretty good example of what boxing used to be.
Up until the 1980s, it was still possible to watch the sport's biggest stars fight on free television, and on weekend afternoons, no less, when young kids could see it and naturally fall in love with the sport.
I watched this live when I was 11 years old.
I know, I know...everybody has seen this one. But the past few slides have got me feeling nostalgic for the glory days of the sport. And can anyone really object to seeing this one again?
These just might be the most exciting three rounds ever fought.
With 49 of his 55 career victories coming by way of knockout, Julian Jackson was one of the great power punchers of the late 1980s.
Here he is dropping another world champion, Terry Norris, in the second round of their 1989 clash.
Now here's Terry Norris on the other end of the equation in 1990, chopping down the man they called "The Beast," John Mugabi.
Since I've started reminiscing about the 1980s, here's one more from that era. "The Body Snatcher," Michael McCallum was a junior middleweight world champion and one of the most dangerous punchers of the era.
Here he is stopping the previously profiled Julian Jackson on his feet in 1986.
Magomed Abdusalamov is a tough name to spell and remember, so that's why I'm practicing now. With 14 KOs in 14 professional fights, he has the look of a future title challenger.
To give an idea of where he would seem to stack up, he demolished Rich Power in three. Power gave eight tough rounds to English-Irish heavyweight standout Tyson Fury.
Abdusalamov, who started fighting at over 260 pounds, has brought his weight way down in the past couple of years to a much more athletic 220-230 pound range. He has relocated to boxing hotbed Oxnard, Calif. to increase his visibility in the U.S. market.