Final Four 2012: Key Stat for Each Elite 8 Team to Reach New Orleans
March 24, 2012

Ronald Martinez/Getty Images
Eight teams are one win away from the Final Four in New Orleans. They all have tough matchups ahead of them, and there is one key stat they must manage or excel at to advance.
The stat is dictated by their tendency through the season as well as their opponent. Let's start at the top with the nation's top team and tournament's No. 1 overall seed.
No. 1 Kentucky vs No. 3 Baylor
Kentucky's Key Stat: Rebounding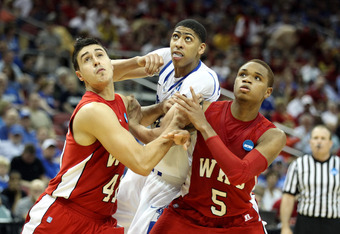 Andy Lyons/Getty Images
The Wildcats must control the boards. In their two losses, they have been out-rebounded 64-56. When they don't control the boards, they can't get out in transition, and they give up second chance threes.
That is a formula for an upset.
Baylor's Key Stat: Three-Point Shooting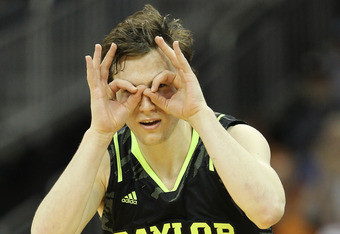 Jamie Squire/Getty Images
The Bears must take pressure off Perry Jones III and Quincy Acy by shooting well from distance. In losses this season, the Bears are 35-of-102 from three-point range, which is just under 35 percent as a team.
This is why Baylor' sharpshooter Brady Heslip is perhaps the most important player in this game.
To beat Kentucky, they must shoot it well, up near 40 percent.
No. 4 Louisville vs No. 7 Florida
Louisville's Key Stat: Forced Turnovers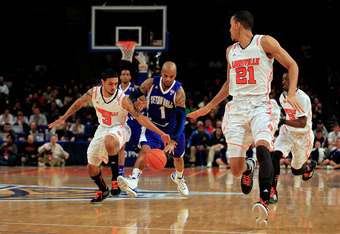 Chris Trotman/Getty Images
The Cardinals are on a roll, and much of their recent success comes from forcing turnovers. In their seven-game win streak, they have forced an average of 13 turnovers per game.
They need to be at or above that number to move on to New Orleans.
Florida's Key Stat: Opponent's FG percentage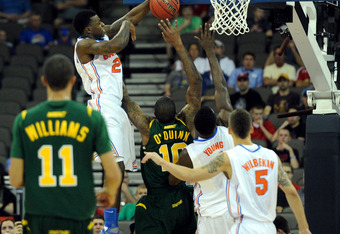 Eric Francis/Getty Images
The Gators have surprised a few people in the tournament. They are the lowest seed still alive, and they've done it with defense.
Opponents have shot under 32 percent from the field against the Gators through three games. If they can hold the Cardinals in that area, they will have a shot to knock them off.
No. 1 Syracuse vs No. 2 Ohio State
Syracuse's Key Stat: Opponent's Three-Point Shooting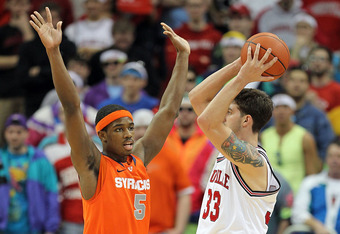 Andy Lyons/Getty Images
Jim Boeheim said it in the post game interview after the Orange narrowly defeated Wisconsin. This quote was published by ESPN:
I think that was the best game anybody has ever played against us and didn't beat us
Boeheim's main reason for saying that is because of how well the Badgers shot it from three. They connected on 43 percent from distance, and that is usually the key to knocking off the Orange and their 2-3 zone.
In the Orange' two previous losses, Notre Dame shot 50 percent from deep and Cincinnati shot 45 percent. They have to control Ohio State from deep, while giving ample attention to Jared Sullinger.
This will be a tough task.
Ohio State's Key Stat: Free Throw Attempts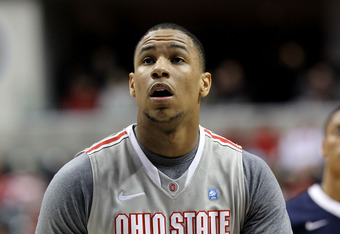 Andy Lyons/Getty Images
You must challenge the zone with dribble penetration. If you rely only on the three, then you have to blazing hot to beat it. If the Buckeyes can get to the rim, or get Sullinger the ball, they can get to the line.
The more foul trouble they get the 'Cuse bigs in, the deeper Boeheim has to go on the bench. The deeper he goes on the bench, the less efficiently the zone is played.
The Buckeyes need to shoot at least 15 free throws as a team to weaken the zone.
No. 1 North Carolina vs No. 2 Kansas
North Carolina's Key Stat: Turnovers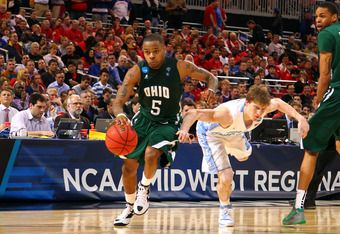 Dilip Vishwanat/Getty Images
The Heels have to take care of the ball. This is one of the few games where they won't have a huge advantage inside as Thomas Robinson and Jeff Withey can compete with Tyler Zeller and John Henson.
If they are forced to play without injured PG Kendall Marshall, this could be an issue. With Marshall out against Ohio, the Heels turned it over 24 times.
If that happens against the Jayhawks, they will lose.
Kansas' Key Stat: Rebounding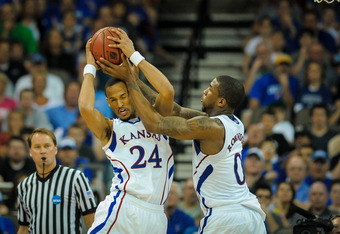 Eric Francis/Getty Images
The Jayhawks can't afford to be beaten up inside by the Tar Heels. This is the best frontcourt they've seen all year, but they have the horses to compete.
They have had games this season where they simply haven't shown up on the boards as a team. It happened in an upset by the Iowa State Cyclones in January. They were blasted 34-19 on the glass in that one.
They must bring maximum effort and rebound as a team to beat UNC.