Vancouver Canucks: Henrik Sedin a Reason for Optimism in Daniel Sedin's Absence
March 24, 2012

Doug Pensinger/Getty Images
The Vancouver Canucks are without their leading scorer Daniel Sedin, who also won the Art Ross Trophy as the NHL's leading scorer last year, due to a predatory cheap shot by Duncan Keith of the Blackhawks. 
The NHL's particular brand of justice was served, and Keith got a slap on the wrist with a five-game suspension. 
Daniel Sedin, on the other hand, is out indefinitely with a concussion. He is seeing specialists in Vancouver, but there is no timetable for his return to the ice. 
Some of the media and fans have already written off the Canucks, stating that a team already in the midst of a slump can't cope without their top scorer. 
On the surface that might ring true, but if you dig deeper, there are signs for optimism. 
First, contrary to the popular theme in the media right now, Daniel Sedin is not the Canucks' most valuable forward.  
He is their leading goal scorer with 30 goals, but the Canucks have some depth with Alex Burrows (24 goals) and Ryan Kesler (22 goals), and arguably Burrows has scored bigger goals in franchise history than Daniel. 
The Canucks are also a deeper team than last year and have some secondary scoring options in Jannik Hansen (15 goals), David Booth (15 goals), Chris Higgins (13 goals) and Henrik Sedin (13 goals). 
Henrik, by the way, has more points than his brother (70 to 67 at the time of Daniel's injury).
Henrik Sedin and Kesler are more valuable to the Canucks than Daniel, simply due to their positions.
The Canucks have wingers like Mason Raymond or Zack Kassian who can move up in the lineup.
They don't have another playmaking centre on par with Henrik Sedin or a two-way scoring threat at centre like the Selke Trophy-winning Kesler.  
If the Canucks lost either one of those centres, they would be in dire straits compared to "just" losing their top winger.
Also, if the Canucks were in need of an offensively-skilled centre, Cody Hodgson's laughter would be heard in Vancouver all the way from his new home in Buffalo. 
Second, without the anchor that is his twin weighing him down, Henrik is free to use his shot without worrying about passing to Daniel.
I'm guessing that at some point as a small kid, he was told by a parent to include his younger brother by passing to him, and that parental advice has just resonated throughout his career. 
Henrik has a shot that is better than most give him credit for. But he usually never uses it, even if gifted with a clear scoring chance. Instead, the premier passer in the NHL prefers to set up others.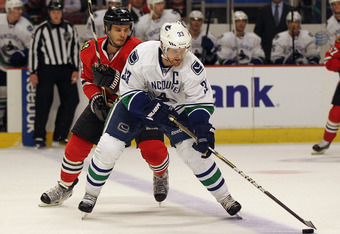 Jonathan Daniel/Getty Images
At one point last season, the Canucks captain even declined to score on an open net, instead protecting the puck all the way down the ice to allow Aaron Rome to notch a goal instead. 
The only lengthy period in their lengthy careers that the twins have not played on the same line was in the 2009-2010 season, when Daniel broke his foot blocking a shot in a 7-1 win over the Montreal Canadiens on Oct 7, 2009. The Canucks were 1-3 at that early point in the season.  
Unshackled from worrying about passing to his brother, Henrik carried the Canucks on his back. 
Daniel would miss 18 games. In that period, the Canucks went 11-7, and the captain surprised the rest of the NHL by thinking shoot-first rather than pass-first. 
Henrik had 10 goals and eight assists in that 18-game span, including a dominant performance with a hat trick against the Colorado Avalanche on Hockey Night in Canada. (The Canucks play the Avs again on Hockey Night in Canada tonight, so I'm hoping for a repeat performance.) 
This was almost triple his normal goals per game ratio. In his career, Henrik has 170 goals in 884 NHL games, for a 0.19 goals per game ratio.
During that 18-game stretch, he was scoring at a 0.56 goals per game pace. 
Henrik was also shooting more during that span, with 2.11 shots per game, versus his career average of 1.48 shots per game.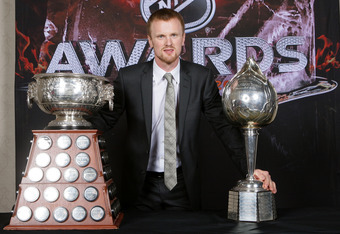 Bruce Bennett/Getty Images
For those who forget, 2009-2010 was the season where Henrik set career highs with 29 goals and 112 points, and walked off with the Hart Trophy as NHL MVP and the Art Ross Trophy as the NHL's leading scorer.  
If Henrik can play at that higher level again and focus more on scoring than just making beautiful highlight-reel passes, the Canucks should be able to weather this storm.
And if he can continue to elevate his play to that elite level even after Daniel returns, then the Canucks shouldn't have to worry about primary scoring in the playoffs. 
So far, in the one game since Daniel was injured, Henrik has been paired with Mason Raymond and Zack Kassian, while Burrows dropped down to the second line to try and jumpstart Booth and Kesler. 
In that admittedly small sample size, Henrik had two assists on highlight-reel passes, Raymond had a goal and an assist, and Kassian cleared the front of the net and screened the goalie for his more skilled line mates.  
In a chippy game that featured the likes of Steve Ott, no Stars player messed with Raymond or Henrik, so for a game at least, the heavyweight deterrent of Kassian's fists worked.
When Daniel returns, expect to see Kassian play a regular shift riding shotgun for the Sedins. 
We'll see tonight against the Avalanche if the Canucks can continue getting back to a winning pace without Daniel Sedin. But looking back at past history, there are some reasons for optimism.