NFL Rumors: Patriots Are Foolish To Give Chad Ochocinco Another Chance in 2012
March 24, 2012

Jim Rogash/Getty Images
New England Patriots wide receiver Chad Ochocinco will reportedly be back with the team this summer as they prepare for the 2012 season, which is a terrible idea for the defending AFC champions.
ESPN's Adam Schefter reported that Ochocinco will be back, saying that the Patriots think he'll study the playbook this offseason and come to training camp much more ready to play in the Patriots' offense than he was last year, when he was acquired at the start of training camp and never really got up to speed.

However, as Schefter also notes, the Patriots are always going to let the players compete in training camp and keep the best players. And if Ochocinco isn't a lot better in training camp than he was last season, it's hard to envision him being one of the best receivers on the roster.
While it appears that Ochocinco will be at training camp for the Patriots, there's no guarantee he will be with the team when Week 1 in September rolls around.
Head coach Bill Belichick will likely want to keep six receivers on the roster and there might not be a place for the struggling veteran.
With Wes Welker, Brandon Lloyd, Deion Branch, Anthony Gonzalez, Julian Edelman and Donte Stallworth all with more to give the Patriots than Ochocinco, it would be tough for him to find much playing time even if he made the final cut. 
It's really an unknown why Ochocinco was not able to understand the Patriots playbook and learn it well enough to find consistent playing time last year.
If he could not learn it over 16 games last year, what is looking at it some more over the summer going to do?
By bringing in a No. 1-caliber receiver in Lloyd through free agency this month, there is no need to have Ochocinco on the roster.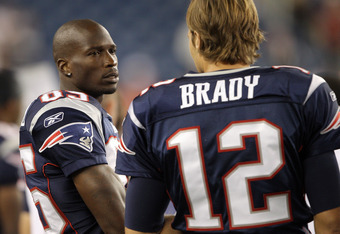 Elsa/Getty Images
Lloyd will give quarterback Tom Brady the talented deep threat and sideline specialist this season that Ochocinco was supposed to be last season.
The Patriots need to cut their losses and release Ochocinco. They have enough depth at wide receiver and with two fantastic tight ends, they don't need anymore targets for Brady.
Belichick needs to end the Ochocinco experiment and focus on rebuilding the defense to a championship level.
Nicholas Goss is a Featured Columnist at Bleacher Report, and also covers the Boston Bruins. Follow him on Twitter @NicholasGoss35.