College Basketball: Will Duke Become a Haven for 1-and-Dones?
March 25, 2012

Streeter Lecka/Getty Images
What's going on with Duke basketball? It's the second straight year it's lost a player to the NBA draft after just one semester of school. In 2011 it was Kyrie Irving, now it's Austin Rivers.
Is this the direction the university wants its basketball program heading? Is this what Mike Krzyewski's old college coach Bobby Knight was so upset about when he bashed Kentucky's coach John Calipari and said, "There's a situation in college basketball that really bothers me beyond anything that's ever bothered me in my career."
Knight went on, "Kentucky, year before last, started five players in the NCAA Tournament games that had not been to class that semester. And that's that one-and-done philosophy that we have now."
Knight calls players like Irving and Rivers rent-a-players.
He says "these rent-a-players can come in for one year and play, that's not college basketball. College basketball is a game for kids that are going to college to graduate not going to college for one year and then move on."
Duke has had its share of players leaving early for a career in the NBA. Since 2000, nine underclassmen have been drafted. Luol Deng (2004) was the only freshman on the list until Irving and Rivers decided to make the jump.
Rivers' teammate junior Mason Plumlee will also enter the 2012 NBA draft.
It's hard to imagine it wasn't the plan for Irving and Rivers all along: Come to Duke, fulfill the NBA age requirement, and apply for the draft after one season.
Do players like Irving and Rivers have other paths for getting to the NBA that will get them the experience they need but don't require a commitment to a university they don't intend to keep?
In 2009, 6'10'' center Jeremy Tyler, who now plays for the Golden State Warriors, decided to forgo an offer to play at Louisville to play international ball until he was drafted to play in the NBA.
Bobby Knight always believed in graduating his players. He makes it clear that recruiting one-and-dones was never in his interest.
And what about Lehigh, the team that eliminated the Blue Devils in this year's NCAA tournament? Recruiting a one-and-done has probably never happened at Lehigh or any other Patriot League school.
Has the Duke recruiting philosophy changed? Is this just the beginning of bringing in more one-and-dones on a regular basis?
Will Duke hold its basketball program to the same high standards to which it holds its academics? In the face of losing a chance to recruit future McDonald's All Americans, will it avoid bringing in players that can't make a three- or four-year commitment?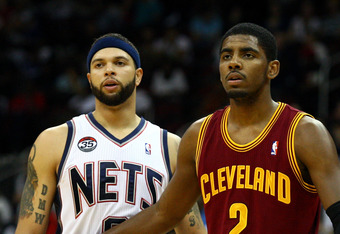 Chris Chambers/Getty Images
Have times changed and is this just the way thing are done now?
And what about the NCAA, should they crack down on programs that harbor one-and-dones?