SEC Football 2012: Ranking the Conference's Top 25 Linebackers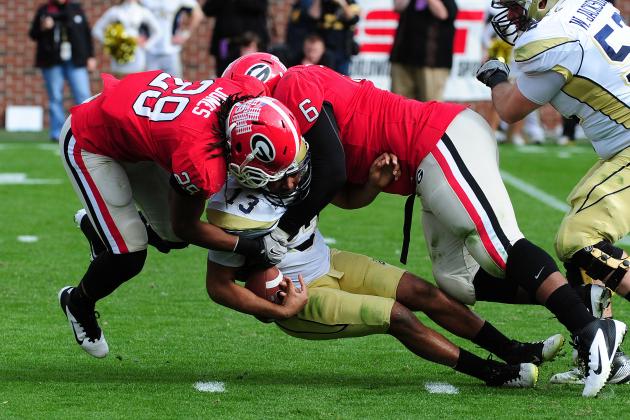 Scott Cunningham/Getty Images
With Jarvis Jones leading the way, Georgia will have one of the best linebacker corps in the country in 2012
If you're searching for great college linebackers, it doesn't take a genius to figure out which conference you should look to first.

The SEC has routinely produced some of the best linebackers in the country, including recent first-round NFL draft picks Rolando McClain of Alabama, Jerod Mayo of Tennessee and Patrick Willis of Ole Miss.
The conference may have just lost some great linebackers like Courtney Upshaw, Dont'a Hightower, Danny Trevathan and Jerry Franklin, but have no fear. There's another crop of up-and-coming linebackers who are ready for center stage next season, especially with the addition of Texas A&M and Missouri.
So who will be a part of the conference's next wave of dominant linebackers?
Here''s a look at the 25 linebackers who will be making the most noise in the SEC in 2012.

Begin Slideshow

»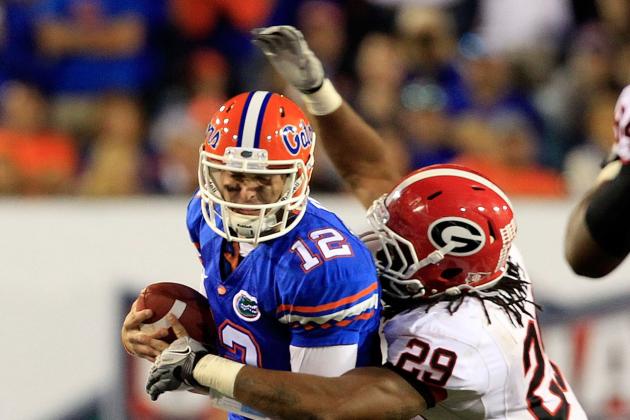 Sam Greenwood/Getty Images
Jarvis Jones
Jarvis Jones apparently didn't feel like waiting to take over the SEC. He stepped into Georgia's defensive lineup in 2011 and immediately became one of the top defensive performers in the conference. In his first year, the USC transfer led the SEC with 13.5 sacks and 19.5 tackles for loss, as he proved to be a perfect fit for the Bulldogs' 3-4 defense.
Jones is an explosive edge-rusher who knows how to victimize opposing offensive tackles.
The 6'3'', 241-pound junior could have entered the 2012 NFL draft and likely been a second-round pick. But now that Jones has decided to return to school for another year, he should be one of the biggest spotlight players in the country next season.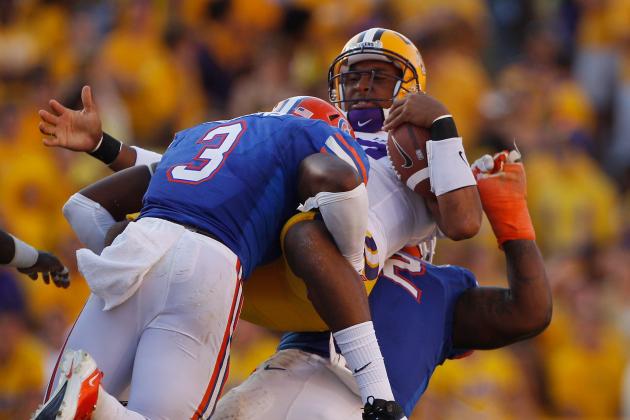 Chris Graythen/Getty Images
Jelani Jenkins
Jelani Jenkins arrived at Florida as a highly touted 5-star recruit, and he'll likely leave Gainesville as a top-20 NFL draft pick.
Jenkins is one of the most physically gifted linebackers in the country. He has all the skills that you look for in a weak-side linebacker. The 6'0'', 233-pound junior has the speed, instincts and tenacity of a true defensive difference-maker, and he displayed all of those traits in 2011 when he made 75 tackles.
Jenkins is a special type of linebacker specimen. He should be ready to have his best season yet in 2012.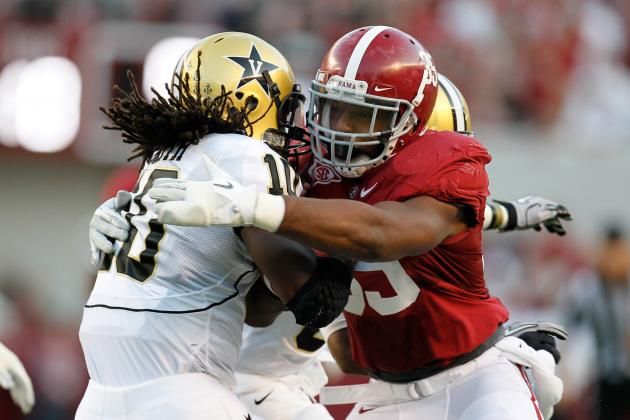 Kevin C. Cox/Getty Images
Nico Johnson
A defense doesn't lose a pair of linebackers like Courtney Upshaw and Dont'a Hightower without feeling some major after-shocks, which is why it's going to be so important for a linebacker like Nico Johnson to step up and become a reliable leader for Alabama's defense in 2012.
Johnson has been groomed for the role for the past few years. Next season will be his time to shine on the national stage as one of the Tide's key defenders.
Last year, Johnson finished fourth on the team with 46 tackles, and he'll now be the team's leading returning tackler for next season.
The 6'3'', 245-pound senior has just as much natural talent as his former teammates, Upshaw and Hightower, and he'll have the opportunity in 2012 to prove that he truly is Alabama's next great linebacker.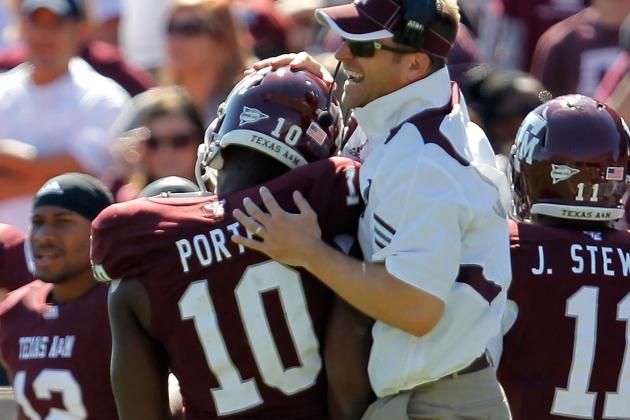 Sarah Glenn/Getty Images
Sean Porter
There's simply no way to properly replace a rare star linebacker like former Texas A&M pass-rushing sensation Von Miller. But apparently no one told that to Sean Porter, because he did everything he could last season to do just that.
The 6'2'', 230-pound senior enjoyed a breakout campaign, as he racked up a team-leading 9.5 sacks and also notched 17 tackles for loss and six quarterback hurries.
Porter may not be on the same level as Miller, but that certainly doesn't mean that he won't have the chance to develop into an elite defensive play-maker in 2012.
It should be fun to see what the talented veteran edge-rusher can do against the strong SEC offensive lines that he'll face next season.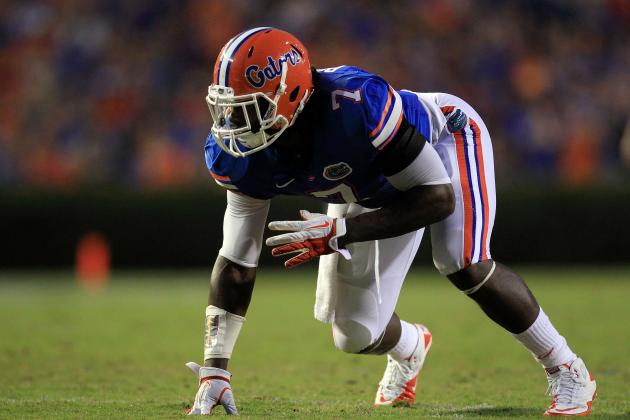 Sam Greenwood/Getty Images
Ronald Powell
Ronald Powell seems like he was born to play the hybrid "Buck" linebacker position for Florida's defense, and after two years of continual development, it now looks like Powell is ready to take the next step and become a true star in the SEC.
Gators fans had high expectations for the former 5-star recruit when he arrived in Gainesville as the No. 1-ranked prospect of the 2010 class. However, it's taken some time for the young edge-rusher to get acclimated to life in the SEC.
After an encouraging performance last year, it now seems like the 6'4'', 248-pound junior is ready to elevate his game.
Powell racked up six sacks and nine tackles for loss last year, and he should have no trouble besting those numbers in 2012.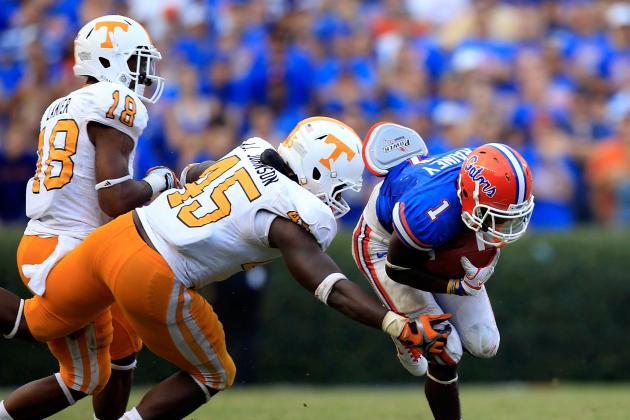 Sam Greenwood/Getty Images
A.J. Johnson
There weren't many freshmen defenders who could compare to Tennessee's A.J. Johnson last season. He made an immediate name for himself in Knoxville, making 80 tackles in his first year.
The former 4-star recruit certainly proved his worth, and now he'll be the undisputed leader of the Vols defense.
Johnson should benefit from the return of fellow linebacker Herman Lathers on the outside. The 6'3'', 245-pound sophomore could be ready to become one of college football's top linebackers.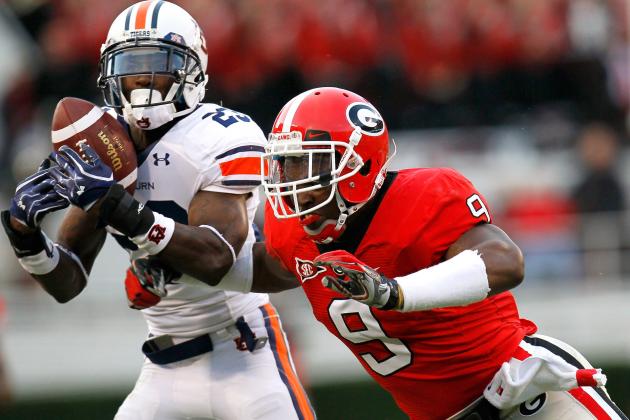 Kevin C. Cox/Getty Images
Alec Ogletree
Jarvis Jones isn't the only Georgia linebacker who should have All-American aspirations next season. Alec Ogletree also appears to be in store for a huge campaign.
Last year, Ogletree was limited to just eight games due to an early-season foot injury, but he still managed to finish with 52 tackles and three sacks.
The versatile 6'3'', 236-pound sophomore is one of the most athletic linebackers in the country, and he has a chance to reach star status if he can have the type of campaign that he's capable of in 2012.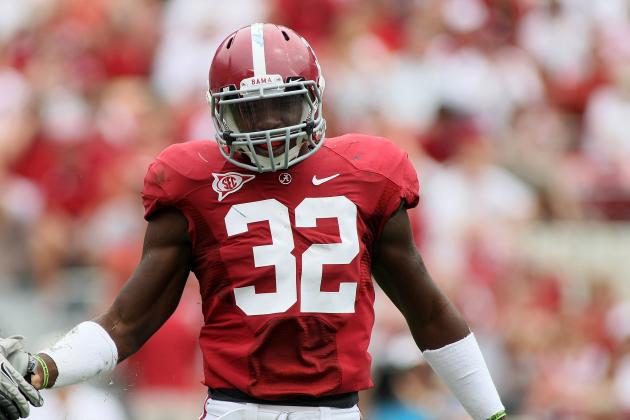 Greg McWilliams/Getty Images
C.J. Mosley
C.J. Mosley is surprisingly back on the field and feeling fine after returning from the gruesome-looking hip injury that he incurred after making an interception against LSU in the BCS championship game.
Now that he's back, Mosley will be counted on to be one of Alabama's most crucial impact defenders.
Last year, Mosley split time with Nico Johnson at weak-side linebacker, racking up 36 tackles and two sacks in 10 games.
The athletic 6'2'', 232-pound junior should be one of the most coveted linebacker prospects for the 2013 NFL draft. He's going to be asked to play a key leadership role in 2012, as Alabama's defense is going to have some growing up and gelling to do early next season.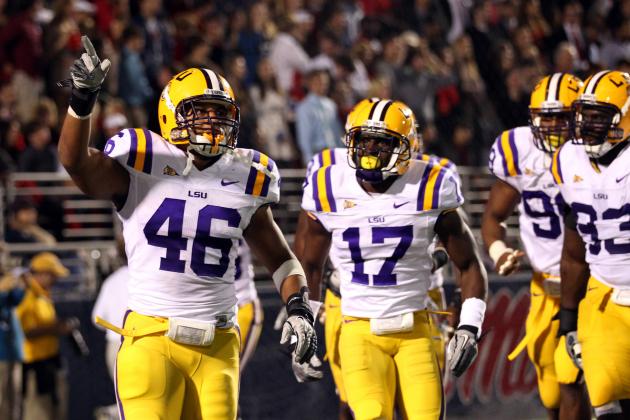 Joe Murphy/Getty Images
Kevin Minter
Linebacker was considered the weak spot of LSU's dominant defense last season, but that'll tend to happen when a team has the best defensive line and secondary in the country.
Even though the Tigers lose some key veteran linebackers like Ryan Baker, Karnell Hatcher and Stefoin Francois, they do bring back a potential standout in Kevin Minter.
Minter finished fifth on the team with 56 tackles last year, and he really proved to be an anchor in the middle of LSU's defense.
The 6'2'', 242-pound junior is a smart, strong and athletic middle linebacker, who gives the Tigers a proven run-stuffer to rely on.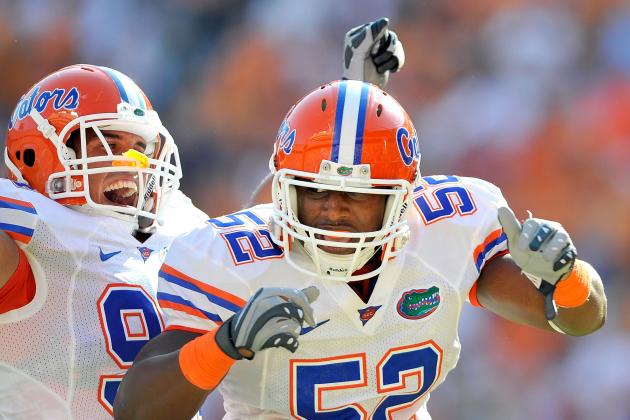 Grant Halverson/Getty Images
Jonathan Bostic
Jonathan Bostic may not be the same caliber of NFL prospect as fellow Gators linebacker Jelani Jenkins, but Bostic is just as important to Florida's defensive success.
Last year, Bostic finished eighth in the SEC with 94 tackles and he also notched three sacks. The 6'1'', 243-pound senior is a strong and stout inside linebacker, who really loves to get physical and bang around inside the box.
With Bostic, Jenkins and Ronald Powell, Florida will have one of the top linebacker units in the country next season.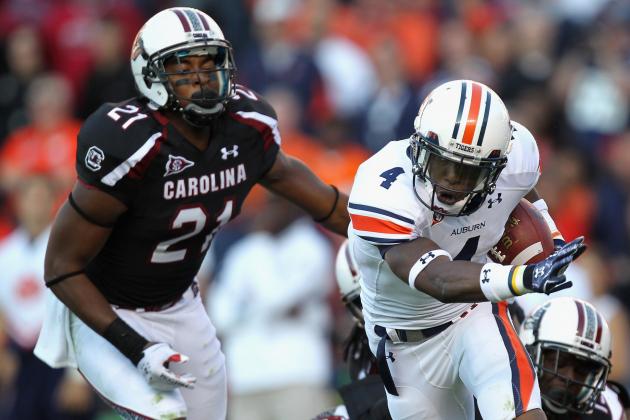 Streeter Lecka/Getty Images
DeVonte Holloman
DeVonte Holloman will once again man the "Spur" position for South Carolina's defense next season, and it's a role that the hybrid linebacker-safety proved to be perfect for in 2011.
Last year, Holloman was one of the Gamecocks' most critical defensive pieces, racking up 51 tackles and breaking up four passes.
The 6'2'', 232-pound senior made the wise decision to bypass the 2012 NFL draft and return for another year in Columbia. That will allow Holloman the chance to refine his game and work on the few flaws before moving on to the pros.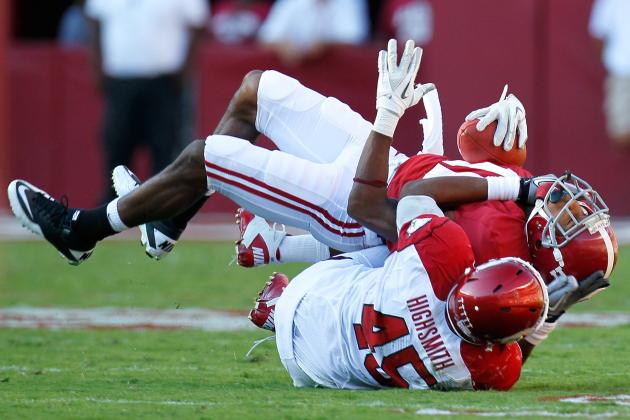 Kevin C. Cox/Getty Images
Alonzo Highsmith
Arkansas won't have an easy time replacing LB Jerry Franklin, who was a second-team All-SEC performer in 2011. However, Alonzo Highsmith should be perfectly capable of stepping in for Franklin and becoming the leader of the Razorbacks linebacker corps.
Last year, Highsmith finished third on the team with 80 tackles, and he also notched 4.5 sacks and returned a fumble for a touchdown.
The 6'1'', 229-pound senior excelled in his first season after transferring from Phoenix College. He should perform at an even higher level in 2012.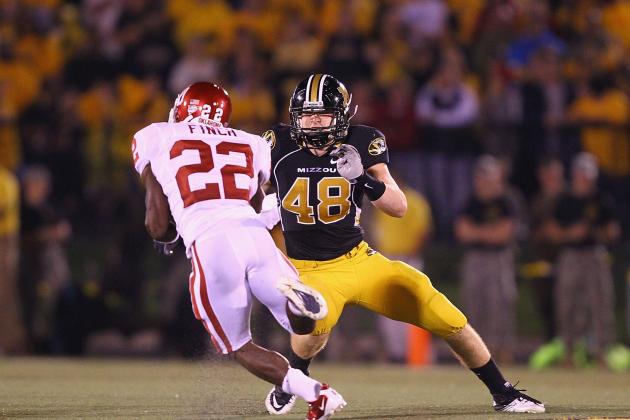 Dilip Vishwanat/Getty Images
Andrew Wilson
Andrew Wilson will be the undisputed leader and captain for Missouri's defense next season as the Tigers embark on their journey into the SEC East.
Wilson earned second-team All-Big 12 honors last year after leading the Tigers with 98 tackles.
The 6'3'', 235-pound junior is going to have to adjust to the stronger and faster offensive players that he'll face in the SEC. But given the type of athleticism, instincts and intangibles he possesses, Wilson should have no problem putting together another stellar campaign.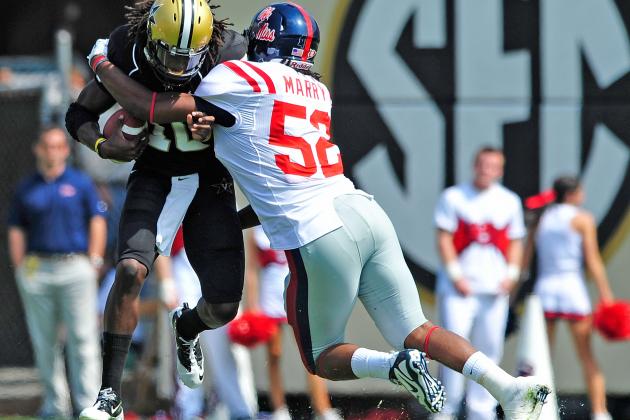 Grant Halverson/Getty Images
Mike Marry
It's probably going to take a few decades for Ole Miss to find a linebacker who is as dominant as Patrick Willis was for the Rebels. However, the team does have a potential stud in Mike Marry.
Although the Rebels were a disaster on defense last year, ranking 90th nationally in total defense and 96th in scoring defense, there was at least one bright spot, and that was Marry.
The 6'2'', 248-pound junior led the team with 81 tackles and proved that he has what it takes to be a true defensive leader.
If the Rebels want to improve on defense in 2012, the surrounding cast around Marry is going to have to step up, because it's going to be tough for the talented linebacker to play much better than he did last year.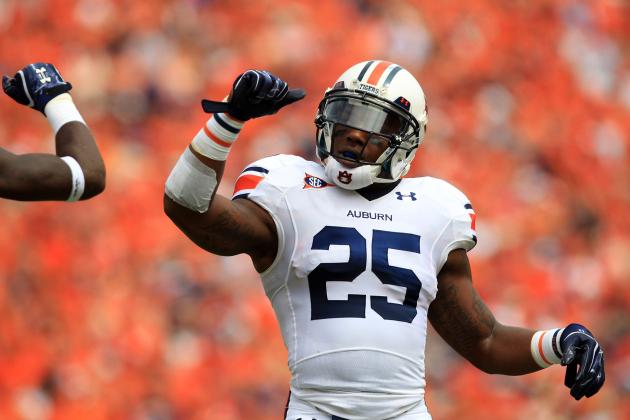 Streeter Lecka/Getty Images
Daren Bates
Auburn has only had four linebackers drafted in this millennium, but that number should increase in 2013.. OLB Daren Bates should be on plenty of scouts' radars next season, even though he'll likely have to make the move back to safety once he gets to the pros.
At 5'11'', 205 pounds, the converted former defensive back may be small by linebacker standards, but he certainly plays much bigger than his size, as we saw last year when he led the Tigers with 104 tackles.
Bates possesses great speed, instincts and range, and he knows how to find the ball and make plays all over the field.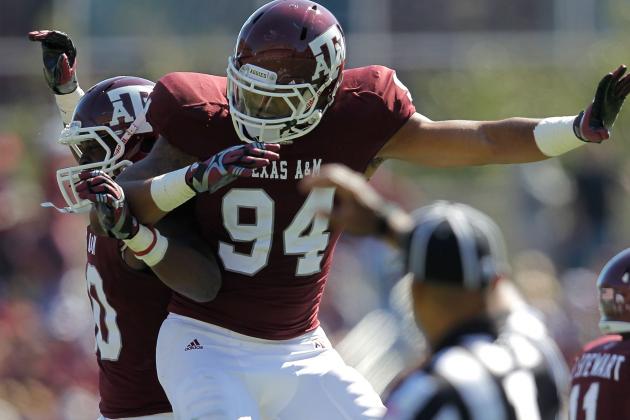 Sarah Glenn/Getty Images
Damontre Moore
Because Texas A&M was one of the most disappointing teams of 2012, finishing just 7-6 after starting the year ranked in the Top 10, the Aggies' linebacker duo of Sean Porter and Damontre Moore didn't receive a whole lot of national attention.
Porter and Moore were actually one of the most productive pairs of linebackers in the country, though, and it will be interesting to see how the two fare against SEC competition.
Last year, Moore earned honorable mention All-Big 12 honors after racking up 8.5 sacks and 17.5 tackles for loss.
The 6'4'', 245-pound junior has proven that he can penetrate into the backfield and make plays. He should give plenty of SEC offensive tackles headaches in 2012.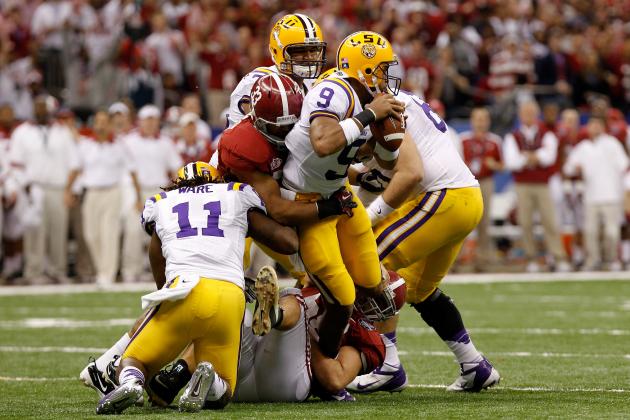 Chris Graythen/Getty Images
Trey Depriest
Trey Depriest arrived at Alabama as a heralded 4-star linebacker recruit out of Springfield High School in Ohio, and as a freshman in 2011, he gave fans a few glimpses of his enormous potential.
Depriest immediately made his presence felt in Tuscaloosa, as he was able to break his way into the Tide's extremely deep linebacker rotation.
After the early departure of LB Dont'a Hightower, the powerful 6'2'', 242-pound sophomore will likely assume a starting position on the inside for Alabama's defense.
Depriest will have a great opportunity to prove why he was such a hot commodity coming out of high school.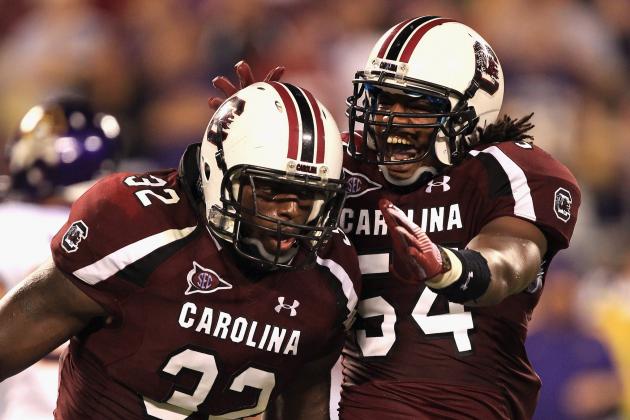 Streeter Lecka/Getty Images
Shaq Wilson
Last year, Shaq Wilson returned to the South Carolina defense after missing all but one game with a hamstring injury in 2010, and he played like he had never left.
Wilson racked up 52 tackles and showed the same type of flashes that he did during his breakout campaign in 2009.
The 5'11'', 224-pound junior may not be the biggest linebacker in the country, but Wilson is a fast and feisty defender who plays with intensity and never shies away from laying a big hit on a ball-carrier.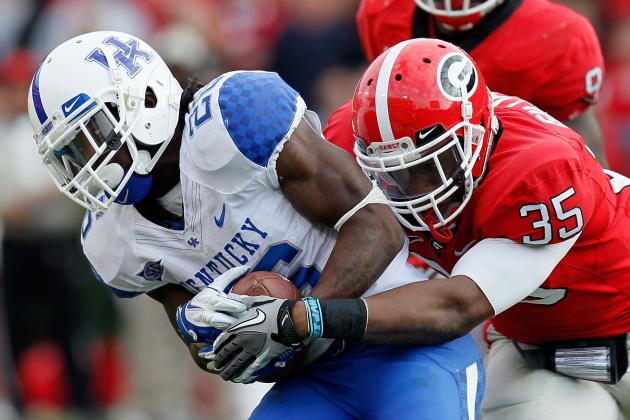 Kevin C. Cox/Getty Images
Michael Gilliard
Jarvis Jones and Alec Ogletree may be the two showcase linebackers on the Georgia defense, but Michael Gilliard will also play a big role in the unit's success in 2012.
Last year, Gilliard finished third on the team with 65 tackles from his inside linebacker position, and he should once again be one of the team's top tacklers next season.
The 6'2'', 220-pound senior is a true force against the run, and he and Ogletree should continue to give SEC running backs plenty to worry about in 2012.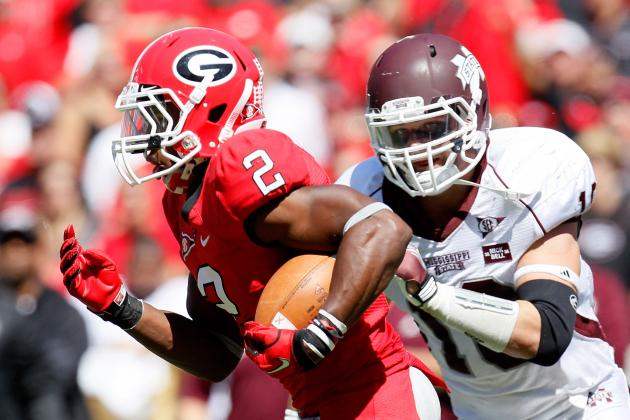 Kevin C. Cox/Getty Images
Cameron Lawrence
Last year, Mississippi State had to replace its three top linebackers, Chris White, K.J. Wright and Emmanuel Gatling. But luckily, the Bulldogs managed to get a big season out of Cameron Lawrence.
Lawrence stepped into the starting lineup and made a huge impact, leading the team with 123 tackles.
The 6'2'', 230-pound senior has a great radar for the football, and he and Deontae Skinner should develop into a similar linebacker tag team to what White and Wright were for Mississippi State in 2010.
Christian Petersen/Getty Images
Zaviar Gooden
Zaviar Gooden is the type of big, athletic linebacker who is built to succeed in the SEC, and it shouldn't take long for Gooden to make a name for himself when Missouri joins the East Division in 2012.
The 6'2'', 230-pound senior racked up 80 tackles and led the team with 54 solo stops last season.
Gooden and fellow linebacker Andrew Wilson will be counted on to be the two key leaders for Missouri's defense in 2012, and he should continue to be a reliable play-maker from his weak-side spot.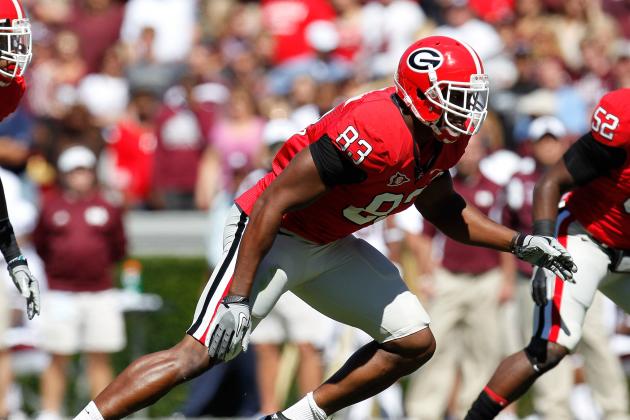 Kevin C. Cox/Getty Images
Cornelius Washington
Cornelius Washington will give Georgia's defense a versatile pass-rushing threat who is capable of lining up at either defensive end or outside linebacker in 2012.
Washington is a great complement to the smaller, quicker Jarvis Jones, as he proved last year when he racked up five sacks and six tackles for loss.
The 6'4'', 269-pound junior can certainly hold his own against the run, but he can also break through into the backfield and cause havoc behind the line of scrimmage.

Adrian Hubbard
After losing star veteran linebackers like Courtney Upshaw, Dont'a Hightower and Jerrell Harris, Alabama will now need a few new younger linebackers to step up and play bigger roles in 2012. One of them is Adrian Hubbard.
Hubbard is a former 4-star recruit who has the perfect physical makeup to excel as a Jack linebacker in Alabama's 3-4 system.
The 6'6'', 248-pound sophomore is a physical and fast defender who should be able to help ease the loss of Courtney Upshaw by developing into a consistent backfield penetrator.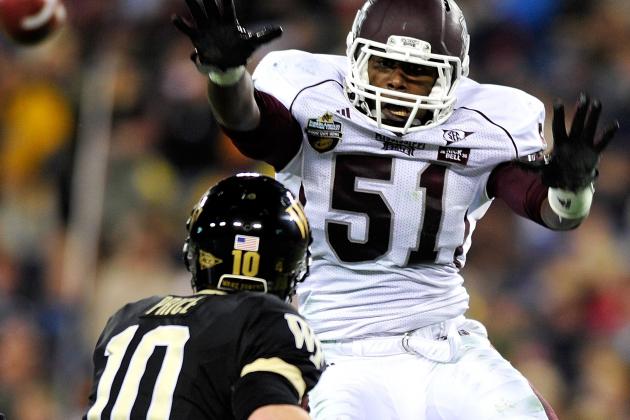 Grant Halverson/Getty Images
Deontae Skinner
After losing linebackers Chris White and K.J. Wright, Mississippi State's run defense dropped from 15th in the country in 2010 to 61st in 2011. However, now that linebackers like Deontae Skinner and Cameron Lawrence both know what it takes to be starters, the Bulldogs should stiffen back up against the run next season.
Skinner, who notched 69 tackles last year, will play a crucial role in the team's run defense in 2012. The 6'2'', 245-pound junior will be counted on to become a leader for Mississippi State's defense.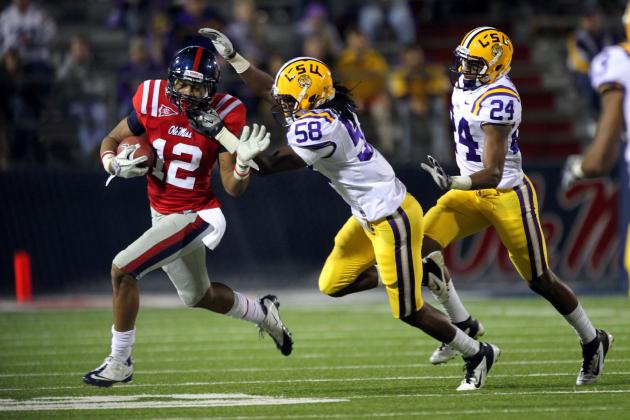 Joe Murphy/Getty Images
Tahj Jones
LSU loses three key linebackers from last year in Ryan Baker, Stefoin Francois and Karnell Hatcher, but the Tigers do bring back an intriguing group, led by Kevin Minter, which also includes up-and-coming 'backers Tahj Jones, Lamin Barrow, Luke Muncie and incoming freshman Kwon Alexander.
Besides Minter, the real name to watch will be Jones. He has the type of size-speed combination to develop into an impact play-maker.
The 6'2'', 205-pound junior is expected to start at the strong-side position, and he's certainly capable of putting together a breakout campaign in 2012.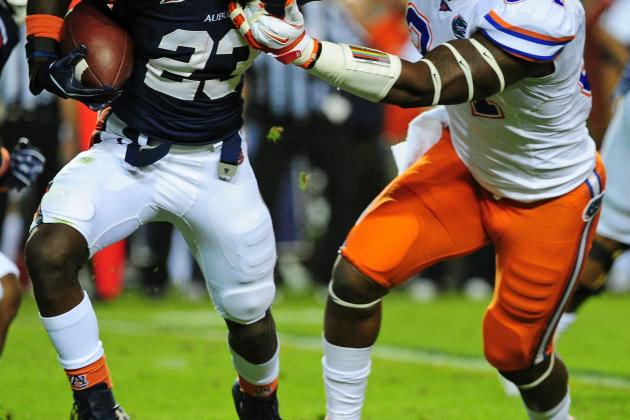 Scott Cunningham/Getty Images
Lerentee McCray
Alvin Dupree, Kentucky
Archibald Barnes, Vanderbilt
Avery Williamson, Kentucky
Chase Vasser, Georgia
Christian Robinson, Georgia
Herman Lathers, Tennessee
Jake Holland, Auburn
Jonathan Atchison, Alabama
Jonathan Stewart, Texas A&M
Lerentee McCray, Florida
Terrell Williams, Arkansas