NCAA Tournament Scores 2012: Kentucky & Ohio State on Collision Course to Final
March 24, 2012

Streeter Lecka/Getty Images
There are several different routes that they can take to get there, but I have yet to see a way that the national championship game will feature anyone other than Kentucky and Ohio State. They are the top two teams remaining in the tournament and are playing the best basketball right now. 
Perhaps just as important as all of that is that the matchups are going to be perfect for each team. The teams that they are going to be facing don't have what it takes to win, even in a single elimination setting. Let's take a closer look.
Kentucky
First we have Baylor, a team that can score a lot of points but is far too reliant on the three ball to beat a team like Kentucky. 
Relying on the three is problematic for a few reasons. One is that, as you move further from the basket, the shots will drop less frequently. It is too easy to go cold when shooting from the outside. Against Kentucky, it's easier, as they have the length (notably from Anthony Davis) to obstruct looks from the outside. Baylor may have their runs, but they will not sustain that offense for 40 minutes. 
Then, the Wildcats will be looking at a game with either Florida or Louisville. 
The Gators are the more dangerous of the two teams, but they are already 0-2 against the Wildcats this year. Kentucky has the size to block the lanes that Florida needs to have to score a lot. Also, as is the case with Baylor, the Wildcats are too long and will obstruct the outside shots that a guard-dominated team will need to take. 
Louisville is improving, but they have a pretty firm ceiling. It is really hard to imagine the Cardinals scoring more than about 70 points in a game, which will not work against Kentucky, nor will it come anywhere close. 
With Davis, Doron Lamb, Terrence Jones, Michael Kidd-Gilchrist, Darius Miller and Marquis Teague, they have six double-digit scorers. In case you're unaware, you only need five men on the court at a given time. Scoring over 100 against Indiana was not a fluke.
There is no player that you can focus on when playing Kentucky. They have too many weapons that can take over a game in different ways.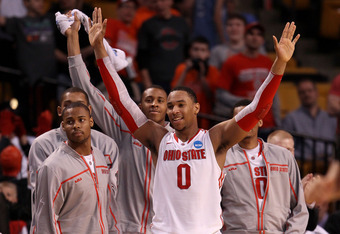 Elsa/Getty Images
Ohio State
With Aaron Craft on the perimeter on defense and Deshaun Thomas, William Buford and Jared Sullinger to score the points, you have the most complete team in the NCAA tournament outside of Kentucky. 
As is the case with Kentucky, the clarity of their path is just as important as anything else. 
On Saturday, they will square off against Syracuse. Without Fab Melo, the Orange lacks the inside presence to beat someone like Sullinger. Look for Craft to defend the perimeter, trying to force turnovers. He knows that he can, because Sullinger is there to back him up if something goes wrong. 
It may be an upset in terms of seeding, but Ohio State is a much better team than Syracuse, and that will show in the regional final. 
In the Final Four, they will have a nice gift of facing either Kansas or North Carolina. Both are still alive (obviously), but have struggled in a big way. 
USA Today lists Kendall Marshall as being out for the year. Without him, they barely beat Ohio, needing overtime. It's hard to see them getting through Kansas, and Ohio State is an absolute no. 
Should they have Kansas, the Jayhawks will learn that things are a little different with Sullinger in the lineup and at a neutral site. Neither was the case for the Buckeyes when the teams met earlier in the season. 
The way Kansas is playing right now, they have a hard offensive ceiling. Against Ohio State, they will be in the 65-70 range, and that will be a blowout.
The matchups are right, and the teams are hot. Kentucky and Ohio State will be playing each other for the grand prize on April 2. 
Sweet 16 Scores:
Thursday, March 22
East
1. Syracuse 64, 4. Wisconsin 63
2. Ohio State 81, 6. Cincinnati 66
West
4. Louisville 57, 1. Michigan State 44
7. Florida 68, 3. Marquette 58
South
3. Baylor 75, 10. Xavier 70
1. Kentucky 102, 4. Indiana 90
Midwest
1. North Carolina 73, 13. Ohio 65
2. Kansas 60, 11. North Carolina State 57