NCAA Bracket 2012: 5 Bold Predictions for Final Four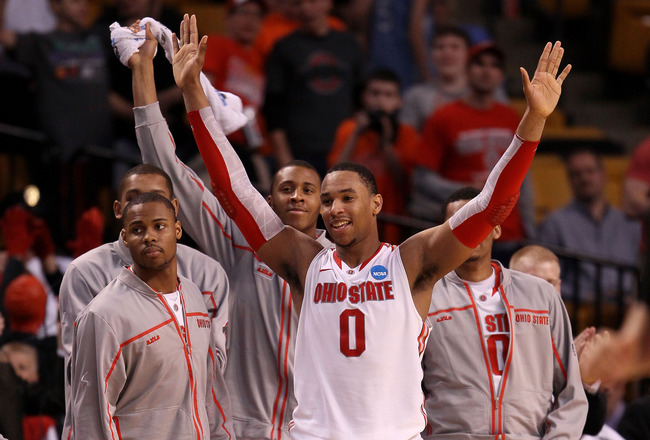 Elsa/Getty Images
Don't blink, because this NCAA tournament is flying by. It seems like it was just yesterday when the seeds were being dished out on Selection Sunday.
After tomorrow, the Final Four teams will have claimed their spots and the Big Dance will be that much closer to being over.
So in the light of things, let's take a look at five bold predictions for the Final Four. Keep in mind that these are bold predictions.
There Will Be No No. 1 Seeds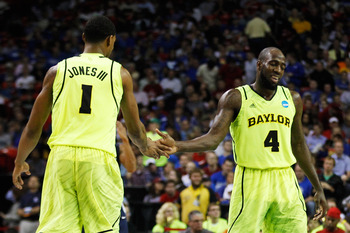 Streeter Lecka/Getty Images
Michigan State is the only No. 1 seed not in the Elite Eight. Don't be surprised when there are no No. 1 seeds in the Final Four.
There is no way that Syracuse can keep up with Ohio State at this point. Jared Sullinger and Deshaun Thomas are in absolute beast mode right now. Both players scored over 20 points against Cincinnati last game.
Is it just me, or did North Carolina look completely different without Kendall Marshall? The Tar Heels are a good team, but they need a strong point guard to be great. Kansas is an amazing team and will most likely find itself in the Final Four.
Kentucky is easily the best team in the tournament. Baylor will have to have an amazing performance to knock off a team like the Wildcats, but Quincy Acy and Perry Jones III are very capable of making this upset happen.
Florida Will Shoot Its Way to Victory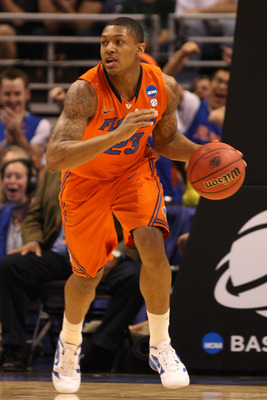 Christian Petersen/Getty Images
Once the Florida Gators start knocking down shots, the other team might as well have not even gotten off of the bus.
The Gators are arguably the best shooting team left in the tournament thanks to their amazing guard play from Bradley Beal, Erving Walker and Kenny Boynton.
However, those are not the only sharp shooters on the team. Florida also has Erik Murphy, who can light it up from behind the arc.
Florida has cruised through its competition so far. Just ask Marquette last game, who lost to Florida by 10 points.
Louisville may have a good defense, but the Gators have an even better offense.
Kentucky Will Not Make the National Championship Game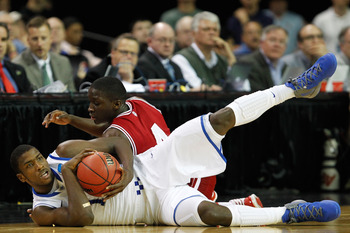 Streeter Lecka/Getty Images
Although I already predicted that no No. 1 seed would be in the Final Four, if Kentucky does happen to make it, that will be as far as they go.
If the Wildcats meet up with the Gators for the fourth time this season, there is no way that Kentucky will beat them once more. Kentucky has never gotten the best out of Florida, but the Wildcats were on in all three games against the Gators this season.
Have you ever heard of a team that has beaten another team four times in a season? Yeah, me neither—that is why it's not going to happen.
There Won't Be a Better Game Than North Carolina vs. Kansas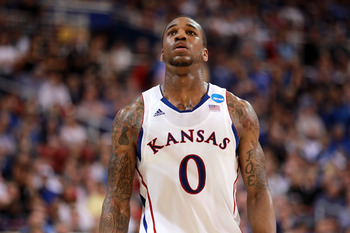 Andy Lyons/Getty Images
Kansas vs. North Carolina. No matter what the circumstances are, that is always a legendary matchup. No matter who makes the Final Four, no game will amount to this one.
If the Tar Heels can somehow figure out the point guard position, this will be the best game of the tournament.
It will be interesting to see how Thomas Robinson will fare against the best frontcourt in college basketball.
John Henson, Tyler Zeller and Harrison Barnes could easily be the best player on any team in the country, yet they are all on the same team.
Both of these teams have completely different playing styles, so either team could have the edge in this one.
The Final Four Games Will Be a Coin Flip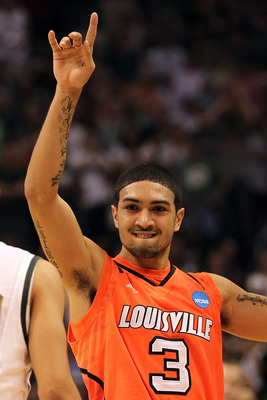 Jamie Squire/Getty Images
Get out your favorite coin, because you are going to need it to decide the Final Four. At this late in the tournament, every team has earned its right to be in the dance.
No one wants to go home.
Not to mention, every team left, besides Florida, is a No. 4 seed or better.
The NCAA tournament may have been a little disappointing so far, but the rest of the games will not disappoint in any size, shape or form.
Analyze these games all you want, it won't get you anywhere. You can't analyze how much heart a person has.
So start flipping that coin, because these games can go either way.
If you're a tweeter, feel free to follow me @Trevbot77.
Keep Reading