Fantasy Baseball Draft Strategy 2012: 4 Streaky Hitters You Must Avoid
March 24, 2012

Jamie Squire/Getty Images
Fantasy baseball owners beware: Don't fall for the seemingly incredible 2011 statistics of players like Melky Cabrera and others. Sure, they had great seasons last year. But they're still streaky hitters.
As each new session of fantasy baseball nears, fans fall in love with players who produced so significantly last year that they must be hot commodities now. If they don't snag them early, the thinking goes, someone else definitely will.
Let them.
Here's a look at four players who will lead you to believe they're going to do wondrous things for your squad, only to have you shaking your head in regret.
Melky Cabrera
Last season, Cabrera hit a very impressive .305 with over 200 hits, 18 home runs and 87 RBI. Unfortunately, it's the first time since 2006 that he hit over .275.
2011 was also only the second time he's ever hit double-digit home runs.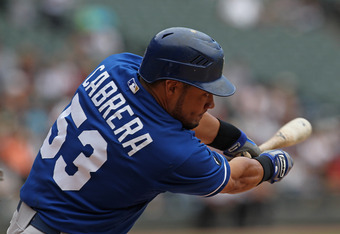 Jonathan Daniel/Getty Images
Cabrera is too inconsistent to draft early.
Consider the fact that, as the next big New York Yankee outfielder, the Yankees were comfortable shipping him to the Atlanta Braves. The Braves didn't see enough to consider him a necessity, as they traded him to the Royals, and even after last year's dazzle, the Kansas City Royals traded him.
They wisely capitalized on Cabrera at his highest value. You won't receive the same in return.
Alex Rios
Toward the middle of the draft, or even late in the draft, you might look at big-name players still on the board that most have given up on. You may consider players who once had thunder and could be a terrific steal for your roster.
Alex Rios is not that guy.
He has the power to put up double-digit home runs and the speed to eclipse 20 stolen bases. But he's too streaky to be trusted.
Jason Miller/Getty Images
Furthermore, the Chicago White Sox are likely sellers by the trade deadline, which means Rios may find a new home.
Selecting a player facing questions about whether or not his new digs can provide a rebirth just isn't worth the trouble. After all, Chicago was supposed to be the rebirth.
Corey Hart
It might be tempting to think Corey Hart, the Milwaukee Brewers' next-most-powerful slugger after Ryan Braun, is the guy who steps up in Prince Fielder's absence.
Erase those feelings now.
Hart can't be trusted due to inconsistencies in nearly every category.
A .280 average is respectable, but Hart has shown the propensity to hit at the .260 level in back-to-back seasons as well. His home runs are all over the place as well. Since 2008, he's hit 20, 12, 31 and 26, respectively.
His runs batted in show the same up-and-down trend. Since 2008, Hart has produced 91, 48, 102 and 63 RBI, respectively.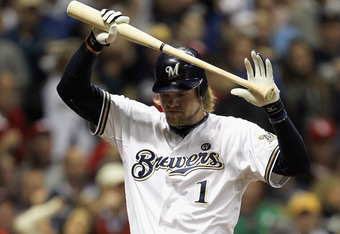 Jonathan Daniel/Getty Images
Hart's biggest issue is his health (no pun intended). He has had a difficult time staying on the field throughout his career. In an eight-year career, he's played a full season just once.
Cuddyer had such a good season in 2011 that he garnered a three-year, $31.5 million contract from the Colorado Rockies.
Like the Rockies, fantasy owners are salivating at the idea of Cuddyer in Major League Baseball's most hitter-friendly park, Coors Field.
First, Cuddyer is coming off a season in which injuries reduced his time to 139 games. He's going to be 33 years old this season, so fantasy owners should question how he will rebound in 2012.
Not only is injury a concern, but Cuddyer is switching teams for the first time in his career. Likewise, he makes the jump from the American League to the National League. Nearly every pitcher in the AL Central lacking the last name Verlander is streaky.
In 2012, Cuddyer will match his talents on a regular basis against guys like Tim Lincecum, Matt Cain, Clayton Kershaw and Ian Kennedy.
Good luck to him.
And good luck to you if you fall for it and draft him.