2012 NFL Free Agents: Anthony Gonzalez and Players Teams Will Regret Signing
March 24, 2012

Andy Lyons/Getty Images
The NFL free-agent frenzy can cause teams to make some crazed decisions. Recall the Washington Redskins signing Albert Haynesworth to a seven-year, $100 million deal in 2009.
Okay, hardly any deal could get as bad as that, but every year still has its fair share of free agents who turn out to be stinkers.
Here are three players who could end up being busts on the teams that had faith in them.
Anthony Gonzalez
Wideout Anthony Gonzalez has all the potential in the world to be a great player, but he's cursed by injury. In the last three seasons, he's played just 11 games, with a myriad of injuries holding him back. The list includes a dislocated thumb, a bruised foot, hamstring pulls, hip injuries, concussions, torn knee ligaments and back ailments.
The first-round draft pick was a promising prospect, but he's become some kind of bad-luck charm.
While the Patriots were able to pick up the receiver in a low-risk scenario, it's odd that they would add Gonzalez to the list of a position that's becoming uncomfortably overcrowded in New England.
The Patriots franchised Wes Welker, acquired Brandon Lloyd through free agency, re-signed Matthew Slater (though his role is primarily on special teams), Donte Stallworth and Tiquan Underwood, and they still have Chad Ochocinco and Julian Edelman under contract.
If Gonzalez gets injured (is that even an if?), the Patriots will regret signing him in lieu of filling a role where they desperately need help—like on defense.
The old "if it ain't broke" mantra should have been heeded in Denver.
Despite legitimate doubts surrounding Tim Tebow, he did produce for the Broncos in the win column, earning a playoff berth and notching a victory against the Pittsburgh Steelers. But John Elway, eager for his team to possess a quarterback in his own image, cast off the guy who had inspired a movement to acquire the $96 million man.
That's an awful lot of money for a player who just had four neck surgeries in a single year and whose tenuous career status dominated discussion all last season.
Should Manning suffer another injury this year, Denver will be left a mile high and dry. And even if he doesn't get taken out of the game, it remains to be seen how Peyton Manning will perform with an ailing neck and a year off from the NFL.
Peyton admits that his injury is limiting him, explaining, "I'm not where I want to be. I want to be where I was before I was injured."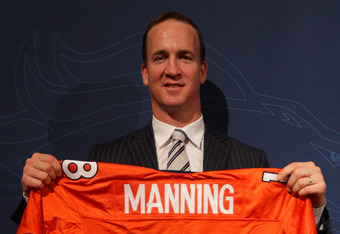 Doug Pensinger/Getty Images
While the upside of Manning is obvious, there's a whole lot of downside for the Broncos in this one. They're likely to end up regretting signing the four-time NFL MVP.
Michael Bush
From a performance perspective, the Chicago Bears made a good call signing Michael Bush. Bush accrued almost 1,000 yards rushing last season, and Chicago's run game is sure to be fortified when the ex-Raider joins forces with Pro Bowler Matt Forte. But the Bears could have used a little more tact when considering how the move might stir up drama in the backfield.
The Bush signing incited fury in elite back Matt Forte, who could not squeeze a long-term deal out of the Bears. Chicago dealt with the situation by placing the franchise tag on Forte. It then inked Bush to a four-year, $14M deal.
Upon learning of the deal, Forte took to Twitter to express his grievances:
 

There's only so many times a man that has done everything he's been asked to do can be disrespected! Guess the GOOD GUYS do finish last....

— Matt Forte (@MattForte22) March 22, 2012
But despite what you think of Forte's prima donna rantings, the star RB did outperform his four-year contract that earned him just over $900,000 a season. Forte has earned a raise, and the Bush deal sends a bad signal from the Bears front office. Further, it encroaches on the cap space that the Bears could use for Forte.
The Bears may have the leverage, but they'd be best served to take care of their stars. They will regret this decision if locker room problems result. Or if a disgruntled Forte makes good on those threats to miss training camp in the absence of a long-term deal.