WWE WrestleMania: How Will the Rock Do in His First 1-on-1 Bout in 9 Years?
March 24, 2012

Michael N. Todaro/Getty Images
What a difference a decade makes.
Ten years ago, the Rock was 29 pushing 30. In front of him, there was Hulk Hogan, Steve Austin and a Hollywood career set to explode.  Twenty-nine and he had already conquered the wrestling world. Twenty-nine and he could soon retire a future Hall of Famer.
I've spent the day watching those WrestleMania matches the Rock had 10 years ago. I watched them with an eye toward the upcoming Rock-John Cena WrestleMania match. One difference I see is that unlike some of his prior matches, Rock will be in the driver's seat.
He will be the legend; he will be the veteran.
When the Rock began his series with Stone Cold Steve Austin, those were Austin's matches. At WrestleMania 15, Austin was in the driver's seat and Rock was riding shotgun.
It would change over the years. By the time they faced off at WrestleMania 19, the matches were Austin-Rock matches, or Rock-Austin matches. They belonged to both men.
Things had truly changed, as is witnessed in a moment both poetic and painful as the Rock lingers over a battered Austin to tell him thank you and I love you. While the matches with Austin speak to the level of classic that Rock is able to pull off, those are matches with a man from his era. They speak less to the Rock-Cena match than does Hogan-Rock.
Again, WrestleMania 18 is not the Rock's match. He's not the general; he is the beneficiary. While this is a match that lived up to its hype, there are two drawbacks to Hogan-Rock that will not be present in Rock-Cena.
The first drawback was Hogan's age. He was 48 at the time of his match with the Rock. He was 48 wrestling years, too. He couldn't throw himself over the top rope early in the match (after he tried and failed, he rolled under).
He was far older and more bruised than Rock will be at WrestleMania 28. Because of the great successes the Rock has experienced, compounding success into success, he enters this match with Cena 39, a legend and almost a decade free of beating up his body.
Second: Wrestling is a more honest business today. The announcers spent wasted time making excuses for why the fans were cheering Hogan instead of the Rock. It seemed silly, the ridiculous buildup, the nWo violence, just to have the fans cheering Hogan.
It would have been better to go with it. This won't be a problem at WrestleMania 28, as I'm sure we all expect Rock to be received with a far warmer reaction than Cena.
After watching those matches, I believe that not only might Rock have a classic at WrestleMania, but it could be on par with his match with Hogan. This is the Rock's turn to give back like has been given to him.
It is the Rock's turn to be in the driver's seat. It is the Rock's turn to be the veteran and set the pace.
And do you know who else will rise to the occasion? Cena.
He is as much a fan of professional wrestling as he is a professional wrestler. His favorite wrestler was Hogan. It can't be lost on him that, since the Rock became a main-eventer, he has not wrestled a one-on-one match at WrestleMania against anyone other than Austin or Hogan.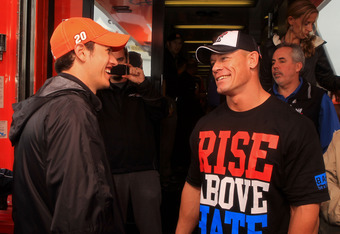 Matthew Stockman/Getty Images
Yes, the Rock will belittle Cena on RAW. He will cut him down on social media. It's his job.
But I'm glad the hype and rhetoric is almost over.
Truth is, the Rock didn't come back for anything he's done over the last year. That was filler. The Rock came back to wrestle at WrestleMania. The Rock came back to wrestle Cena.
But there are disadvantages:
These are not the days of old when you can wrestle your opponent for a month on house shows to prepare for the big match.
Nor is this taped. Rock has not had a one-on-one match in almost 10 years. Almost everything he's done in that time comes with retakes.
There are no retakes at WrestleMania.
But the greatest advantage: It's the Rock.
Only the Rock knows what it's like to go into a match like the one coming at WrestleMania 28. Because he got the nod to face Hogan, Rock is the only man to face the best of the 80s, the best of the 90s, and now he will be facing the best of the last decade.
Those who hate Cena may be blinded to the potential of this match. They may miss the significance altogether.
Rock isn't blinded to who Cena is, or else he wouldn't be doing the match.
It could go wrong, of course. They don't know each other that well. They haven't mixed it up, and Rock has been away a long time.
But this is why Rock came back. He wants to give back. He wants to add an exclamation point to his career. He wants to do what has been done for him.
It is a new role for him, but it's the role he wanted and chose.
Rock is the veteran; Cena is the beneficiary.
If the stars align, which I think they will, not only will we see a WrestleMania match that will be remembered for years to come, we will see another classic from the Great One.