Chicago Blackhawks: Stretch Without Duncan Keith Another Trying Task
March 24, 2012

Jonathan Daniel/Getty Images
The Chicago Blackhawks have overcome injuries on defense—as well as the injury to captain Jonathan Toews—in the past six weeks to climb within spitting distance of home ice in the NHL playoffs. Now comes yet another absence to deal with, courtesy of Brenden Shanahan.
The NHL's Director of Player Safety and Hockey Operations announced yesterday that Duncan Keith has been suspended for five games as a result of an elbow to the head of Vancouver's Daniel Sedin. I'm sure everyone has an opinion on the length of the suspension, and they'll all come out over the course of the weekend.
In the afterglow of the firestorm of debate, I believe this much to be clear:
1. Keith was punished for an ill-timed and illegal hit.
2. The Hawks have some big skates to fill.
Chicago has proven that they can step up and win without Toews. Playing without Keith may be a different matter altogether.
The Hawks lost two of the three games Keith missed with a hand injury back in November. Toews is seen as a barometer for the team's success, but the same could be said of Keith. When the former Norris Trophy winner has been good, the defense has played well. When he hasn't, goals tend to go into Chicago's net in bunches.
Compounding the situation is the fact that the defense continues to be hampered by injury. Steve Montador is just now returning to skating and probably isn't an option at this point. Sami Lepisto appears no closer to a return after filling in pretty well when needed.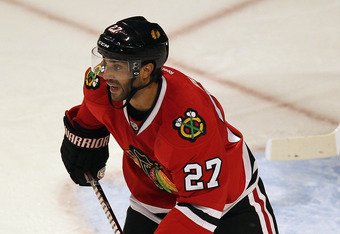 Jonathan Daniel/Getty Images
This leaves the Blackhawks with Brent Seabrook, Nick Leddy, Niklas Hjalmarsson, Johnny Oduya, Dylan Olsen and Sean O'Donnell to hold down the fort. Hjalmarsson has recently recovered from his concussion. Olsen has a handful of NHL games under his belt and O'Donnell is 40 years old and facing five games in eight days.
Oduya could pair with Seabrook for a solid temporary pairing, though, I think it leaves the bottom two units a bit suspect. Hjalmarsson moving up to team with Seabrook might provide more depth to the defense, as Oduya has played well with Leddy. This leaves old lion (O'Donnell) and young cub (Olsen) to play substantial third-pairing minutes.
A healthy Montador or Lepisto would have come in handy right now. As it is, the only possible help would be to call up Ryan Stanton from Rockford to provide some more flexibility. Stanton is capable of being responsible defensively and adding a physical element.
Starting Sunday, the Hawks have two games with Nashville as well as a trip to New Jersey and home dates with St. Louis and Minnesota. The guy who has played up to 30 minutes a night isn't there to limit the minutes of the bottom-pairing skaters.
The blue line has played well recently. However, to keep pace in the standings, the call now comes out once again for the defense to step up.