Chelsea 0-0 Tottenham: 8 Things Learned in the Battle for Fourth Place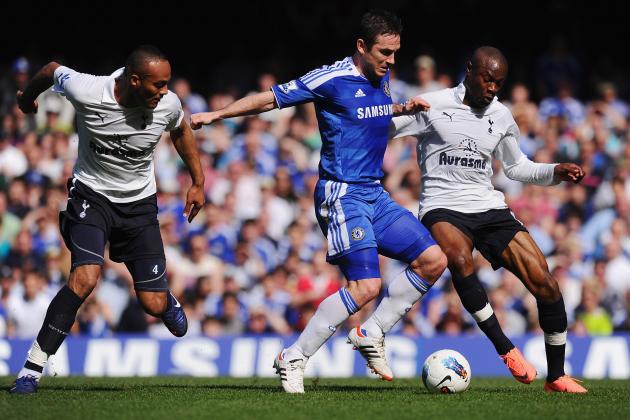 Mike Hewitt/Getty Images

Chelsea FC suffered further setbacks in their quest for a fourth-place finish in the EPL, as they drew 0-0 at Stamford Bridge in a dull match against Tottenham Hotspur.
Both sides look affected by the first heat of spring, as play was stagnant and lame for the first half. Chances were few and far between, with only Spurs registering a shot on net right before the break.
The second-half action picked up a little, with both sides finding the woodwork, but ultimately nothing came of it.
Chelsea are going to see it more as two points dropped than Tottenham, as both sides battle it out for fourth. But Harry Redkanpp cannot be thrilled about his side's current form.
Here are eight things we learned from the match.
Begin Slideshow

»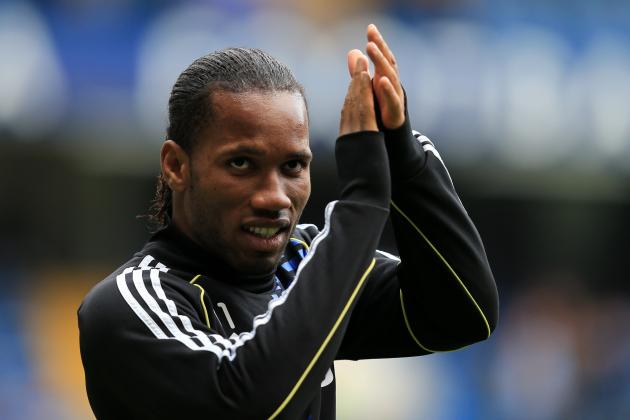 Richard Heathcote/Getty Images

It was an ugly game to say the least, but it is still hard to say that Drogba had an awful game. He may have not been perfect, but he did suffer Torres-like isolation up top, with only the well-off-his-mark Mata in support.
The commentators on ESPN2 made a point throughout the game to the fact that Chelsea are not set up to play with a single center forward. It has been apparent all season and was apparent today.
Drogba and Torres have all the abilities to be lone center forwards except one—they can't currently score.
It is too risky to rely on just one of them to get your goals right now as neither is in form. With two up top, you at least better your odds of one of them finding the net.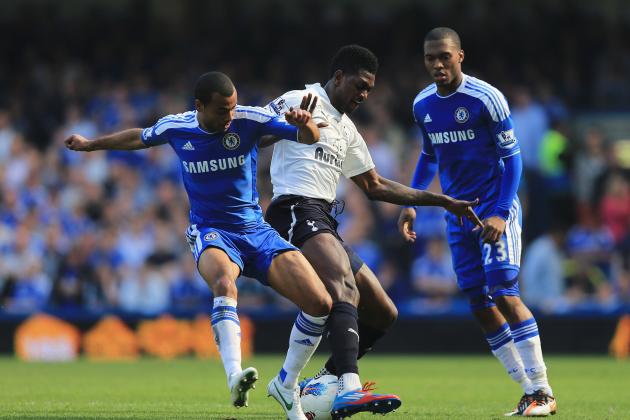 Clive Rose/Getty Images

Where to start? Poor crosses, bad touches, missed an open net and headed two over from four yards out.
Sometimes you just have a bad day, but this is the kind of afternoon that Adebayor would never like to relive. He did nothing today except flub chance after chance and steal hope away from his side and the fans repeatedly.
I could argue that if you look at every one of his runs besides the final touch, he played exceptional. Unfortunately for a forward, the last touch is all that matters.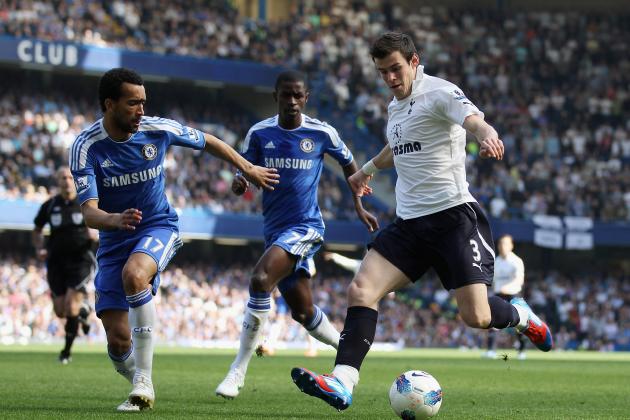 Clive Rose/Getty Images

The Portuguese right-back got the start today for the injured Branislav Ivanovic and once again Chelsea fans struggled to cope with it. Tottenham's best chances came off of Bosingwa mistakes, including once when Adebayor made him look foolish down the flank.
I have to think that much of the hesitance to go forward was in awareness of how Bosingwa could be beat with such ease. The decision to put Ramires on the right today was clearly with that in mind.
If it were not for his pass to Mata just before he was subbed off, it would have been a miserable performance.
Most Chelsea players could make the claim that Andre Villas-Boas hindered their style of play, but not Bosingwa. He seems to be what we thought he was and shows little signs of changing. Chelsea need a lot of new pieces this summer, but the right-back is by far where they lack the most depth.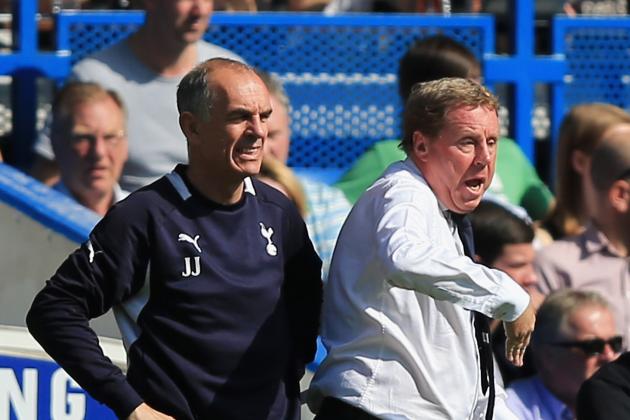 Clive Rose/Getty Images

The point they took away from Stamford Bridge was of course more beneficial to them than for the Blues, but it is still a telling sign of where this team is headed.
The opportunities were split, but most would argue Spurs had the better chances. Adebayor's open-goal miss, Gareth Bale off the post and Modric's free kick all could have won the match and all but secured their Champions League berth.
Instead, they are allowing Chelsea to linger just within reach.
This was perhaps their most important match left in the season as it in effect had more implications than any other. But the fact that they made nothing significant out of it ultimately shows that they are not the team that got this high in the table in the first place.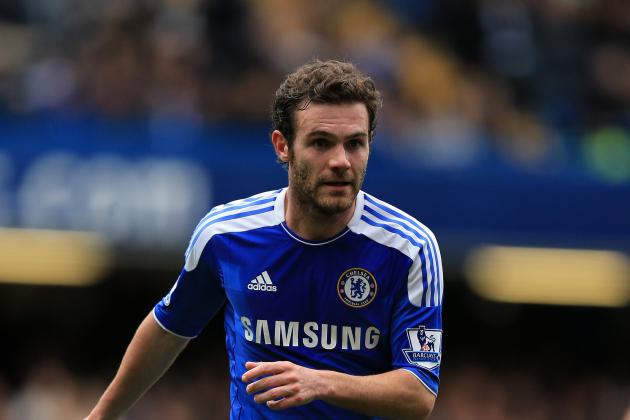 Richard Heathcote/Getty Images

Mata was not bad—just wrong day to be out there. He made plenty of chances and was effective for the most part, but also countered them with mistake after mistake.
Poor touches, misplaced passes and slipping everywhere had the frustration boiling inside of him. It got worse when he fell on Bosingwa's beautiful ball and then erupted when he hit the post on his free kick.
He really just had one of those days that you can't say he was bad—just unfortunate. Nothing went right, including the result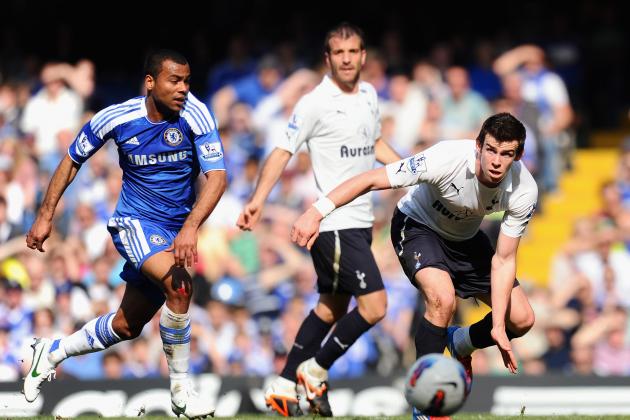 Mike Hewitt/Getty Images

Ditto here. Bale was all over the field, trying to get on the ball as much as possible and was actually pretty good. But you could see that he understood the implications of the game.
His shots were all over the place, firing from 30 yards out wide left and right, trying to do anything to spark his side. His best chance came when he found the woodwork off a corner.
The two players that are expected to add the bit of flair to their teams to help them find the net both struggled. That is the reason it was a goalless draw.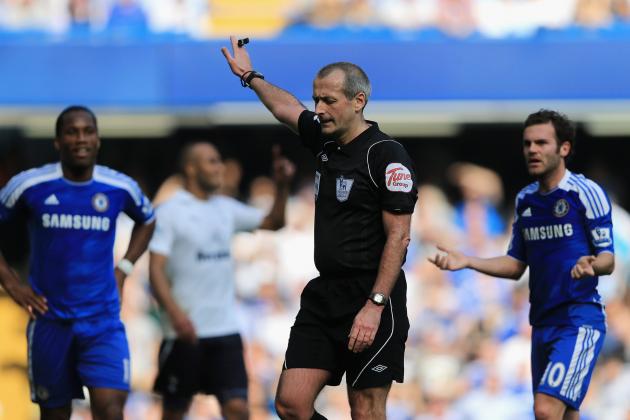 Clive Rose/Getty Images

In a tight match like the one today, the best thing a ref can do is make himself invisible. Martin Atkinson did that today.
There were plenty of calls for fouls and penalties, but Atkinson kept his cool and let the players decide the match. Equally recognizable, the players respected his decisions and never made a big fuss about it. It may have been ugly to watch, but it was certainly refreshing to see a tight match between two desperate sides played cleanly.
Rarely do refs get recognition for having a good game, but I think Atkinson more than deserves it.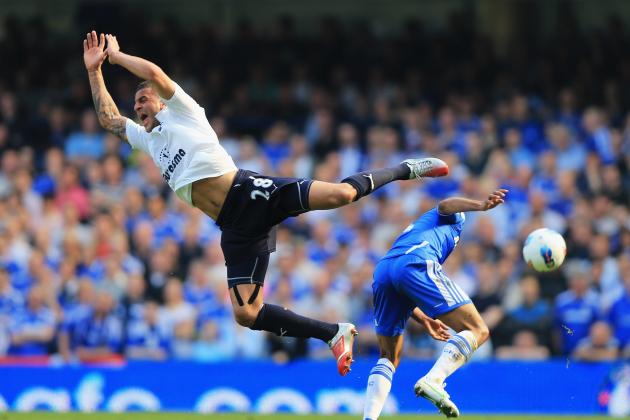 Clive Rose/Getty Images

It was absolutely atrocious today for both sides, but it is not really representative of what they can do. We have all seen these sides play with utter brilliance and also have days like today. The inconsistency of both sides has been their undoing.
But just because we all could have been lulled asleep today does not mean we will not see either going on to win the rest of their games. The quality they possess in terms of talent is on the upper end of the pool, but the way they put it together is always in question.
As it winds down and the race gets more contentious, we will never really know which team will come out on top until it is all said and done.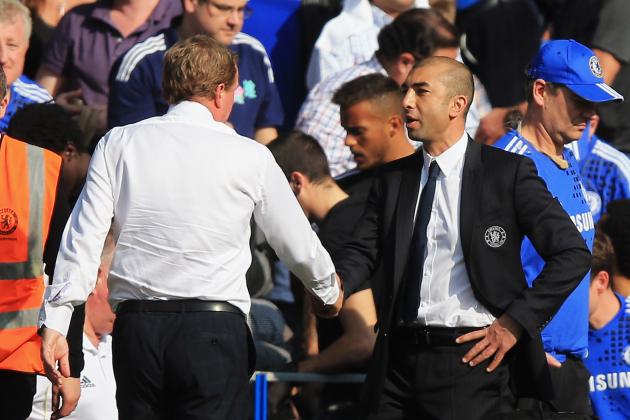 Clive Rose/Getty Images

You know it's a bad game when the only positive slide is about the officiating. Chelsea and Tottenham were both miserable and neither deserves a Champions League bid based off today's game.
But if you are a trooper and made it through the game without falling asleep, what did you learn?
As always, please leave your comments below and thanks for reading!
Follow me on Twitter: @thecriterionman