NCAA Scores 2012: Lessons Learned from Kentucky's Big Win
March 24, 2012

Streeter Lecka/Getty Images
The Kentucky Wildcats are primed to make a run to the national championship, and to some, that is a surprising statement.
Count me in amongst those who are surprised.
I'm not one of those writers who is afraid to admit that I can be wrong (gasp), and to this point, I was completely wrong about the Wildcats.
When I looked at their team, I saw a very talented bunch, but ultimately a team that didn't have enough experience or depth.
I couldn't have been more wrong in my assessment of this team.
The Wildcats beat the Indiana Hoosiers 102-90 in the Sweet 16 and now find themselves one step closer to the Final Four and potentially a national championship run.
Here's what we learned from Kentucky's big win over the Hoosiers.
No Davis, No Problem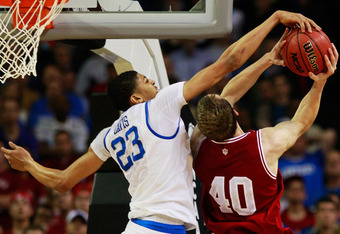 Kevin C. Cox/Getty Images
One could argue that if you were to take stellar freshman forward Anthony Davis off his game, you would essentially be nullifying Kentucky's biggest weapon. While Davis is undoubtedly one of the best in the country and a huge part of this team, the Wildcats proved to me that they are much more dangerous than originally thought.
Davis struggled against the Hoosiers, only scoring nine points, but that didn't matter. Every other starter scored in double digits, led by Michael Kidd-Gilchrist, who notched 24 points and 10 rebounds.
All You Need is One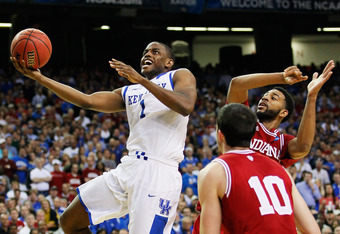 Kevin C. Cox/Getty Images
While the Wildcats' lack of depth and true bench production may still be a factor, it's tough to really argue against when one player comes off the bench and absolutely lights it up. Darius Miller continued his hot shooting in the tournament and dropped 19 on the Hoosiers off the Wildcats' bench.
True depth may be a problem, but when you have a guy who can come off your bench and single-handedly outscore your opponent's bench by 13, I think bench production is the least of your worries.
Three's Company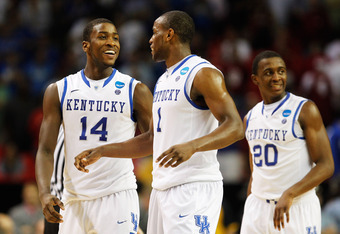 Streeter Lecka/Getty Images
The Wildcats are a very talented team at every position, but what makes them incredibly dangerous is their shooting from beyond the arc. This is what takes them from a very good team to a national championship competitor.
They shot a blazing 50 percent from three-point land, making 5-of-10, and they proved that when they are on from behind the line, nobody in the nation can stop them.
Other Sweet 16 Scores
Baylor 75, Xavier 70
North Carolina 73, Ohio 65
Kansas 60, North Carolina State 57