NCAA Tournament 2012: 5 Most Intriguing Remaining Storylines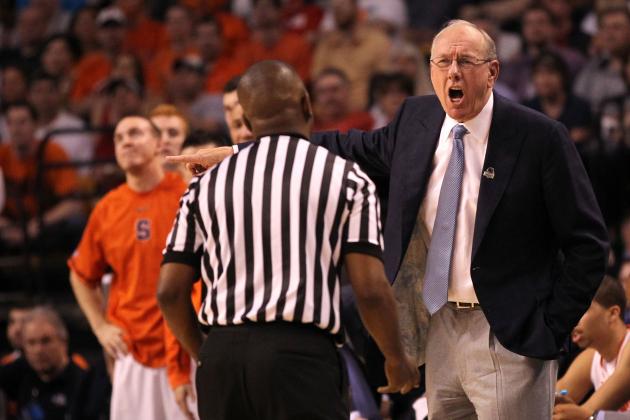 Jim Rogash/Getty Images

Today, two teams will advance to the Final Four, with the remaining spots being filled Sunday.
Contrary to most experts' predictions, Syracuse has clawed its way back to the Elite Eight after a nine-year absence, but Ohio State stands in its way.
In a matchup of master versus pupil, Rick Pitino's Louisville Cardinals will take on Billy Donovan's Florida Gators. Donovan was an assistant to Pitino and played for him when he was the both the Providence Friars and New York Knicks coach, but Donovan has won two national championships to Pitino's one.
Kentucky and Baylor face off in the South Region, where John Calipari is seeking his first national championship. In the Midwest, Roy Williams and his North Carolina Tar Heels will play Williams' former team, the Kansas Jayhawks, in a battle of perennial powerhouses.
With the stage set, let's take a look at the most pressing of issues at stake for the next two days.
Begin Slideshow

»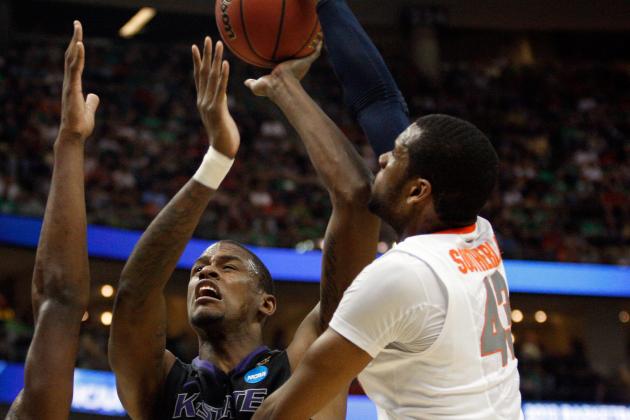 Jared Wickerham/Getty Images

We know the situation.
Syracuse coach Jim Boeheim has been both charming and truculent during his team's run to the Elite Eight. While fielding an exponential amount of questions regarding the distractions of his Orange, Boeheim has wonderfully kept his team focused on the task at hand.
Rakeem Christmas and Baye Keita have filled in nicely in the absence of Melo, but Ohio State's Jared Sullinger presents a complex situation due to his size and athleticism.
Sullinger will clog the middle of the zone and face off against his old AAU friend, Christmas, who he has known since Christmas was a blue-chip sophomore in high school.
The Orange know Sullinger cannot win the game by himself and will look to William Buford as his outlet. Buford has struggled to regain his form from last year and, in the tournament, is a paltry 10-for-32. The Orange will be able to send fresh legs onto the court for 40 minutes, while the Buckeyes will need Sullinger to stay on the court and out of foul trouble.
Ohio State can expect Syracuse to take the ball immediately inside at Sullinger to initiate contact and disrupt the Ohio State game plan.
Syracuse's staunch defense will be tested, and Las Vegas has the Orange as a two-and-a-half-point underdog.
This game may very well come down to the referees and how well each coach is able to overcome foul trouble.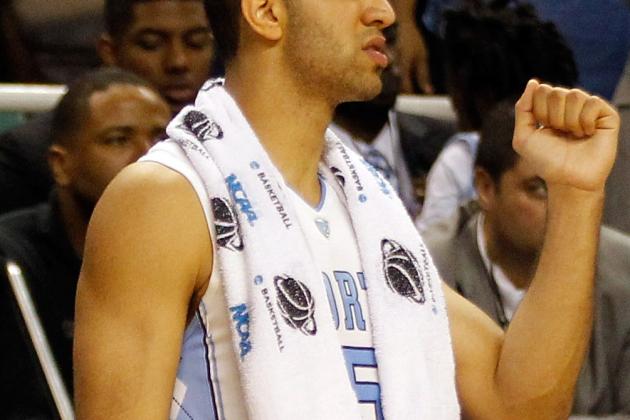 Streeter Lecka/Getty Images
Kendall Marshall
After finally getting by the Ohio Bobcats in an overtime thriller, the North Carolina Tar Heels look wounded.
The problem is that sometimes, the most dangerous dog is a wounded dog.
Freshman guard Stilman White stepped in nicely for injured point guard Kendall Marshall. He only scored two points, but contributed six assists and no turnovers in 32 minutes of play.
Before last night, White hadn't played more than 11 minutes. In fact, the only time he reached double digits in minutes was an 11-minute garbage-time game against Nicholls State, which Carolina won by 50 on December 19.
It is still unknown if Marshall will play against Kansas.
Kansas will need to show up stronger than it did against North Carolina State in terms of making shots. Kansas shot a terrible 24-of-64 and if you subtract Thomas Robinson's numbers, the Jayhawks shot 17-for-47. Tyshawn Taylor's 2-for-14 was especially atrocious.
Besides Robinson's play, center Jeff Withey shined by blocking 10 shots, one shy of Shaquille O'Neal's record of 11 in a single tournament game.
Will Bill Self overcome his predecessor or will Carolina's will overcome the loss of Marshall?
We'll find out Sunday.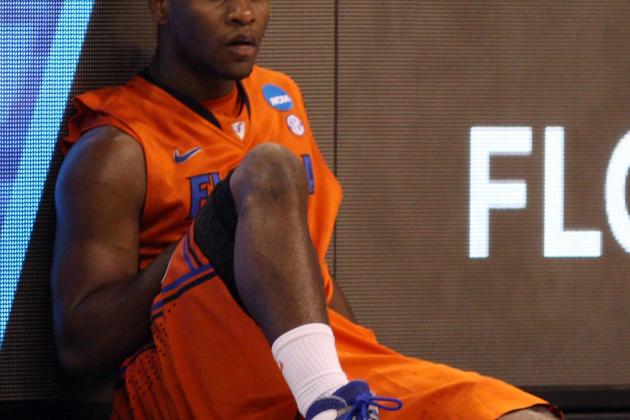 Christian Petersen/Getty Images
Erving Walker
Florida coach Billy Donovan led Rick Pitino to his first Final Four as a coach in 1987. Donovan was a fantastic guard for the Providence Friars, who scored more than 20 points per game and helped springboard the legend of Pitino.
25 years later, pupil meets professor in the Elite Eight.
In the last six meetings between the two, Donovan has a big goose egg in the win column.
Seventh-seeded Florida is the lowest-seeded team left in the tournament and will try to shoot its way over Louisville's physical style.
Overcoming Marquette's physical play showed that Florida is able, and the Gators also showed a lot by having a poor game from beyond the three-point line and still emerging victorious.
Of course, it helps that Marquette barely shot 30 percent from the floor.
This game will come down to how well Florida can make its way through Louisville's press. Florida's Erving Walker contributed only three assists and gave away four turnovers against Marquette. He will be pressured intensely by Louisville's Peyton Siva.
If Florida struggles against Louisville's pressure, this game will get ugly early.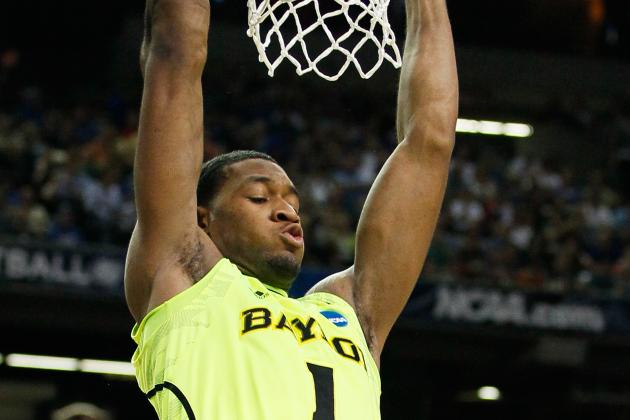 Kevin C. Cox/Getty Images
Perry Jones III
While Kentucky looks like a team of destiny, Baylor has quietly moved along into this matchup with some star power that doesn't rival Kentucky, but is formidable nonetheless.
The size, length and aggression of Baylor must be used to it fullest to compete with Anthony Davis' Wildcats. Perry Jones III, Quincy Acy and Quncy Miller are all capable of being monsters in the paint, but it's anybody's guess which Baylor team will show up.
Baylor's first two games in the tournament were showcases for its guards with Pierre Jackson and Brady Heslip leading the way. This is a game that Baylor needs to make ugly and physical to take Kentucky out of its rhythm.
This will fall on the shoulder of Jones III. In three tournament games, Jones has only attempted four free throws and made just one. This is unacceptable. Jones needs to establish his 6'11" frame against the dynamic Davis.
Further, Baylor must not turn the ball over as it did against Xavier in allowing the Musketeers to scratch back into the game in the Sweet 16.
It's an uphill battle for Baylor, but the Bears are capable.
Are they willing?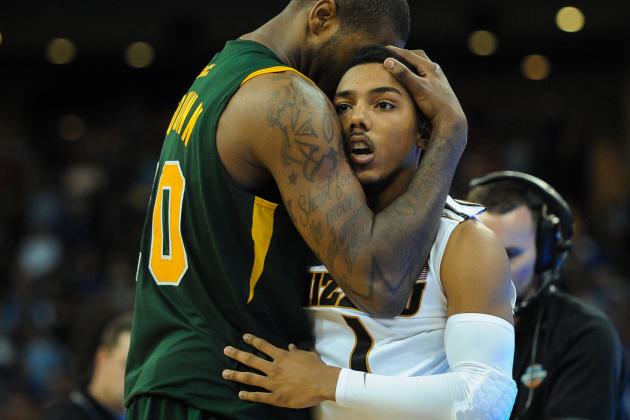 Eric Francis/Getty Images

Will the Syracuse bench continue to shine?
Why is Baylor killing my TV with those horrible uniforms?
How many times will the announcers use the phrase "teacher vs. student" in the Florida-Louisville broadcast?
If the Big East gets two teams in the Final Four, will we keep hearing about how this was an off year for the conference?
Did Duke losing early have anything to do with Austin Rivers announcing his entry to the NBA draft?
Where are the buzzer-beaters?
And...
What the heck happened to my tournament bracket? Seriously, I had Missouri in the final. I want answers, Mizzou!!!