2012 NFL Draft Big Board: Ranking the Top 100 Prospects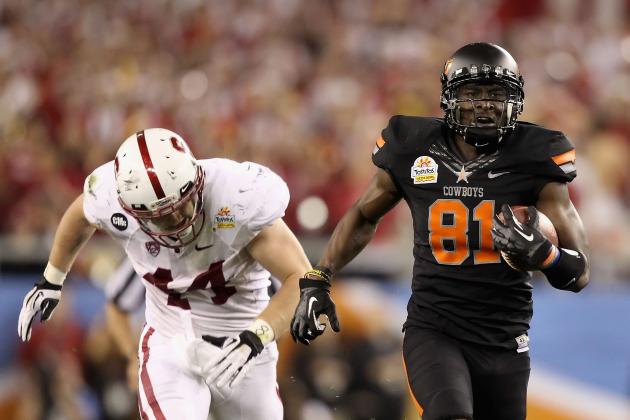 Christian Petersen/Getty Images
Where does Justin Blackmon fall in the Top 100 prospects?
NFL mock drafts get all the attention. They're flashy, somewhat informative and easily digestible. Their more mature, big brother, the Top 100 board, doesn't spend as much time in the spotlight, but is certainly much more relevant to the overall draft process.
NFL teams stack and restack their boards up until the night before the draft. I do the same at NEPatriotsDraft.com, but here is a snapshot of how I would rank the top-100 prospects for the 2012 NFL Draft.
Begin Slideshow

»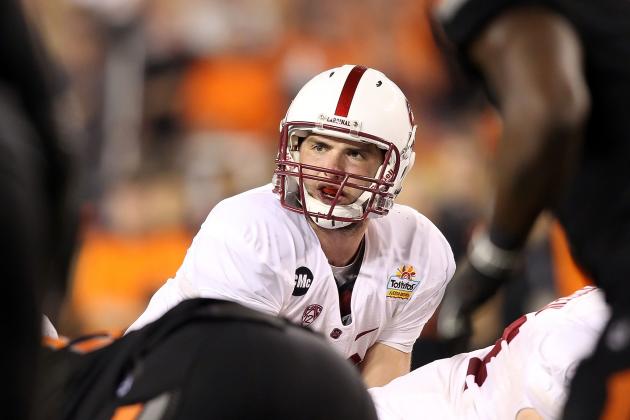 Christian Petersen/Getty Images

1. Andrew Luck, QB, Stanford
Luck is the best quarterback in the draft and perhaps the best prospect of the 21st century.
2. Robert Griffin III, QB, Baylor
Griffin's running game, which is a complementary piece to his fantastic passing attack, would have made him the first pick in most drafts.
3. Trent Richardson, RB, Alabama
Richardson won't be drafted this high due to the position he plays, but he is far and away the best running back in this draft, and many others.
4. Matt Kalil, OT, USC
The best tackle in the draft, Kalil has the pass-protection skills to let a quarterback stand in the pocket with confidence. It is tough to put a price on that.
5. Morris Claiborne, CB, LSU
In an increasingly passing-centric league, Claiborne is the best pass-defender. The value he brings to special teams is just an added bonus.
6. Quinton Coples, DE, North Carolina
Whether you have a serious problem with Coples' perceived lack of effort in some games or not, it is tough to deny that he has some outrageous talent. He will be a steal if he drops out of the Top 10.
7. Justin Blackmon, WR, Oklahoma State
Blackmon had been in the top three of my top 100 since August. He hasn't really done anything to deserve to be moved down, but other players have leapfrogged him. There are many with reservations about Blackmon, but I am not one of them.
8. Fletcher Cox, DL, Mississippi State
I'm not sure anyone is higher on Cox than I am. I think he can have an immediate impact on the level of Richard Seymour if put into a hybrid 3-4/4-3 scheme.
9. Michael Floyd, WR, Notre Dame
Floyd isn't a clean prospect due to multiple issues away from the football field, but he certainly has all the tools on it. If healthy and focused, he will be a Pro Bowl receiver in no time.
10. David DeCastro, OL, Stanford
You could argue that DeCastro is the best football player in the 2012 NFL Draft, but you just can't put too high a value on RG, a position some teams term a "throwaway." Whichever team drafts DeCastro will be getting the best guard prospect in the last 10 years.
11. Dontari Poe, DL, Memphis
Poe is an incredible athlete. If his film matched his combine performance, he would be a certain top-five pick. He is a high-ceiling prospect at this point.
12. Nick Perry, DE/OLB, USC
Perry is an elite speed-rusher that can play in either the 3-4 or 4-3. He has a defined position (4-3 DE or 3-4 OLB), which puts him ahead of Melvin Ingram in my opinion.
13. Kendall Wright, WR, Baylor
Few receivers are as smooth as Wright. He runs the route tree very well and eats up the cushion so quickly on corners. Anyone concerned about Wright's speed hasn't watched him on tape enough.
14. Riley Reiff, OT, Iowa
Reiff doesn't have an incredibly high ceiling, but he will give you 10-plus years as a starting offensive lineman. He can play inside, outside and on both sides of the formation. NFL teams love that versatility.
15. Courtney Upshaw, OLB, Alabama
Upshaw isn't an explosive athlete, but he has the power and football instincts to be a very productive linebacker in the NFL. I think he could be a special 3-4 ILB.
16. Luke Kuechly, LB, Boston College
Kuechly is just a great football player. He isn't flashy, but should have a Jerod Mayo-esque career.
17. Dre Kirkpatrick, CB, Alabama
Kirkpatrick has the size and versatility (FS or CB) that teams covet in today's NFL. Kirkpatrick gets the nod over Stephon Gilmore due to his fantastic run support.
18. Cordy Glenn, OL, Georgia
Glenn is a 340-plus-pound prospect that moves like a normal 240-pound person. That sort of size and athleticism will be coveted by teams looking for an LG or RT.
19. Doug Martin, RB, Boise State
Like Fletcher Cox, I am very high on Doug Martin. After Trent Richardson, Martin is the most complete back in the 2012 NFL Draft. He runs, catches and blocks exceptionally well.
20. Devon Still, DL, Penn State
Still is a disruptive force. When his motor is on, he plays like a Top 10 pick. When it is off, he gets blocked out of the play by tight ends. If he stays motivated, Still will be a great value in the latter half of the first round.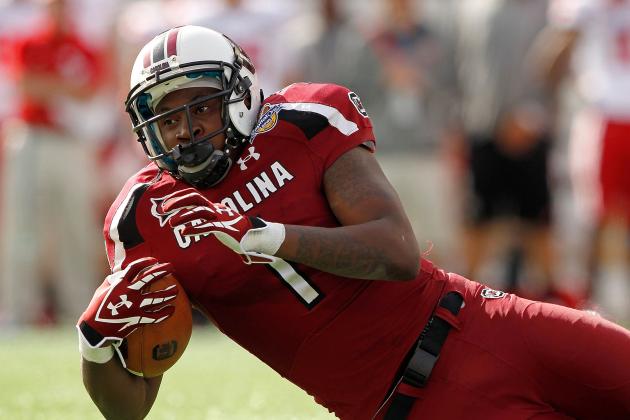 Mike Ehrmann/Getty Images

21. Stephon Gilmore, CB, South Carolina
The first of three South Carolina prospects in a row, Gilmore has the length, speed and instincts to be a phenomenal cornerback early on in his career.
22. Alshon Jeffery, WR, South Carolina
I never moved Jeffery too low when others were down on him. I'd like to welcome them back to the Jeffery-in-the-first-round bandwagon. Jeffery is a huge target that doesn't need to separate to be considered open.
23. Melvin Ingram, DE, South Carolina
I'm not a big fan of Ingram's game. I recognize his skills, but I'm not sure where he ends up playing in the NFL. He could be a star or a bust. I just wouldn't take him too highly.
24. Ryan Tannehill, QB, Texas A&M
Tannehill will almost certainly go in the Top 10 picks due to positional scarcity, but he isn't a Top 10 talent, yet anyway. He certainly has all the tools to become a franchise quarterback within a year or two.
25. Dont'a Hightower, LB, Alabama
Hightower was a relentless edge-rusher on passing downs while playing a solid inside linebacker on run downs for Alabama. Hybrid teams could use Hightower in a variety of positions.
26. Jonathan Martin, OT, Stanford
Martin has helped make things easier for Andrew Luck these last three years. I'm not sure he is a left tackle in the NFL; otherwise, I would put him in the Top 15.
27. Janoris Jenkins, CB, North Alabama
Jenkins' talent warrants a much higher ranking, but his character concerns, well, concern me. A late first-round pick is just the right amount of risk on a great corner like Jenkins.
28. Mark Barron, S, Alabama
Barron is the lone true safety to garner a first-round grade from me. He isn't Ed Reed or Troy Polamalu, but he is decent in coverage and excellent against the run.
29. Michael Brockers, DT, LSU
Brockers has a Top 10 body with third-round tape. Teams are going to be drafting somewhat of a project. Some might be comfortable with that earlier than others.
30. Peter Konz, C, Wisconsin
The opposite of Brockers, Konz has fantastic tape, but has had some serious health issues in the past, including blood clots in his lungs and multiple ankle injuries.
31. Kevin Zeitler, OG, Wisconsin
Zeitler is perhaps the best run-blocking guard in the draft, including DeCastro. If he can improve his pass-blocking, he will be a perennial Pro Bowler.
32. Kelechi Osomele, OL, Iowa State
Osemele was a fantastic LT at Iowa State, but will be due for a position change in the NFL. He told me he wants to play tackle, but I think his best position will be guard.
33. Mike Adams, OT, Ohio State
Adams' stock has fallen a bit as of late after a disappointing 19 bench-press repetitions at the NFL Scouting Combine. Combined with some soft play on tape, there is a cause for concern there.
34. Zach Brown, LB, North Carolina
Brown is an incredible athlete playing football. Teams looking for a "WILL" in a Tampa-2 system will like what they see with Brown.
35. Vinny Curry, DE, Marshall
Curry is a wonderful football player that has a great motor and is a coach's dream. Unfortunately, he just isn't a freak athlete. His ceiling isn't super-high, but he will be a very solid addition to nearly any NFL team.
36. Jerel Worthy, DL, Michigan State
Worthy has the ability to penetrate and make a couple of impact plays per game. Unfortunately, the consistency isn't there. If he played his best all four quarters, he would certainly get looks in the Top 10.
37. Lamar Miller, RB, Miami
Miller is an explosive runner that isn't quite as polished as a guy like Trent Richardson or Doug Martin. His ceiling is incredibly high.
38. Brandon Thompson, DL, Clemson
Thompson is a versatile lineman that plays in the backfield. A one-gap 3-4 team or a 4-3 team looking for a penetrating DL will snatch Thompson in the first 50 picks.
39. Jared Crick, DT, Nebraska
If Crick hadn't been injured the majority of the 2011 season, he would be considered a first-round lock. If he is good to go medically, Crick can help 3-4 or 4-3 teams.
40. Jayron Hosley, CB, Virginia Tech
Hosley is a ball-hawk who supports the run better than his small frame would indicate. He looks like he has Asante Samuel upside.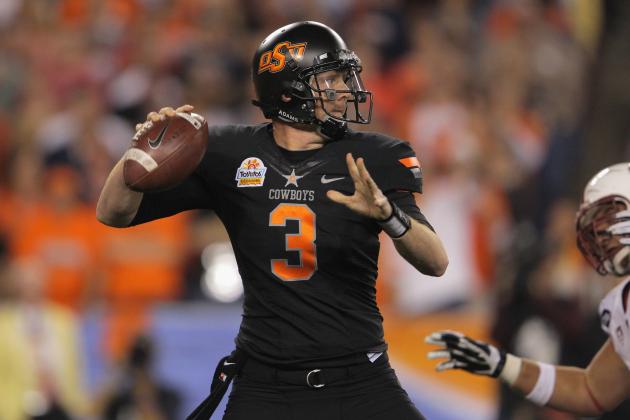 Doug Pensinger/Getty Images

41. Brian Quick, WR, Appalachian State
Quick is the top small-school receiver. He is a big target that caught on to pro-style offenses quickly during his time at the Senior Bowl.
42. Shea McClellin, LB, Boise State
McClellin is a football player, plain and simple. Find a spot for him and plug him in. We like him best as a 3-4 OLB, where he can rush the passer and drop into coverage.
43. Whitney Mercilus, DE, Illinois
Mercilus is all about rushing the passer. He isn't going to impress NFL teams with his tape against the run, which might drop him on some teams' boards. Others won't care and will try to find the next Aldon Smith.
44. Brandon Weeden, QB, Oklahoma State
If Weeden were 22 instead of 28, he might be in talks to be a Top 10 pick. If a team is a quarterback away from the playoffs, Weeden is the guy that will get you some wins now.
45. Rueben Randle, WR, LSU
Randle is a deep threat that needs to flesh out the rest of his game. If teams are fine with him mentally, Randle could certainly be the vertical receiver that many NFL teams need.
46. Alfonzo Dennard, CB, Nebraska
Dennard is an incredibly physical corner that could possibly transition to safety as well. Teams looking for a press corner should find some tape on Dennard.
47. Casey Hayward, CB, Vanderbilt
Hayward is a ball-hawk with the confidence and football IQ to succeed in the NFL. I think he will be picked higher than most other draft analysts.
48. Coby Fleener, TE, Stanford
Fleener's speed and receiving ability, combined with the paucity of quality tight ends in the draft, will make him an attractive target at the end of Day 1 or start of Day 2.
49. Andre Branch, DE/OLB, Clemson
Clemson DE/OLB converts scare me. Da'Quan Bowers and Ricky Sapp were injured, but even before, they had some concerns with their games. Branch is pure speed. If he doesn't improve against the run, he might be a third-down option only.
50. Josh Robinson, CB, Central Florida
The number 4.29 says a lot. It backs up Robinson's recovery speed seen on tape. If he can clean up his technique, Robinson could be as good or better than fellow UCF alum Asante Samuel.
51. David Wilson, RB, Virginia Tech
Like Lamar Miller, Wilson is a speedy back with home run-hitting potential. He doesn't have the vision or blocking prowess to be lumped in with the likes of Martin and Richardson.
52. Dwayne Allen, TE, Clemson
Allen is the second-best tight end in the draft class and the last "clean" prospect. Allen will certainly benefit from the resurgence of TE-centric offenses in the NFL.
53. Mitchell Schwartz, OL, Cal
Schwartz is an incredibly smart lineman that can play any position on the line. He is a strong run-blocker, but he will struggle against speed if he stays outside.
54. Bobby Wagner, LB, Utah State
Wagner is somewhat undersized, but he is phenomenal in coverage and has enough athleticism to make an impact in the run game as well.
55. Ryan Broyles, WR, Oklahoma
Broyles would have been in contention for the first round if he hadn't ended the season with a devastating injury. He is a very solid receiver.
56. Chandler Jones, DE, Syracuse
Jones may be able to play in some odd fronts in the NFL if he either adds or drops some weight. He can be a menace rushing the passer.
57. Brandon Boykin, CB, Georgia
Boykin has great coverage skills and could also contribute on special teams and even on offense. Great things happen when he touches the ball.
58. Chase Minnifield, CB, Virginia
Minnfield has good size and technique, but has struggled tracking the ball on deep throws. He will need to clean that up to start in the NFL.
59. Mohamed Sanu, WR, Rutgers
Sanu may not have elite speed, but he is a great fit for teams looking for an underneath receiver with some elusiveness.
60. T.Y. Hilton, WR, FIU
Hilton is an electric slot receiver that has had some trouble staying healthy.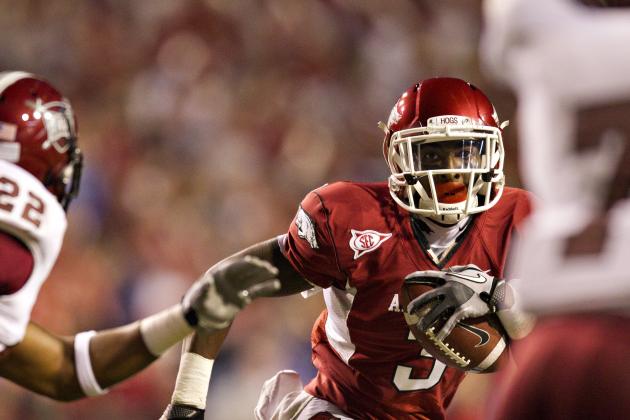 Wesley Hitt/Getty Images

61. Trumaine Johnson, CB/S, Montana
Johnson wants to play corner, but I think his best spot will be at free safety. He is much better attacking the ball and can help in run support.
62. Joe Adams, WR, Arkansas
Adams is a fantastic slot receiver that can electrify a stadium with his incredible punt returns. Adams is a four-down player in today's NFL.
63. Alameda Ta'amu, DT, Washington
Ta'amu is a massive defensive lineman that is inconsistent with his pad level. He can dominate a double team and then get washed out by a tight end.
64. Stephen Hill, WR, Georgia Tech
I doubt HIll will fall out of the Top 50 picks due to his size and speed combination, but he is not a complete receiver at this point. He needs to tighten up his routes and work on his hands.
65. Bernard Pierce, RB, Temple
Pierce is a powerful runner that has some speed to break off big chunks of yardage. Pierce will be in the conversation as one of the top-four running backs drafted.
66. Marvin McNutt, WR, Iowa
McNutt has good size and hands, but he doesn't show his 4.4 speed on tape. He struggled to separate at times against press coverage (Dennard, Leonard Johnson), but is still a big threat on the sidelines.
67. Chris Polk, RB, Washington
Polk totes the ball with authority, inside and outside of the tackles. If teams are fine with his work ethic and maturity, he will be a steal outside of the Top 50 picks.
68. Amini Silatolu, OL, Midwestern State
Silatolu absolutely crushed the competition at his level. If he can keep balanced and remain powerful, the college tackle will be a fantastic guard at the next level.
69. Jamell Fleming, CB, Oklahoma
Fleming is a feisty corner that draws mixed reviews from scouts. Some have him as a potential first-round selection. I like his energetic attitude, but that is a bit rich for me.
70. Josh Chapman, DL, Alabama
Chapman is just a huge guy that is tough as nails. He played a good portion of his senior season on a torn ACL. He will be a fantastic nose guard in the NFL.
71. Marvin Jones, WR, Cal
Jones runs crisp routes and has above-average hands. He will be able to gain a quarterback's trust in no time and contribute as a rookie.
72. George Iloka, S, Boise State
Iloka has a lot of size and length for the safety position. He has the coverage skills to hang with slot receivers and tight ends, while being able to lay down a hit when he needs to.
73. Jarius Wright, WR, Arkansas
Wright is a speedy receiver that has upside as a "Z" receiver in the NFL.
74. Matt McCants, OL, UAB
McCants is a quality tackle that can pass- and run-block from the left side. His long arms are a plus, and he is still getting better.
75. Ronnell Lewis, OLB, Oklahoma
Lewis is an incredible special-teams player that has a lot of upside rushing the passer from the edge.
76. Leonard Johnson, CB, Iowa State
Johnson shut down McNutt and played well against Blackmon. Teams will be concerned about his size and speed, but he is a gamer.
77. Kendall Reyes, DL, UConn
I haven't found the love for Reyes that some analysts have after the season. He can play in the 3-4 and 4-3, but doesn't have the dominating presence that I'd look for in a Top 50 pick.
78. Cam Johnson, DE/OLB, Virginia
Johnson has sickle-cell trait, which causes some inconsistency in his game. He is a good pass-rusher, though, and will certainly be a Day 2 draft pick.
79. Josh Kaddu, OLB, Oregon
Kaddu has good coverage skills for a linebacker and has the athleticism to develop into a Pro Bowl OLB. He is quite raw at this point.
80. Sean Spence, LB, Miami
Spence is an instinctive 4-3 linebacker that tackles well and has sideline-to-sideline range.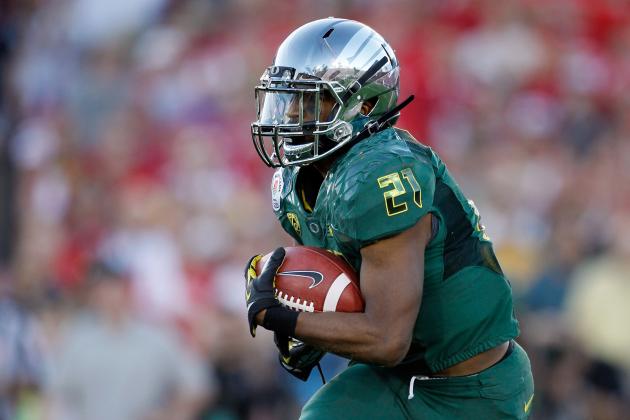 Jeff Gross/Getty Images

81. Bobby Massie, OT, Mississippi
Good feet and solid strength make Massie an attractive Day 2 option for those teams looking for a tackle.
82. Mychal Kendricks, LB, Cal
Kendricks is very small for a linebacker, but he makes up for it with blazing, 4.4 speed and a knack for rushing the passer.
83. LaMichael James, RB, Oregon
James' upside is as a Darren Sproles type of back. I don't think he'll be much of a runner, but he can certainly contribute in the passing game.
84. Lavonte David, LB, Nebraska
Another small linebacker, David plays well in coverage and exhibits great range tracking down ball-carriers. He might get some looks as a strong safety as well.
85. Malik Jackson, DE, Tennessee
Jackson is a violent pass-rusher that is more athletic than technical at this point. He could be a monster on the edge if given some time.
86. Brandon Washington, OL, Miami
Washington is a versatile lineman (OT/OG) and has the ability to bend and move with the best of them. His technique leaves a bit to be desired at both positions.
87. Orson Charles, TE, Georgia
Charles is small for a tight end and hasn't performed well this offseason, on or off the field. He is occasionally impressive on tape, so NFL teams might take a chance.
88. Mike Martin, DL, Michigan
Martin is undersized for the defensive interior, but his knowledge of leverage culled from his time wrestling serves him well. You might not find a more competitive guy in football.
89. Harrison Smith, S, Notre Dame
Smith is fantastic against the run, but he doesn't exhibit the natural man-coverage skills against tight ends and slot receivers that I want to see.
90. Jeff Allen, OL, Illinois
Allen projects as a left guard to me. He is an excellent pass-blocker, and some teams might try to keep him at his former left-tackle position because of that.
91. Antonio Allen, SS, South Carolina
Allen might also get some looks at linebacker. He is very strong against the run, but struggles when asked to cover talented receivers and tight ends.
92. B.J. Coleman, QB, UT-Chattanooga
Coleman can make all the throws. If I'm an NFL GM looking for a developmental prospect at QB, he is my guy.
93. Brandon Brooks, OL, Miami (OH)
A mammoth prospect with the ability to bend, Brooks was the biggest combine snub of 2012.
94. Chris Givens, WR, Wake Forest
Givens is a burner that can take the top off the defense and provide a vertical threat for nearly any offense.
95. Nick Toon, WR, Wisconsin
A receiver with NFL bloodlines, Toon would be a solid addition as a "Z" receiver near the end of Day 2.
96. Billy Winn, DL, Boise State
Winn is a versatile lineman that played tackle, end and even some linebacker for the Broncos. 3-4 teams should be very interested.
97. Bruce Irvin, OLB, West Virginia
Irvin was a defensive end in college, but will certainly be drafted as an OLB in the NFL. I question his physicality, although his speed-rush ability is hard to deny.
98. Zebrie Sanders, OT, Florida State
Sanders' stock has slipped a bit as of late, but he is a smart lineman that has some upside at the next level. His college tape will get him drafted in the first four rounds.
99. Brock Osweiler, QB, Arizona State
Osweiler is a born leader with the confidence to lead an NFL team. At this point, however, he is a developmental prospect with a big upside two-to-three years down the road.
100. Kirk Cousins, QB, Michigan State
Cousins has all the intangibles that you want from your quarterback. If he can improve against pressure, he could start at in the NFL.