2012 NFL Mock Draft: Assessing the Safeness of Every First-Round Pick
March 27, 2012
Jed Jacobsohn/Getty Images
What are the chances your NFL team's draft target will be a safe pick? Is he guaranteed to be a stalwart in your city for 10 years, or is there a chance he will be a bust?
See the grades—and the latest mock draft picks—below.
1. Indianapolis Colts: Andrew Luck, QB, Stanford
Drafting a quarterback in the first round is never completely safe, but there hasn't been a safer prospect at the position since Peyton Manning was drafted.
 Safeness Factor: 9.5 out of 10
2. Washington Redskins (via St. Louis): Robert Griffin III, QB, Baylor 
Griffin has had some injury issues and there is some concern about his ability to read a defense. Nevertheless, few quarterbacks in the last decade have looked as good as RG3.
 Safeness Factor:  8.5 out of 10
3. Minnesota Vikings: Matt Kalil, OL, USC
Drafting a cornerstone for your offensive line is never a bad choice. Selecting Matt Kalil, who kept a current NFL tackle (Dallas' Tyron Smith) on the right side at USC, makes the pick even safer.
 Safeness Factor: 9 out of 10
4. Cleveland Browns: Morris Claiborne, CB, LSU
LSU has produced some fine cornerbacks lately, as Patrick Peterson showed Cardinals fans last year. Claiborne doesn't have quite the returner skill set that Peterson does, but he is every bit the corner.
 Safeness Factor: 8 out of 10
5. Tampa Bay Buccaneers: Trent Richardson, RB, Alabama
The only reason that Richardson didn't earn a 10 is on account of his recent knee procedure. The procedure was minor, but it goes to show you just how fragile a RB's time in the NFL is.
 Safeness Factor: 9 out of 10
6. St. Louis Rams (via Washington):  Justin Blackmon, WR, Oklahoma State
Blackmon isn't Calvin Johnson. He might not even approach Larry Fitzgerald. He will be a true "X" receiver in the NFL, and those are tough to come by.
 Safeness Factor:  9 out of 10
7. Jacksonville Jaguars: Quinton Coples, DE, North Carolina
It's tough to deny that Coples has top-five talent. It is also tough to deny that he showed some major flaws during the first half of his senior season, including a poor motor. While I think that Coples is going to be an incredible player in the NFL, there are certainly safer options.
 Safeness Factor: 5 out of 10
8. Miami Dolphins: Ryan Tannehill, QB, Texas A&M
I'm a big fan of Tannehill's game. What he has been able to accomplish in two short years transitioning from WR to QB is incredible. That said, he needs to develop a bit before I'd put him out there in a regular-season NFL game. 
Safeness Factor: 5 out of 10
9. Carolina Panthers: Dontari Poe, DL, Memphis
People as big as Poe just aren't supposed to move like he does. They also aren't supposed to be blocked one-on-one by a running back. Poe isn't a complete football player yet, but he certainly has the physical skills to be special.
Safeness Factor: 3 out of 10
10. Buffalo Bills: Michael Floyd, WR, Notre Dame
If it weren't for a couple of incidents away from the playing field, Floyd would be challenging Blackmon to be the first receiver taken. Some teams will shy away from guys with character issues.
Safeness Factor: 7 out of 10
11. Kansas City Chiefs: Luke Kuechly, LB, Boston College
Kuechly knows how to tackle people. There really isn't much else to say.
Safeness Factor: 9.5 out of 10
12. Seattle Seahawks: David DeCastro, OL, Stanford
DeCastro doesn't have a lot of flaws to his game, unless you count playing right guard, a "throw-away" position on some teams. I feel safe predicting DeCastro will be an All-Pro-level player for the next decade.
Safeness Factor: 9.8 out of 10
13. Arizona Cardinals: Riley Reiff, OL, Iowa
Iowa offensive linemen are about the safest bet in the draft. Some have to switch positions, such as Robert Gallery and Marshal Yanda, but most end up having very productive careers.
 Safeness Factor: 9 out of 10
14. Dallas Cowboys: Cordy Glenn, OL, Georgia
Like Poe, Cordy Glenn moves way too well for a human being that is close to 350 pounds. He can play every line position except for center, giving him a phenomenal chance to be a starter for the next decade or more.
Safeness Factor: 8 out of 10
15. Philadelphia Eagles: Fletcher Cox, DL, Mississippi State
Cox might end up being the best defensive lineman in the draft three years down the road. If he wasn't a true junior, he probably would have earned a 9 here.
Safeness Factor: 8 out of 10
16. New York Jets: Mark Barron, S, Alabama
Prior to his double hernia surgery, Barron might have been closer to an 8 or 9. He is easily the best safety prospect in the draft and will immediately upgrade the position for New York.
Safeness Factor: 6 out of 10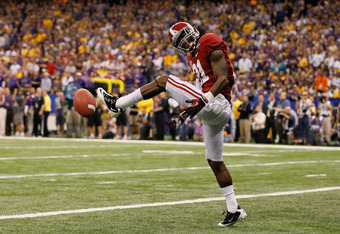 Kevin C. Cox/Getty Images
17. Cincinnati Bengals (via Oakland): Dre Kirkpatrick, CB, Alabama
Few doubt Kirkpatrick's ability on the field. He has elite size and has positional and scheme versatility. His interviews at the combine certainly left a bit to be desired, leading some teams wondering about his character.
Safeness Factor: 6 out of 10
18. San Diego Chargers: Devon Still, DL, Penn State
Still is a player that can disrupt a whole series, not just plays. Unfortunately, he can also take whole series off.
Safeness Factor: 5 out of 10
19. Chicago Bears: Nick Perry, DE/OLB, USC
Perry is a much safer pick playing in a 4-3 rather than in a 3-4 system, where he will essentially have to learn a new position. Perry's elite athleticism and knack for finding the quarterback make this a relatively safe pick for a speed-rusher.
Safeness Factor: 7 out of 10
20. Tennessee Titans: Melvin Ingram, DE/OLB, South Carolina
Athletic pass-rushers due for a position change at the next level have to be one of the most likely positions to "bust." Ingram could very well be a good player, but what's his true position.
Safeness Factor: 4 out of 10
21. Cincinnati Bengals: Doug Martin, RB, Boise State
Martin is simply a great football player. You can't pigeonhole him as one certain type of back because he can really do it all. He will make any NFL team better.
Safeness Factor: 8.5 out of 10
22. Cleveland Browns: Kendall Wright, WR, Baylor
Wright might be the smoothest receiver in the 2012 NFL draft. His combine 40's are of no concern to me, especially after a good pro day and phenomenal tape.
Safeness Factor: 8 out of 10
23. Detroit Lions: Jonathan Martin, OL, Stanford
Unlike Reiff and Kalil, Martin is not a sure-thing NFL tackle. If he doesn't improve his physicality and prove he can play with additional weight, he might not be a starter for long.
Safeness Factor: 6 out of 10
24. Pittsburgh Steelers: Courtney Upshaw, LB, Alabama
Upshaw has the positional versatility (DE, SLB, 3-4 OLB, 3-4 ILB) to provide nearly any scheme and defensive style with a powerful edge threat. He is a prospect you find a place for on your team.
Safeness Factor: 8 out of 10
25. Denver Broncos: Janoris Jenkins, CB, North Alabama
It was relatively difficult to get kicked off the Florida football team during Jenkins' tenure there, but through a series of questionable decisions he managed to accomplish just that. Jenkins is an incredible talent, but certainly not a safe pick.
Safeness Factor: 1 out of 10
26. Houston Texans: Rueben Randle, WR, LSU
Drafting vertical receivers is an inexact science. Are you going to get Chad Jackson or are you going to get Vincent Jackson? Randle could go either way.
Safeness Factor: 5 out of 10
27. New England Patriots (via New Orleans): Michael Brockers, DT/DE, LSU
Brockers has a very "safe" frame, measuring in at 6'5" and 322 pounds. His production is the opposite, showing the potential to dominate but rarely accomplishing the feat.
Safeness Factor: 6 out of 10
28. Green Bay Packers: Andre Branch, DE/OLB, Clemson
Clemson DE/OLB converts just plain scare me. Da'Quan Bowers and Ricky Sapp haven't exactly panned out and Branch's game seems to lack a lot of physicality. He sure can rush the passer, though.
Safeness Factor: 4 out of 10
29. Baltimore Ravens: Dont'a Hightower, LB, Alabama
Hightower reminds me a lot of Brandon Spikes. He might not wow you at the combine or his pro day, but he is a football player. He tackles people. Hard. He will bring intensity and some fire to any NFL team.
Safeness Factor: 8 out of 10
30. San Francisco 49ers: Coby Fleener, TE, Stanford
If Jim Harbaugh, Fleener's former coach at Stanford, feels comfortable enough to draft him, he should be a good fit.
Safeness Factor: 8 out of 10
31. New England Patriots: Stephon Gilmore, CB, South Carolina
Even with the Patriots questionable recent track record drafting defensive backs, Gilmore is a pretty safe pick. He can play in any scheme and has special teams value as well.  
Safeness Factor: 7 out of 10
32. New York Giants: Peter Konz, C, Wisconsin
Konz has battled blood clots and ankle injuries in his past, although some teams will overlook those issues when they see his impressive film.
Safeness Factor: 6 out of 10