March Madness 2012 TV Schedule: Updated Live Stream Info for Elite 8 Action
March 24, 2012

Kevin C. Cox/Getty Images
With just three rounds of action remaining in the 2012 NCAA tournament, it's time to buckle in and prepare for the first wave of fun this weekend known as the Elite Eight.
For your viewing pleasure, we have all the TV information you could ever want or places you can find a live stream of the action online.
Either way, just don't miss a second of the action.
TV Schedule
No. 7 Florida vs. No. 4 Louisville - Saturday, March 24 at 4:30 p.m. ET (CBS)
No. 2 Ohio State vs. No. 1 Syracuse - Saturday, March 24 at 7:05 p.m. ET (CBS)
No. 3 Baylor vs. No. 1 Kentucky - Sunday, March 25 at 2:20 p.m. ET (CBS)
No. 2 Kansas vs. No. 1 North Carolina - Sunday, March 25 at 5:05 p.m. ET (CBS)
Live Streams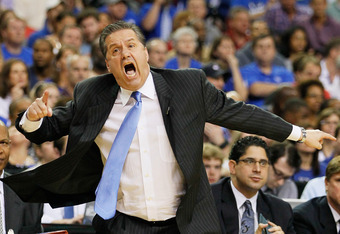 Kevin C. Cox/Getty Images
Favorite That Will Keep Winning
Kentucky
The Kentucky Wildcats came into this tournament as the favorite to win it all, and John Calipari's bunch has his boys rolling towards a national title. With the team losing just two games all season, the squad isn't ready for another.
With a tough game against Baylor on Sunday, the Wildcats are looking to advance to the Final Four after topping 100 points in the Sweet 16 against Indiana. Their pro-style offense will be hard for teams to stop for any of the teams remaining in the tournament..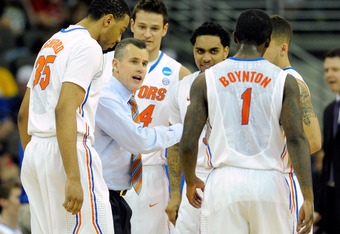 Eric Francis/Getty Images
Upset Special
Florida
While Billy Donovan is winless against his former coach and mentor Rick Pitino and his Louisville Cardinals, I think the Florida Gators have a legitimate chance to sneak out a win and cash in their chance at a Final Four appearance.
This game isn't getting nearly enough coverage because of just how close these two head coaches are and have been for a very long time. With storylines and plot twists galore in this matchup, watch for the No. 7 seeded Florida Gators to sneak into the Final Four.
Check back for more on the NCAA basketball tournament as it comes, and check out Bleacher Report's College Basketball Page to get your fill of college basketball.