Chipper Jones: Still Overrated After All These Years
March 24, 2012

Marc Serota/Getty Images
Nobody likes a know-it-all, or even worse, someone who can't wait to utter the words "I told you so."
With that in mind, I have to say that I've waited quite a while to say this, but, I told you so. I told you all, yet most of you brutally criticized me when I wrote that Chipper Jones was the most overrated player in baseball, even though I was right.
As a Mets fan, Chipper Jones had been a thorn in my side for years. After announcing that he will retire after the 2012 season this past Thursday, all those memories of late-inning, late season homers sailing through the Queens night and over Shea Stadium's blue wall came rushing back, and my vitriol for the switch hitting future Hall of Famer came rushing back as if it were 1999, when Jones seemingly hit 30 of his career best 45 home runs against the Mets (it actually was only seven, but it was still more than he hit against any other team that year).
Then another memory came rushing back just as quickly, as I recalled a firestorm I started here on Bleacher Report with an article I wrote in March of 2009, titled "Chipper Jones: The Most Overrated Player In Baseball".
Chipper Jones was coming off a great 2008 campaign, one that saw him win the NL batting crown, but he was aging (he turned 37 just after the start of the 2009 season), had been injury prone in the latter years of his career, and went from being a poor defensive player to an absolutely terrible one. Yet he was still being considered, by most, to be one of the best players in the game. I admitted that Jones was still a quality player, but he was no longer one of the best and really hadn't been since 2003.
My argument was that Jones had become a contact hitter with average power, who had trouble staying on the field because of health reasons, and was "basically a DH playing third base". Combine that with the fact that he was 36 at the time I wrote the article, and there was no way he was a great player anymore, period.
Chipper Jones supporters and Braves fans everywhere responded immediately. I was called a bitter Mets fan (true), I was told I just hated Chipper (also true), I was accused of "trolling" (not true), had all types of saber-metrics thrown at me and had my knowledge of the game questioned. While most of the comments were just good old fashioned baseball arguments, some were pretty brutal, and I learned a valuable lesson that day. On Bleacher Report, you never talk politics, religion or Chipper Jones.
I then realized that since writing that article, I hadn't really thought about Chipper Jones. I knew he was still playing, mostly because I play fantasy baseball every year, but I hadn't watched him play or kept up with his performance in some time. As a Mets fan, most of the Braves games I watched were against the Mets or Phillies (my television market), and once my team had started this terrible downward spiral, I decided to boycott watching them. I still watch plenty of baseball, but very little from any NL East club.
So, I went back and took a look at what my pal Larry has done since his fans crucified me during March 2009, and to my delight, I was proven correct!
Offense:
After winning the batting title in 2008, Jones' batting average dropped exactly 100 points, going from .364 in 2008, to .264 in 2009 and hasn't been higher than .275 since.The rest of his numbers, which were already only average, stayed relatively the same.
Here is what the average season looks like for Jones since I wrote my article in March 2009:
121 G, 420 AB, 61 R, 113 H, 26 2B, 1 3B, 15 HR, 62 RBI, 71 BB, 75 SO, .269 AVG, .371 OBP
Is that great? Absolutely not. Is it decent? Sure, but lets put it into perspective by comparing it to the averages of another third baseman over the last three years: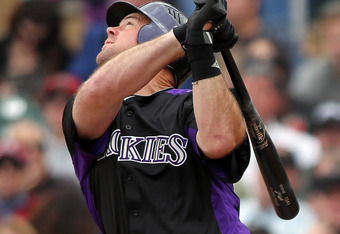 Jonathan Ferrey/Getty Images
135 G, 464 AB, 53 R, 118 H, 23 2B, 1 3B, 16 HR, 55 RBI, 37 BB, 85 SO, .254 AVG, .314 OBP
Those are the averages over the last three seasons of Ty Wiggington, and with the exception of on-base percentage and walks, those numbers are pretty comparative. In other words, since calling Jones overrated, he's gone from batting champion to a more patient Wiggington.
Since I've been accused of attacking Jones in the past because I'm a Mets fan, here is the averages over the past three seasons for David Wright, who more than one reader said that Chipper was better than even at the age of 36:
134 G, 503 AB, 78 R, 143 H, 33 2B, 2 3B, 18 HR, 79 RBI, 65 BB, 133 SO, .284 AVG, .365 OBP
Wright's numbers are not great, but they're good, and despite the fact that he's played on three terrible teams and suffered the two worst years of his career, Wright has been better. (For the record, the original article I wrote had no mention of a Wright/Jones comparison, as I felt comparing an aging veteran on the decline to a good player in his mid-20's was not fair, however, it was brought up numerous time that Jones was the better player heading into 2009 despite his age).
Defense:
I hate defensive statistics. Maybe I'm old-school, but I have always, and will always contend that the only way to truly judge a player's defense is to watch them play.
I've admitted that I haven't watched much of Chipper over the last three seasons, so to totally comment on his defense would not be fair.
However, I was told by a reader of the last article that "Jones' defense was not as bad as I made it sound" and that "In 2007, David Wright won the Gold Glove with 21 errors. Chipper had only nine."
I responded that Jones was throwing across the diamond to one of the best defensive first baseman in baseball, Mark Teixeira, and Wright was throwing to the defensive liability known as Carlos Delgado.
I never received a response on that, but anyone who knows baseball knows a good defensive first baseman can save a lot of errors for his other infielders by making good plays on poorly thrown balls.
My point was proven as Jones' errors in 2008, the season Mark Teixiera was traded during the year to the Angels, Jones' errors increased from nine to 13. In 2009, Jones played the entire year without the help of Teixeira's glove and committed 22 errors, four more than David Wright in 46 fewer chances.
The Verdict:
I've been a New York sports fan my whole life, so nobody knows how being a fanatic can blind a person's judgement more than I do. It's great to see fans totally stick up for their favorite players, despite the fact that they are clearly wrong, and the evidence proves it.
I'm sorry Braves fans. You were right. I can't stand Chipper Jones. I'll never get over how he beat my team time and time again. I am a bitter Mets fan.
Unfortunately, I was right about Chipper Jones, and his mediocre production over his last three injury-plagued seasons helped prove the point I made back in 2009—Chipper Jones was overrated.
Will I feel bad about not seeing Larry after 2012? Absolutely not, just like I don't feel bad about being that jerky, "know-it-all" guy who says I TOLD YOU SO!