NCAA Tournament 2012: The Best Is Yet to Come
Andy Lyons/Getty Images
Now "Fab-less," Syracuse hopes to once again be fabulous and head back to New Orleans, where they won it all in 2003.
In truth, this NCAA Tournament has been a little light on buzzer-beaters and barnburners.
And, with the exception of Syracuse-Wisconsin and Kentucky-Indiana, two games played at the highest level throughout, play has been slightly below expectations.
But that said, the true basketball aficionado has to be licking his chops at the four matchups on tap for Saturday and Sunday, and waiting with great anticipation for the Final Four games to follow.
Let's take a quick look at the four Elite Eight games and what might follow in New Orleans.
Begin Slideshow

»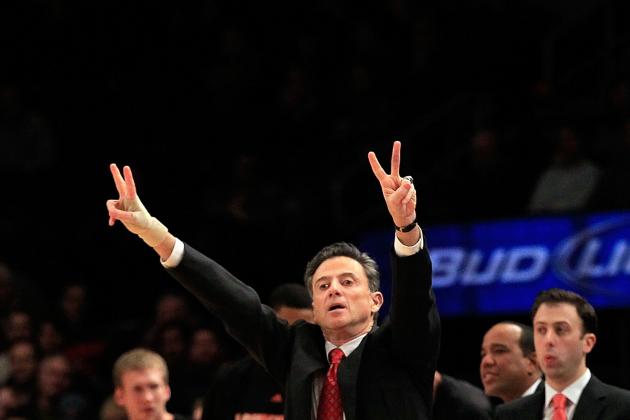 Chris Trotman/Getty Images
Pitino looks tanned, rested and ready to school his former player and assistant, Billy Donovan, for a seventh straight time.
25 years ago, Rick Pitino and Billy Donovan both made the Final Four. Can't happen this year.
And if you're thinking Donovan seems a little young to have been coaching back then, you're right.
Pitino and Donovan got off the same bus to go into the Superdome. Pitino was leading a Providence University team that on the court was led by "Billy the Kid" Donovan.
Could those slick Selection Committee members have foreseen this possibility?
Nah. Who do you know had these two meeting in the Elite Eight?
But it makes for a great storyline, even if the teams themselves are almost unquestionably the two worst teams left standing.
The student, Donovan, is 0-for-6 against his teacher, Pitino.
But this looks like a great opportunity for "The Kid" to get off the schneid.
It may not be aesthetically pleasing, but it should be great theater.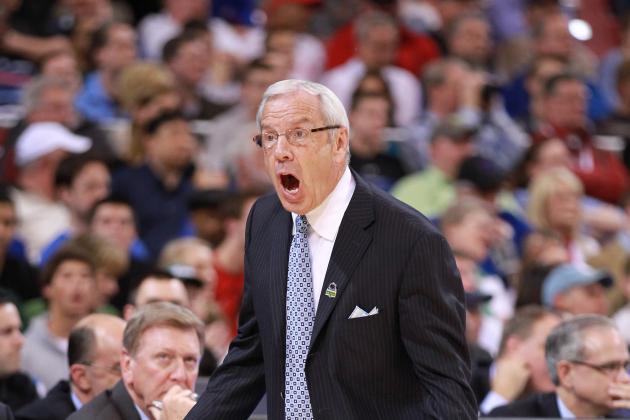 Andy Lyons/Getty Images
Roy Williams holds the odd distinction of being number two in wins at both Kansas (behind Phog Allen) and North Carolina (behind Dean Smith).
This one, too, has a great storyline.
Roy Williams incensed the Kansas nation when he departed for North Carolina and was replaced by who else but Bill Self.
And just as Pitino and Donovan have both been part of a Final Four in New Orleans, so has Williams. He lost the national championship game in his last season at Kansas (2002-03) to another guy and school still eligible to get back, Jim Boeheim and Syracuse.
And the game itself between North Carolina and Kansas should be a dandy.
Neither team has done its best work in this tournament, but both have played at championship caliber at times throughout the season.
North Carolina has had to overcome recent injuries to two of its star players. John Henson sat throughout the ACC tournament with a No.1 seed reasonably assured. Kendall Marshall, the assist machine, fractured his wrist against Creighton and watched in street clothes as his Tar Heels squeaked by Ohio U.
Kansas let a likely No. 1 seed slip away when they stubbed their toe in their conference tournament against another Elite Eight member, Baylor. The Jayhawks have shot the ball poorly in this tournament, managing only 65, 63 and 60 points while easing past Detroit, Purdue and NC State, respectively.
In their previous 20 Big 12 regular season and tournament games, they failed to excede 65 only two times.
But these are two storied programs and the level of play figures to rise dramatically when they face off for a ticket to New Orleans.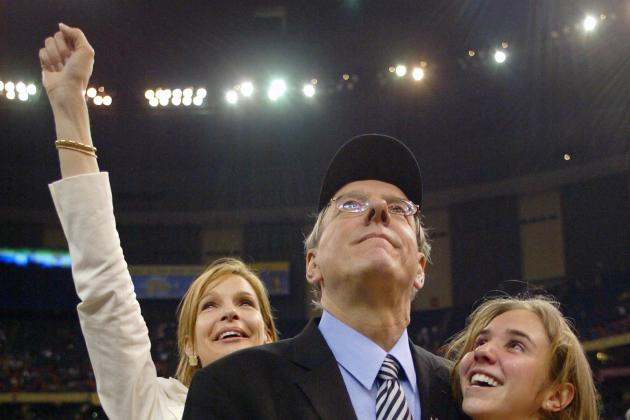 Craig Jones/Getty Images
From the Boeheim Family Photo Album: 2003 - visited New Orleans. Got some GREAT souvenirs.
This one figures to be played within a tight margin start to finish.
Ohio State supposedly came within five points of the last No.1 seed on Selection Sunday, when they fell to Michigan State by four points in the Big Ten Tournament championship game. The Buckeyes lost just once to an unranked team all year.
Syracuse cruised to the Big East regular-season championship before losing a game in their conference tournament to Cincinnati that had no effect on their ultimate seeding in the Big Dance. Then came the Fab Melo suspension.
The Orange flirted with becoming the first No.1 seed to ever lose to a No.16 seed (UNC-Asheville) before getting their feet back under them and disposing of Kansas State and then Wisconsin in a superlatively played game.
Ohio State, on the other hand, has been all business in easily dismissing Loyola (Md.), Gonzaga and Cincinnati.
Expect a slugfest in the high 50s or low 60s, and maybe a fan-favorite buzzer-beater.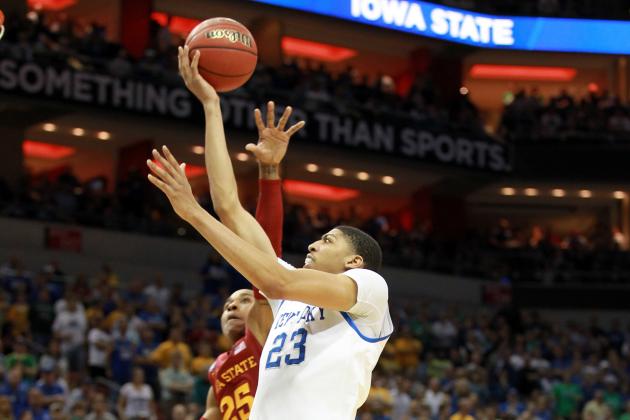 Andy Lyons/Getty Images
Adolph F. Rupp Trophy winner Anthony Davis will try to add a national championship trophy to his collection as he races through Lexington.
If you liked Kentucky-Indiana, get ready for more of the same.
Baylor is one of the few teams that, at least on paper, looks as if it can match up with the consensus choice to be cutting down the net in two Mondays.
The Bears have one edge, and that's experience. But hey, who doesn't have an experience edge on John Calipari's "One and Done U.?"
This time, it could be important. Baylor made the Elite Eight two years ago, and three members of that club, including Quincy Acy, remain. Compare that to the fact that of Kentucky's five leading scorers, only one was even roaming a college campus back then.
Who knows how this might play out on the big stage?
Expect the scoreboard to be whirring like a pinball machine total.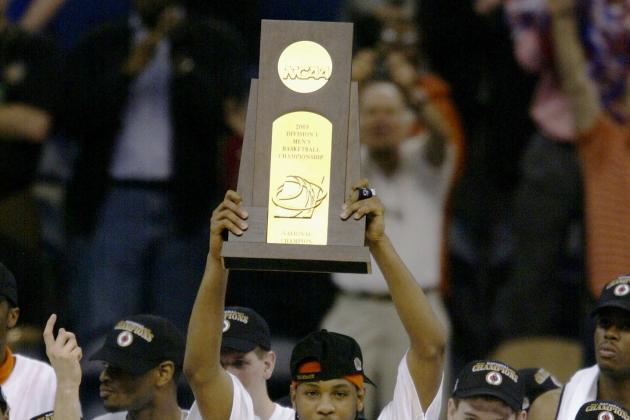 Andy Lyons/Getty Images
Who'll be standing on the Superdome floor doing this in two Mondays?
With four games between us and the Final Four, it's difficult to anticipate who'll be playing.
But one thing's for sure. No matter who comes out of the Syracuse-Ohio State and North Carolina-Kansas games, that semifinal is a much-anticipated one.
If things run to form Kentucky will be facing either a Florida team it has already beaten three times this year or a Louisville team it defeated back on New Year's Eve.
Should form hold and the Wildcats advance to the final, anyone from the other side would be a formidable foe for the title.
But most of the country would probably like to see a North Carolina team with Kendall Marshall at least near peak efficiency do battle for all the chips.
Regardless, it's hard to argue with the thought that the best is yet to come.