LeBron James and 5 Basketball Players Who Could Play in the NFL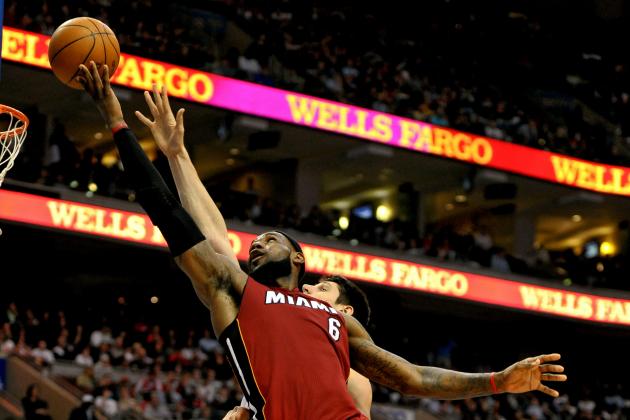 Drew Hallowell/Getty Images
LeBron would be a matchup nightmare.
NBA players are some of the best athletes in the world, but also some of the most versatile. Their size, speed and athletic IQ would allow some of them to play in other sports.
Some football players, like Julius Peppers and Donovan McNabb, played both sports in college, but most guys in that category chose football. Here are five guys that chose basketball, but could have been stars in the NFL.
Lead image courtesy of 6magazineonline.com.
Begin Slideshow

»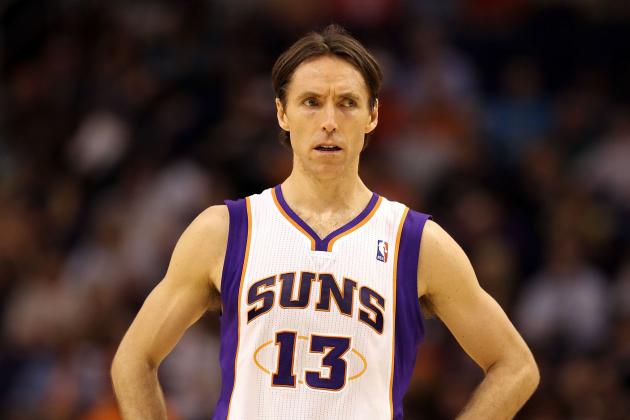 Christian Petersen/Getty Images
What couldn't Steve Nash do?
What can't Steve Nash do?
Need a receiver? Nash is 6'3'' and has solid athleticism.
Need a kicker? Nash grew up playing soccer; in a pinch he could probably hit a 30-yarder.
And as a Wildcat quarterback? Nash was made for that position. He's a point guard, so he's used to passing; he may not have Peyton Manning's arm but with some practice I'd wager that he could throw a 25-yard pass on a frozen rope.
He's fast enough and shifty enough to take off running, and while his small frame could cause durability issues, Nash is seemingly impervious to injuries. His sugar-free diet and incredible work ethic has allowed him to play at an All-Star level into his late 30s.
Most importantly, no NBA player is a better decision-maker than Steve Nash. That is the essence of the option/Wildcat offense. If you need someone to make a quick decision on whether to throw or run, Nash is your guy.
He's past his prime, but at his physical peak, Steve Nash could have been deadly all over the field.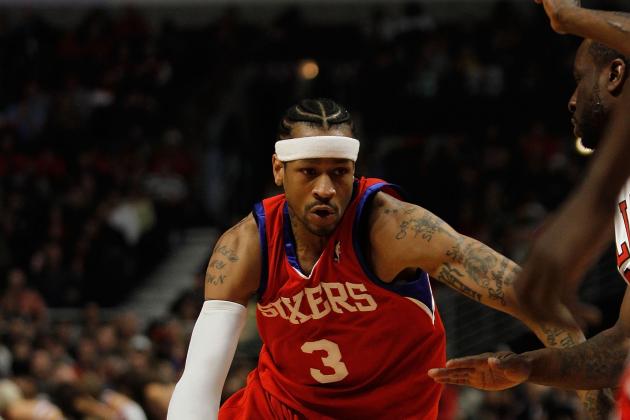 Jonathan Daniel/Getty Images
Allen Iverson was a great football player
Most people don't know this, but Allen Iverson was the greatest high school quarterback in Virginia history. He was Michael Vick before Michael Vick.
Iverson chose basketball, but his football potential is tantalizing. He might have been the fastest player in NBA history, so the thought of him scampering around the field like Vick would give defensive coordinators nightmares.
His arm strength is equally impressive. Iverson could make any throw, and in the right offense, he could have put up prolific numbers.
Iverson came into the NBA in 1996. Had he come into the NFL at a similar point, he could have revolutionized the quarterback position.
At that point, nobody had heard of Michael Vick and Randall Cunningham was nearing his end, so Iverson could have turned the league upside down. It's hard to say he made the wrong decision, but it's still interesting to wonder what might have been.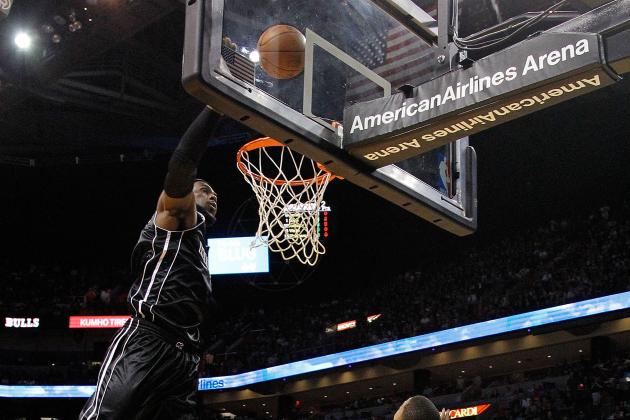 Mike Ehrmann/Getty Images
Could anyone cover LeBron?
If he chose to play football, LeBron James could be the greatest non-quarterback in NFL history. He would be simply unstoppable.
At 6'8'' and 250 pounds, tackling LeBron would be like trying to stop a truck. That is, if they could catch him. As well as being one of the strongest players in the NBA, LeBron is also one of the fastest.
If anyone could cover him, his leaping ability would give him an incredible advantage on jump balls. If you gave him six weeks to learn the position, I honestly believe that LeBron would be the best tight end in football.
The defensive possibilities are just as incredible. Can you imagine LeBron lining up as a pass-rushing linebacker? He's practically the size of the left tackles he'd be beating, and twice as fast.
No quarterback is strong enough (well, maybe Ben Roethlisberger) to escape a LeBron tackle. He'd rack up sacks faster than he racks up dunks.
He'd even be a special-teams star. Who could block more kicks than LeBron? His long arms and jumping ability would scare even the best lines in football.
You could line LeBron up anywhere and he'd be a star. There is no better athlete in sports. If he put his mind to it, he'd be an NFL Hall of Famer.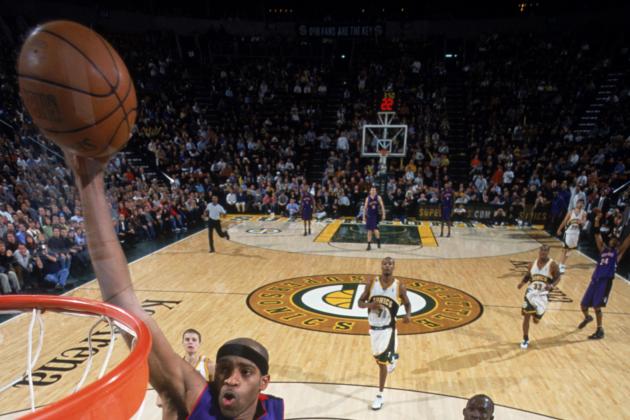 Otto Greule Jr/Getty Images
Vince Carter could be a Randy Moss clone.
One of the best leapers in basketball history, Vince Carter is fast, athletic and mercurial. Remind you of anyone? In his prime, Vince Carter could have been a Randy Moss clone.
He's known as lazy and a bad teammate, so turning him into Jerry Rice would be impossible. The thought of Vince Carter going over the middle is as unlikely as him getting a standing ovation in Toronto. But running straight lines down the field like Moss? Now we're talking.
As a deep threat and in the red zone, Carter could be an All-Pro. He's 6'6'', taller than any corner in football and is a legendary leaper. If he can dunk from the free-throw line, then I'm willing to bet he could outjump any defensive back on an end-zone fade.
Is he the type of guy you'd want on a true contender? Absolutely not, but then you wouldn't want that in basketball, either. He's a locker-room disaster waiting to happen, but if you want someone who would be incredibly entertaining on lousy teams? That's Vince Carter.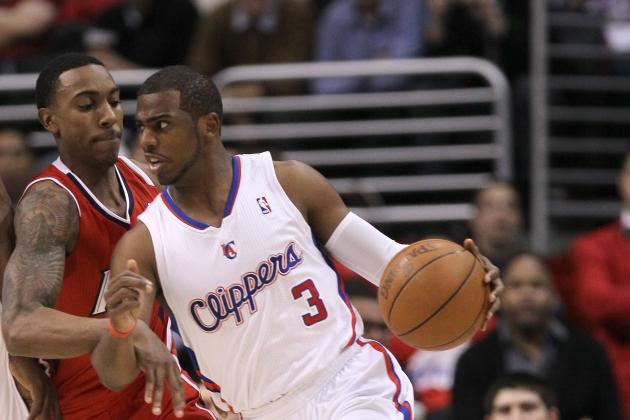 Stephen Dunn/Getty Images
Could CP3 play cornerback?
Playing cornerback isn't really about athleticism, though Paul certainly has enough of it; it's about smarts. A great corner is one who can see how a route will unfold. He has to be able to see several steps ahead.
That's Chris Paul. Great point guards can see how a play is unfolding several steps in advance, and there is no greater point guard than Paul. Receivers couldn't fool him on slant and go routes, and he's fast enough to keep up with them on the deep throws.
At 6'2'', Paul has the body to be an effective tackler. He'd have to put on some muscle, but once he did, he could press even bigger receivers at the line.
Paul is smart enough to read a quarterback's eyes, fast enough to stay with his assignment, and strong enough to be a decent tackler. He would have no clear weakness in his game. Chris Paul would be a turnover machine as a cornerback.