NFL Draft 2012: 4 Areas of Immediate Need for the Cleveland Browns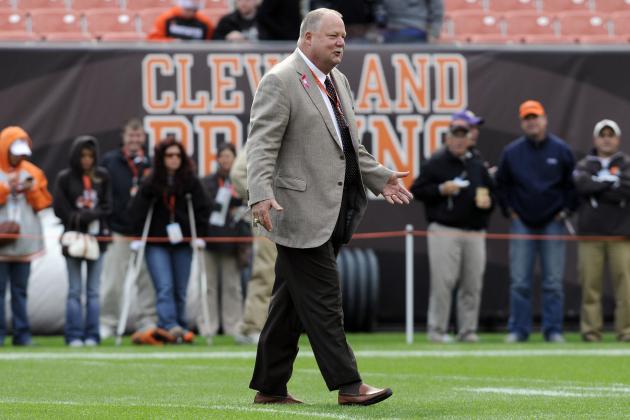 Jason Miller/Getty Images
The Big Show Mike Holmgren
For all Browns fans, there is only one thing that seems to bring hope year in and year out. It's worthy of a parade and it is the most anticipated event of the year: The draft!
Every year we get mediocrity and disappointment during the season, but seem to always hold hope that the draft can fix all the problems. Well it's 2012 and once again the draft is coming up, and we are all holding hope that it will fix all the problems.
In this article I will discuss what I consider are the four most immediate needs, and what are some possible choices in the first five rounds that could fill these needs.
For quick reference, the Browns have seven picks in the first five rounds.
Begin Slideshow

»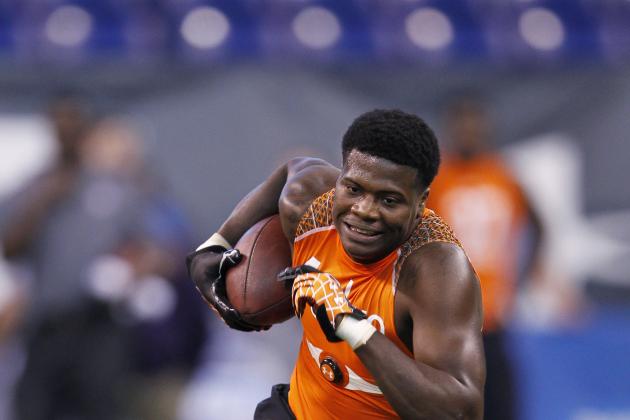 Joe Robbins/Getty Images
Kendall Wright Baylor
Ah wide receiver, the position with the most overpaid players (Calvin Johnson, any team that had T.O.). This is also the position that Tom Heckert said was not a position of need last year because the West Coast Offense would fix everything.
The Browns drafted Greg Little late in the second round and he proved to most that he is an NFL-caliber receiver, but he also showed that he is very raw, from being suspended the year before and having only one year of receiver experience in college.
The one cliche that ESPN has pushed into the minds of every NFL fan is that this is a passing league and that you must have a top-five quarterback and the best receiving corps in the league if you want to win (except it did not go well for Green Bay and the Saints). So with the Browns only having one possible receiver and about five backups, we need to add at least one Pro Bowl receiver and one that will fit well in the third slot.
Here below are possible choices for receivers for each pick in the first five rounds.
| | |
| --- | --- |
| Pick | Player |
| Rd 1 Pick 4 | Justin Blackmon |
| Rd 1 Pick 22 | Kendall Wright |
| Rd 2 Pick 37 | Stephen Hill |
| Rd 3 Pick 68 | Marvin Jones |
| Rd 4 Pick 100 | Nick Toon |
| Rd 4 Pick 118 | Joe Adams |
| Rd 5 Pick 131 | Marquis Maze |
Looking at this list, Justin Blackmon has been a popular choice for mock drafters recently, since Washington traded up. Looking at the next two, I think that Kendall Wright is the better receiver, and showed this with his improved speed at his pro day. Either way, if we do not take Blackmon at No. 4, we should be looking at both of these players in the next two picks.
Going farther down in picks, we start to get into more uncertainty. The one player that I really like is Nick Toon, who played very well for the Wisconsin Badgers this year with 64 receptions, 926 yards and 10 touchdowns in 2011. He has a huge frame for a receiver and a surprisingly fast speed for someone of his size with a sub-4.5 speed. Nick Toon could be a steal in the fourth round, but don't be surprised if he is taken as early as our third-round pick.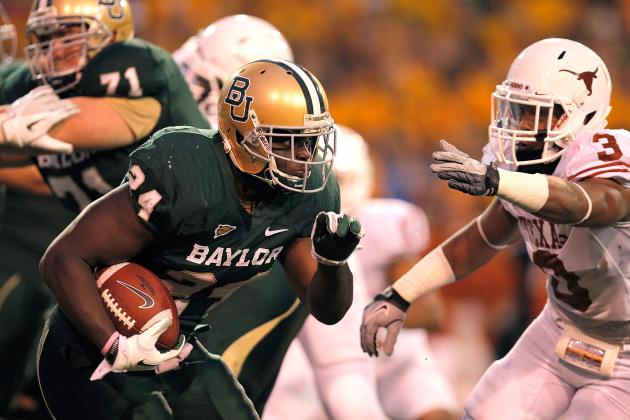 Sarah Glenn/Getty Images
Terrance Ganaway Baylor Running Back
Before free agency, there was small rumor that the Browns had Hillis locked up. Well, that was wrong. There was also another rumor about trading to get Ben Tate from Houston. That sounds like a dead end as well. Right now the Browns have three running backs on the roster, with the injury prone Hardesty, Brandon Jackson and Chris Ogbonnaya. Out of those three, there isn't much for teams to be scared of.
With Hillis signed to the Chiefs and most free-agent running backs off the market, we look to the draft.
| | |
| --- | --- |
| Pick | Player |
| Rd 1 Pick 4 | Trent Richardson |
| Rd 1 Pick 22 | David Wilson |
| Rd 2 Pick 37 | Lamar Miller |
| Rd 3 Pick 68 | LaMichael James |
| Rd 4 Pick 100 | Bernard Pierce |
| Rd 4 Pick 118 | Terrance Ganaway |
| Rd 5 Pick 131 | Tauren Poole |
When it comes to running backs, there is one elite player: Trent Richardson. After that there is a large drop-off, to a point where some believe that none of the rest are worth a first-round pick. I am a fan of Lamar Miller with the second-round pick. I like his size and his playmaking ability if we pass on Richardson.
Out of the bottom group of running backs (rounds four and five) I love Terrance Ganaway, mainly because he really showed his ability in Baylor's bowl game and would have been better recognized if it wasn't for RG3. I remember from that game a play where RG3 handed off to Ganaway to run for about a 45-yard touchdown, dodging three to four defenders and hurdling over RG3, who tried to make a block. For a game that broke a record amount of points, he played possibly a more important part than RG3 did.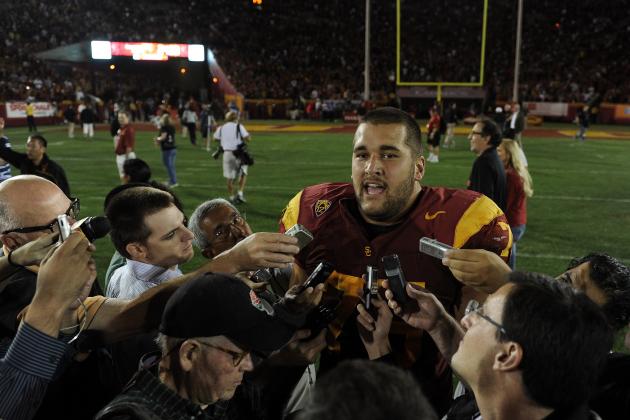 Harry How/Getty Images
Matt Kalil Top Offensive Lineman
Looking back two years ago, the offensive line for the Browns was considered one of the best in the NFL, anchored by Joe Thomas, Eric Steinbach and Alex Mack. Steinbach is gone, and we now have two youngsters at the guard positions and we do not have anyone to play right tackle. If I had a wish, it would have been for the Browns to pick up Ben Grubbs off free agency and get one player high in the draft to bring our line back to supremacy. But sadly, the Browns have not found a single person from free agency to help the line, which leaves the draft to fill two, possibly three, spots.
| | |
| --- | --- |
| Pick | Player |
| Rd 1 Pick 4 | Matt Kalil |
| Rd 1 Pick 22 | Mike Adams |
| Rd 2 Pick 37 | Bobby Massie |
| Rd 3 Pick 68 | Jeff Allen |
| Rd 4 Pick 100 | Tony Bergstrom |
| Rd 4 Pick 118 | Nate Potter |
| Rd 5 Pick 131 | Markus Zusevics |
I believe that if Matt Kalil is not taken by the Vikings at No. 3, then the Browns will turn the fourth pick into the next RG3 sweepstakes and try to move down to the six-to-eight range to pick up Richardson.
Mike Adams is an intriguing player to look at. He was marked as a late first-rounder and after his combine performance (low bench press reps) he might slip down into the second round, where if the Browns have the chance, should jump on it and make our right side of the line great for once.
Out of the late rounders, Markus Zusevics is one that I like a lot. He was the starting left tackle for Iowa. At 6'5" 300 lbs he has a large frame that has performed well in run-blocking, and could be a force on the right side and a steal in the later rounds.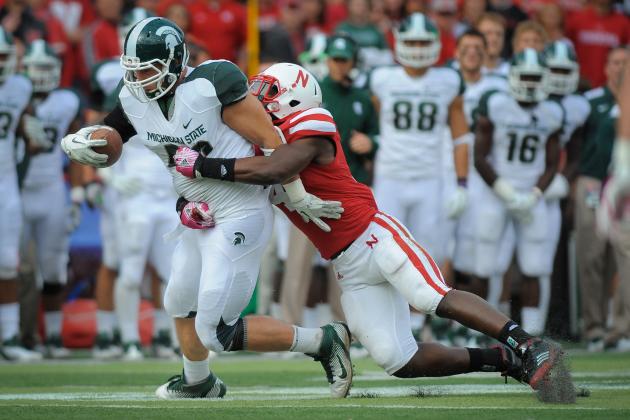 Eric Francis/Getty Images
Lavonte David Outside Linebacker Nebraska
I have always defended the linebacker position on the Browns, especially with the return of D'Qwell Jackson. And I believe the Browns' front office think the same after giving large contracts to Jackson and Chris Gocong. But even as much as I love both those players and hope they are Brownies for a long time, Scott Fujita was the glue to the defense.
This was evident two years ago during Mangini's last year when Fujita went down with an injury and our defense went from average to the worst in minutes. He brings experience and technique that is hard to replace. But as with everything, he is getting too old for the position, injury prone (serious injury two years in a row) and now there is a possibility that he might be suspended because of Bounty Gate. The Browns also think this is a problem because they are planning on bringing in many linebackers for personal visits before the draft.
| | |
| --- | --- |
| Pick | Player |
| Rd 1 Pick 4 | Luke Kuechly |
| Rd 1 Pick 22 | Zach Brown |
| Rd 2 Pick 37 | Bobby Wagner |
| Rd 3 Pick 68 | Lavonte David |
| Rd 4 Pick 100 | Demario Davis |
| Rd 4 Pick 118 | Tank Carder |
| Rd 5 Pick 131 | Terrell Manning |
Luke Kelly is not worth the fourth pick and that pick would be better spent elsewhere. Zach Brown is a very good choice and great value at 22, but I would hope the Browns stick to offense.
The choice for me would be Lavonte David in the third round. David set a Nebraska record in tackles (152) this past year, and has a work ethic that makes any coach salivate. He is a tad bit undersized, but that has never stopped him from being a complete beast on the field. His athleticism could make him an amazing choice for weak-side linebacker.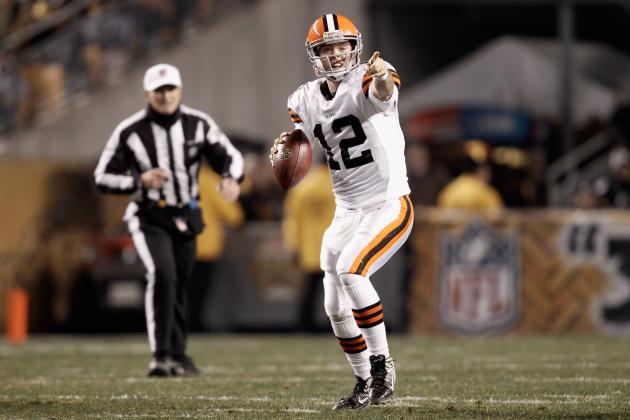 Jared Wickerham/Getty Images
Colt McCoy Browns Quarterback
To conclude:
Now that you have read through, many of you are scratching your head asking: Why isn't cornerback, quarterback or free safety on this list? Well to clear things up, I believe the Browns think that Dimitri Patterson will actually take over the cornerback slot from Sheldon Brown, which will push him to safety. With the quarterback slot, this can not be explained in ten slides let alone one, but I believe Colt McCoy is better than most give him credit for, maybe not Tom Brady-like, but better. To this I decided not to include quarterback because I believe for this year, those four other positions are of greater need.
With that, I have picked out players from each position that I believe can instantly make an impact this year and help improve the Browns' record.
Now that I have shown possible players chosen in the 2012 draft by the Browns, and with Heckert's record of finding about four players each year that must step right in and start, here is to him doing it once again and finding players to fills these needs now.