NCAA Tournament: Five Players That Helped Their Draft Stock in the Sweet 16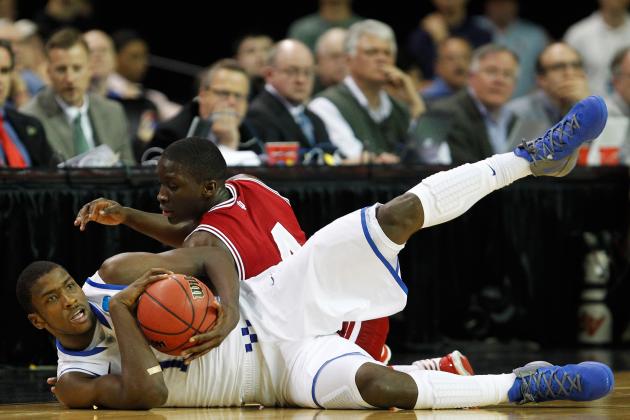 Streeter Lecka/Getty Images

Playing in the NCAA Tournament can often go a long way in determining where or if a player is chosen in the upcoming NBA draft. Just ask Stephen Curry.
Thursday and Friday saw some unforgettable performances that could ultimately make or break the professional basketball careers of many impressive young athletes.
Some, however, stood above the rest as not necessarily the best but rather the performances that will most greatly impact a player's draft stock. Remember that these are solely based on the Sweet 16 and exclude all previous rounds.
Begin Slideshow

»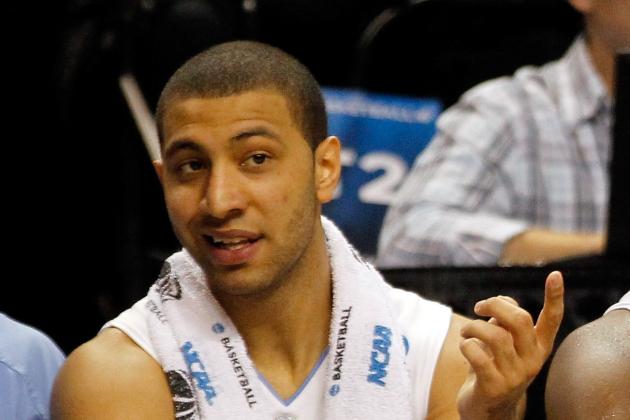 Streeter Lecka/Getty Images

Marshall didn't score any points or dish out any assists. In fact, he never even played on Friday.
Marshall sat on the bench nursing a broken right wrist and watched his team defeat the No. 13 seed Ohio Bobcats in overtime.
This nail-biting affair featured ties, lead changes, crucial missed free throws and nearly-made half-court heaves. The game, though, would have never been this closely contested with a healthy Kendall Marshall.
The Tar Heels struggled to put away the game for the first 43 minutes and were forced into a blocked chuck by the ice-cold Harrison Barnes on their final possession of regulation.
The absence of Marshall evidently loomed large as the Tar Heels' six high school All-Americans and three All-ACC players could hardly beat an Ohio team whose best player finished 3-20.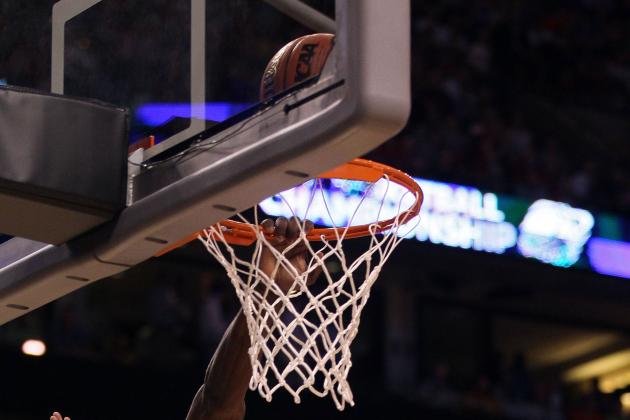 Elsa/Getty Images

Waiters has been drawing comparisons to Dwyane Wade throughout much of the season. His performance vs. Wisconsin may have verified these claims.
Though his stats didn't blow anyone away, Waiters' ability to hit the most difficult of shots continues to impress. Every play he made seemed to change the game. He consistently bailed out the Orange when they struggled to find a good shot.
Waiters' explosiveness has also led him to make the jump from last year and emerge into the indisputable best sixth man in the NCAA.
Waiters may never be Dwyane Wade but at the very worst he will transform into the second coming of Jamal Crawford. The sophomore guard should be an immediate rotation player whenever he decides to begin his professional career.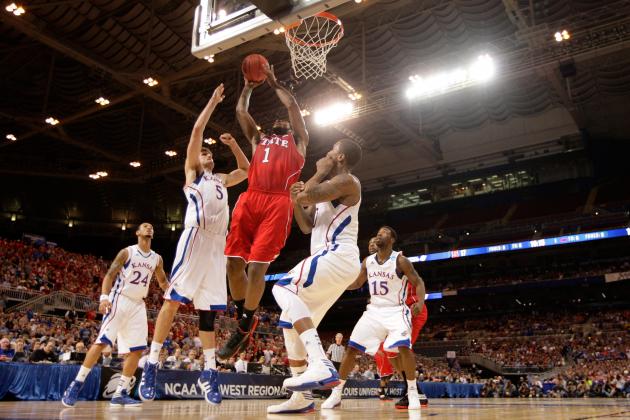 Andy Lyons/Getty Images

After shooting 1-14 from three and 55 percent from the line, it's safe to say that it was the Jayhawks' defense that ultimately carried them over North Carolina State. This strong defensive effort was thanks in large part to Jeff Withey's ten blocks.
Withey was an all-out beast. He simply took over the game with his defense, forcing the Wolfpack to earn each bucket. Withey blocks more shots and has a better NBA body than John Henson, another defensive standout who's currently a projected lottery pick according to mynbadraft.com.
Withey will need a more polished offensive arsenal, but his shot-blocking ability could prove him a second-round steal for many NBA franchises.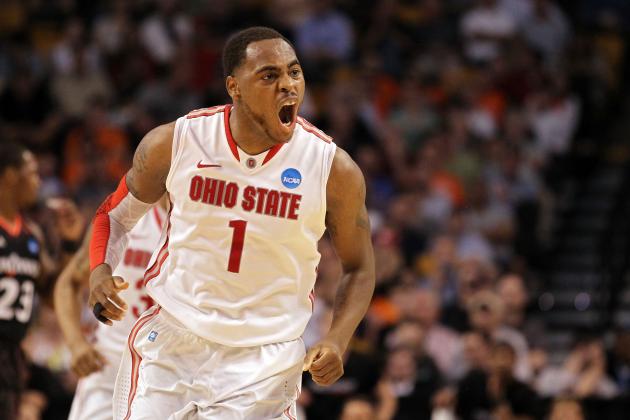 Jim Rogash/Getty Images

Thomas scored a game-high 26 points vs. Cincinnati and established himself as one of the most versatile players remaining in the tournament.
Thomas shot 60 percent from behind the arc but also proved more than capable of incorporating his post game. His 6'7", 230 lb. build would allow him to play some power forward in the NBA as well as stretch the defense with his shooting abilities.
Thus far, no opponent has had an answer for Thomas, who was the main reason why the Buckeyes were able to advance to the Elite Eight in hard-fought fashion.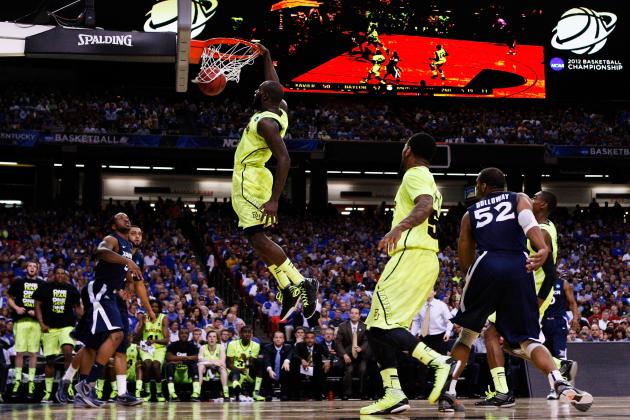 Streeter Lecka/Getty Images

No word is more commonly used in the draft's prior weeks than "athleticism." Friday night, Acy best epitomized this word.
The Baylor center had a team-high 20 points, 15 rebounds and only missed three shots total. Most notably, Acy had a number of highlight-reel dunks that made us wonder if Blake Griffin was in town. The kid is a freakish athlete to say the least and his performance vs. Xavier only helped his cause.
The most visible limitation to Acy's game is the uncertainty as to which position he would play professionally. Acy currently dominates the paint for Baylor, but his lacking 6'6" height is a main reason why nbadraft.net is projecting him to go in the late second round.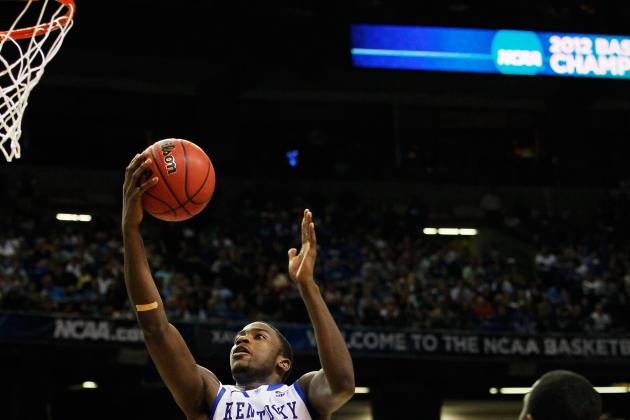 Kevin C. Cox/Getty Images

If "athleticism" is the most valued asset in an NBA prospect, then "having a motor" is the next most important. Michael Kidd-Gilchrist and his strong motor more than solidified his spot as a top-10 pick Friday night vs. Indiana.
Kidd-Gilchrist scored 24 points and grabbed 10 boards while seeming to constantly find the rim at ease. With each drive, the freshman forward almost always scored or got to the line where he made all ten of his free throws.
In just his first year, Kidd-Gilchrist has established himself as the leader of the Wildcats.
"In the huddles during timeouts, Michael was the guy firing us up. It showed with his play," said guard Twany Beckham of his teammate.
Simply put, Kidd-Gilchrist made NBA-type moves to the bucket that seemed nearly impossible to stop. Kidd-Gilchrist may have the brightest future ahead of any of the Wildcats.