LA Lakers vs. Portland Trail Blazers Live Blog: Play-by-Play Analysis, Reaction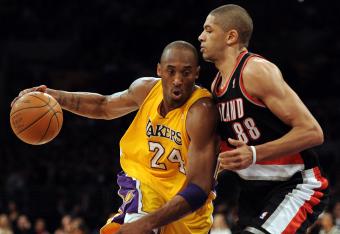 Harry How/Getty Images
With the wife babysitting tonight, I can't think of a better way to spend a Friday evening than to do a live blog of the Lakers/Blazers game!
Follow me on Twitter: @nhtanner
One more thought:
Sessions played 36 minutes in his first game as a starter after averaging 25 during the previous four. He finished the game with 20 points, 11 assists, 6 rebounds and one happy Black Mamba.
Final score: Lakers 103, Blazers 96.
Lakers still missing that killer instinct, but look like a well balanced team. I wouldn't put them as front-runners, but I think they have the pieces to contend for a title.
Goodnight!
Kobe seems very happy. A lot less stress now that Sessions is helping to carry the load.
Lakers announcers point out that they haven't faced the Spurs all season. How is that? It is late March!
Kobe to shoot free throws (bobbing head as the fans chant MVP). Not much of an MVP performance tonight, but he hits both. 8 point lead.
"Party Rock" is blaring during the timeout. Do you think the players get annoyed of hearing the same songs over and over again?
I am just happy I don't have to hear "The Final Countdown".
Barnes misses both free throws. Lakers should still be able to seal the win unless something drastic happens (knock on wood).
Sessions plays with a swagger and has a high basketball IQ. Good timeout by him. He has no problem handling the pressure of playing in LA. He continues to impress.
Blazers and Lakers trade baskets. Easy shots for Aldridge and Gasol. Why was Felton on Gasol? Lakers back up by 6!
Kobe takes awful shot to beat the buzzer...
MWP with the jumper! Very clutch shot for Artest as the Lakers go up by 6 points with 1:14 remaining. Clutch gene for World Peace.
Felton hits a three, Sesions hits a three and then finds Barnes for the basket. Lakers up 95-89 with 2 minutes left.
Look to see Kobe and Aldridge as the go-to-guys down the stretch.
4 minutes left in the game. Kobe has been very quiet, but Sessions and Bynum have been playing very well. Sessions with 17 points and 8 assists. Bynum with 28 points.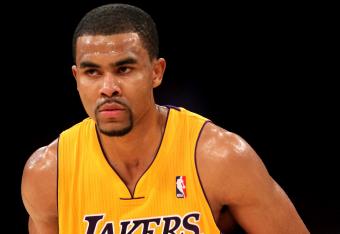 Is it just me or does Ramon Sessions look like a skinnier version of Fat Joe?
Blazers call a timeout after Barnes makes a three. Stu Lantz points out that Kobe has missed 10 consecutive shots!!
Lakers up 4 to start the 4th quarter. Great pass from McRoberts to Bynum. 24 for Andrew!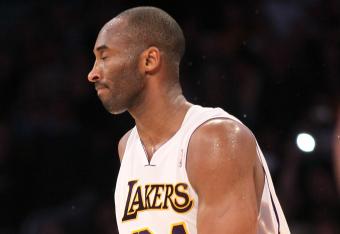 After 36 minutes of action, the Lakers hold a one point lead. Blazers haven't led all game, but they will not give up. Lakers have to put them away!
1 minute left in the third quarter. Lakers bench has 6 points in total. This was Mike Brown's concern with moving Sessions to the starting role.
Kobe continues to struggle (5 of 16 from field)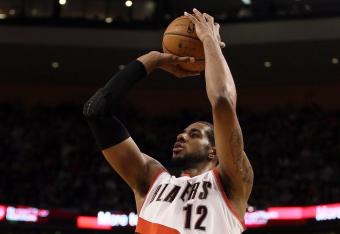 27 points for Aldridge as he continues to abuse Gasol. Scores a bucket after an offensive board.
If Phil were coaching, he'd call Pau a feline.
MWP for the three!!! 12 points for the Artest formerly known as Ron.
Very sloppy third quarter! Kobe is struggling a bit as Bynum continues to have a good game on the offensive end. No one can match up with his size. 19 points for the big fella. Lakers up 65-61.
Sessions drills a three-pointer to start the half! 8 point lead.
Halftime! Lakers up 53-48.
What happened to the Lakers defense? The offense has looked better in recent games, but it has come at a cost.
Aldridge is absolutely annihilating Gasol. 21 points off 10-12 shooting.
Game tied at 48 until MWP hits a 3 and Bynum scores in the paint.
More on Caleb Kanales. Youngest coach in the NBA at age 33. First Mexican-American coach. Played in high school as 5'11" power forward.
Zone defense is hurting Lakers. They now lead 42-38.
Does anyone have any updates on Sesh (Ramon Session's dog)? Last I heard he was in a pet hotel in Milwaukee and Ramon could only communicate with him via Skype. Hopefully he has made it to LA alright... :)
I'm happy to see Josh McRoberts getting more playing time. Very smart player who brings more toughness than Troy Murphy.
This article is
What is the duplicate article?
Why is this article offensive?
Where is this article plagiarized from?
Why is this article poorly edited?

Los Angeles Lakers: Like this team?