UNC vs. Ohio Score: Analysis, Twitter Reaction and Grades
March 29, 2015
Andy Lyons/Getty Images
North Carolina was supposed to roll over No. 13 seed Ohio on Friday night in the Sweet 16.
Instead, the Bobcats took the Tar Heels into overtime, with Roy Williams' squad struggling mightily throughout the game.
In the end, North Carolina held on, 73-65, in large part due to the dominant play of Tyler Zeller.
Tweets of the Night
North Carolina didn't play a particularly dominant first half against Ohio, highlighted by a high number of turnovers.
ESPN Stats & Info tweeted:
North Carolina turned the ball over 13 times in the 1st half against Ohio, only had 9 GAMES in which they turned it over more, this season.

— ESPN Stats & Info (@ESPNStatsInfo) March 24, 2012
This was due in part to the absence of injured point guard Kendall Marshall.
ProBasketballDraft.com tweeted:
Kendall Marshall is sorely missed by UNC.Marshall's absence supporting the case for him to be a 1st rounder this year.

— Probasketballdraft (@Probballdraft) March 24, 2012
Ohio was in the game at halftime—despite shooting under 23 percent—primarily because of Nick Kellogg's shooting and UNC's ineffectiveness.
SI.com's Stewart Mandel tweeted:
Halftime: UNC 29, Ohio 22. Nick Kellogg's 3-pointers keep Bobcats in it. Ohio shooting 8-of-35, but UNC has 13 turnovers.

— Stewart Mandel (@slmandel) March 24, 2012
North Carolina's struggles allowed Ohio to get back into the game in the second half.
Norm Sanders of the Belleville News-Democrat tweeted:
I think I can see powder blue drops of sweat forming on the heads of North Carolina fans everywhere #worried

— Norm Sanders (@NormSanders) March 24, 2012
And when we needed legendary announcer Gus Johnson to be there in a tight game, he was there in spirit.
Not Gus Johnson tweeted:
Under 4 to go, 13 seed #Ohio has 1 seed #UNC on the ropes, leading 57-53! CAN THE BOBCATS HOLD ON? #NCAATournament

— Not Gus Johnson (@NotGusJohnson) March 24, 2012
Faux John Madden tweeted:
BREAKING:David Stern desperately trying to trade Charlotte Bobcats for Ohio Bobcats.

— Faux John Madden (@FauxJohnMadden) March 24, 2012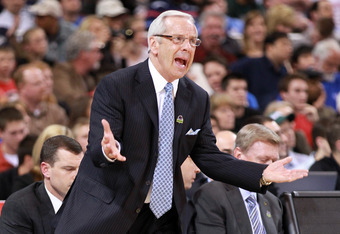 Andy Lyons/Getty Images
Grades for Key North Carolina Players
Harrison Barnes: F
With Kendall Marshall out, UNC's stars needed to step up.
Harrison Barnes didn't. He struggled mightily from the floor and had trouble taking care of the ball. He was off all night, including when he flubbed the ball on UNC's final possession of regulation.
I don't know what Barnes ate before the game, but my suggestion is for him to never eat it again.
Barnes ended up with 12 points on 3-of-16 shooting and committed five turnovers.
John Henson: B
Henson shot the ball well and rebounded, but I felt like he should have been able to dominate more against Ohio. He had a good game, but not a game worthy of a potential lottery pick in the NBA draft. 
He finished with 14 points and nine rebounds. 
Tyler Zeller: A+
Zeller was a monster against Ohio, racking up rebounds and scoring at a high rate. He was constantly double-teamed, but found ways to get it done both offensively and on the glass. He was even a shot-blocking presence. North Carolina wouldn't have won without him.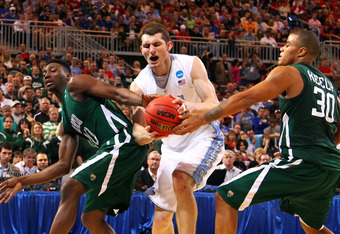 Dilip Vishwanat/Getty Images
Grades for Key Ohio Players
D.J. Cooper: D-

Most of the scoring on Friday night came from Walter Offutt and Nick Kellogg. Cooper was able to spread the ball around a bit, but he shot incredibly poorly, taking countless ill-advised shots, and coughed the ball up too many times. He also failed to get back on defense on a critical UNC possession, as Reggie Bullock buried a three-pointer.
Cooper finished with 10 points on 3-of-20 shooting, but he did collect six assists and made a big shot toward the end of regulation.
Walter Offutt: A+
Walter Offutt certainly looked like the Bobcats' second-leading scorer on Friday night. He knocked it down from inside and outside, and took care of the ball. He had the game of his life. 
Offutt ended up with 26 points on 10-of-18 shooting, going 6-of-10 from downtown. 
Nick Kellogg: A
Nick Kellogg kept Ohio within range in the first half, going 3-of-3 from downtown. He finished with 14 points, eight rebounds and three steals, hitting four three-pointers along the way.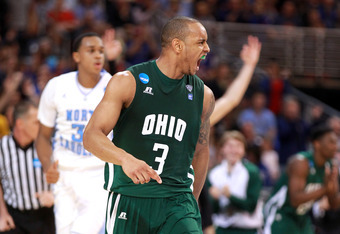 Andy Lyons/Getty Images
Stat of the Night: 55
Despite shooting 40 percent and committing 23 turnovers, North Carolina was able to win the game because of a significant advantage on the glass. The Tar Heels out-rebounded Ohio, 55-27. A whopping 23 of these rebounds came from Tyler Zeller. 
Game MVP: Tyler Zeller
Zeller did have six turnovers against Ohio, but he was constantly double-teamed and still managed 20 points, 23 rebounds and five blocks.
He was the monster the Tar Heels needed in a game they could have lost.
What's Next
North Carolina moves on to face the winner of Kansas and NC State on Sunday in the Elite Eight.