Correcting the 7 Biggest Misconceptions About the Detroit Lions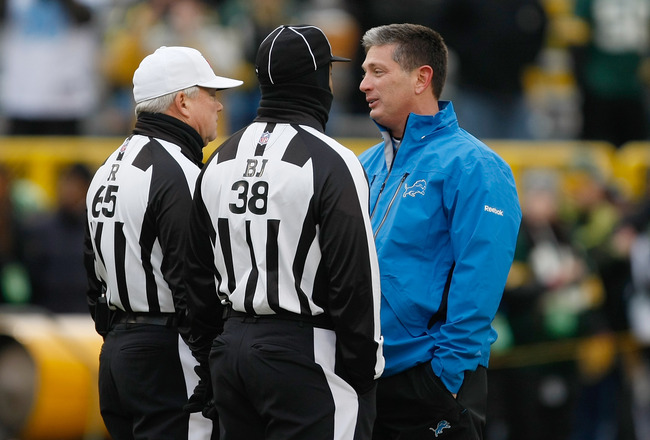 Scott Boehm/Getty Images
Public perception of the Detroit Lions has rarely been kind.
But then, public perception of the Lions has rarely been accurate, either.
Mostly, people just entertain themselves with the notion that the Lions are a terrible football team and always will be.
That's fair to an extent, as there's no denying that the Lions have been a historically bad team. But it was difficult for an informed football fan to say that in 2011, while the Lions were busy winning 10 games and making that playoffs
So instead, football fans, the national media and lifetime Lions hecklers found new things to say about the 2011 Lions that were exaggerated, blown out of proportion, or just plain wrong.
I have doubts about my abilities to quiet all of these misconceptions with one article. For that matter, I have doubts that everyone reading this will agree that these are, in fact, misconceptions.
Still, these are seven misconceptions in my book that need to be, if nothing else, discussed.
Ndamukong Suh Is Dirty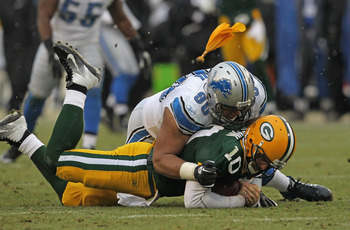 Jonathan Daniel/Getty Images
Some have gone so far as to expand this to, "the Detroit Lions are dirty," but I'll focus on the player at the epicenter of it.
Ndamukong Suh plays a man's game at a large man's position. It's his job to throw people around, to toss them to the ground, to inflict pain and intimidation within the rules of the game.
It is not his job to injure people. That would be dirty. Perhaps with the charges that have come forth against the Saints, we can start to re-evaluate what "dirty" actually is.
The Lions and Saints played one another twice last season, and both were chippy games with plenty of yellow flags. For one, Suh was suspended. But who was the "dirty" team in that game?
Was it the Lions, who were penalized for things like flipping the ball at an opponent and getting into shoving matches?
Or was it the Saints, who would most likely have been paid cash money for inflicting serious injuries on Matthew Stafford or Calvin Johnson?
The answer is that neither team is right, and maybe I'm making a shaky argument by simply saying that Suh and the Lions aren't "as bad" as another team. But I maintain that Suh has never attempted to hurt anybody, and nothing the man has done on the field, legal or not, has resulted in so much as a minor injury to anyone.
The only time Suh did something that could have hurt somebody is when he gave Jake Delhomme the infamous helmet-tackle. And even that was blown out of proportion.
Now, Suh isn't an angel. He was wrong for losing his temper against the Packers, and he needs to at least keep himself composed when his temper brings him close to a post-play penalty.
But I don't want him to change his snap-to-whistle playing style one bit, and neither should Lions fans. The same people that decry Suh for taking personal fouls on glancing blows to the helmet are the ones who turn around and complain about the "sissification" of the NFL.
Kyle Vanden Bosch Isn't Worth the Money
Doug Pensinger/Getty Images
Kyle Vanden Bosch is not an incredible pass-rusher at this point in his career.
And if that was all he was getting paid for, I'd say absolutely, Vanden Bosch is making too much money.
But Vanden Bosch is a team leader, and that absolutely has to count for something. The Lions are in a key transitional period right now. They finally emerged as a respectable team last season and made the playoffs.
So now, with most of the crew coming back, the question is, will the Lions continue to improve, even with a target on their back and the element of surprise lost? Or is this where they start to underachieve with a talented roster?
The answer to that question comes down to leadership. Specifically, the Lions' leadership has to make sure that nobody gets complacent with "pretty good." It doesn't matter how good a team is, once they stop trying to get better, it's all over.
Vanden Bosch leads in that regard by example, and within a couple of seasons, he has the entire roster playing to the echo of the whistle.
The Lions rarely get out-hustled on the field, and that's largely because of Vanden Bosch, who never gives up on a play and never lets his teammates give up on the play, either.
Vanden Bosch was crucial to the development of Ndamukong Suh in his rookie season, and was a core component of the Lions' offseason workouts. And while Vanden Bosch won't have to work around a lockout this year, I would argue that for a guy who brings that kind of leadership and a handful of sacks every year, $5 million a year is a bargain.
Jim Schwartz's Passion Hurts His Team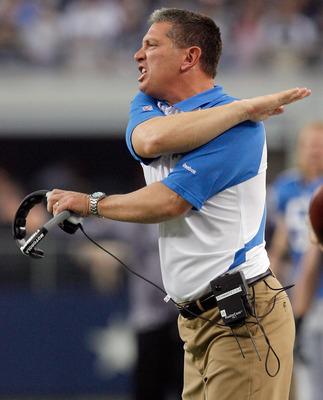 Tom Pennington/Getty Images
Jim Schwartz is a passionate guy. He likes to yell during the game sometimes, often at the refs.
Sometimes he calls timeouts so that he has more time to yell.
And sometimes he likes to yell at opposing coaches when he feels disrespected.
Presumably, he yells a bunch in practice, too. He gets fired up, and outside of Detroit, he just looks like a hothead.
But it's a mistake to assume Schwartz's passion only takes the form of tirades and emotional outbursts. It also takes the form of personal connections with his players. He endears himself to his players by wearing his emotions on his sleeve.
What Schwartz is doing is creating a football team that actually cares. By caring about his players, he makes people want to play—and play hard—for him.
We got a small taste of that when Schwartz went to personally recruit Kyle Vanden Bosch two years ago. Vanden Bosch said he was skeptical and had "lots of questions" for Schwartz when he showed up on his doorstep. But ultimately he signed, because he had "ultimate faith" in Schwartz.
The next season, Schwartz pulled in another free-agent prize from the Titans in Stephen Tulloch. Tulloch signed a one-year deal in Detroit in 2011 for well below his market value, and playing for Schwartz was the biggest reason why.
So when Tulloch's one-year deal ended, and the prolific linebacker re-entered the market, he never really had any intention of leaving Detroit. I'm sure Tulloch gets along well with his teammates and sees long-term potential in the team, but mostly, Tulloch just wanted to continue playing for Schwartz.
And as we saw after the deal was done, that feeling was mutual. Schwartz got misty-eyed introducing Tulloch after his new deal was signed, and his voice wavered through the entire press conference as he tried to hold back feelings of pride and happiness for his friend and middle linebacker. That's not lost on Tulloch, nor on any of the other players who look to Schwartz as a leader.
Schwartz is an passionate guy, and sometimes it reflects poorly on him. But the same passion that makes him chase Jim Harbaugh down the football field also makes him a big cuddly teddy bear in Tulloch's press conference.
The combination of the two elements makes him the type of coach guys want to play for. Sure, he might cuss you out in practice for blowing an assignment, but he'll also let you know when he's proud of you and cuss out a ref for blowing a call in your defense.
Jeff Backus Is Useless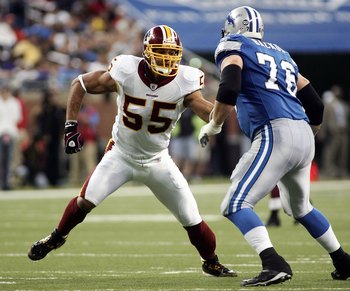 Domenic Centofanti/Getty Images
Collective groans went up around Detroit when the Lions announced the re-signing of Jeff Backus.
I understand why, really. Regardless of how good a guy is or once was, it's often a bad idea to hitch your long-term viability at left tackle to a 35-year-old, and the Lions have no heir apparent.
The issue here is that most of those groans are from people who never thought Backus was any good in the first place. This is simply not true.
The problem with Backus is that he is not dominant, and he plays a position in which mistakes are magnified. Most games, Backus is just quietly good, winning a majority of his battles.
But when he makes a mistake, everybody knows about it. He can win 95 percent of his battles up front, then whiff completely and get Matthew Stafford's shoulder split in half. Or have Jared Allen take him for a ride on three straight plays. Or commit holding to negate a touchdown.
The fact is, Backus doesn't swallow his defender whole at the line of scrimmage, he just matches up with him blow-for-blow and does what he can to neutralize him. So he doesn't have a reputation as a dominant lineman, but he's consistent and solid.
The man might make all of five mistakes all year, but each of them has absolutely catastrophic results, and that's why he gets such a bad rap. But if you actually watched the man for 16 games in a season, start to finish, you'd see what a solid player he really is.
Now, Backus is aging and is no longer the player he used to be. This contract is the last time he'll make a starter's salary. But some respect is due to the man who has held down the Lions' blind side for over a decade, and has never been part of a new regime's roster purge.
Gunther Cunningham Is Washed-Up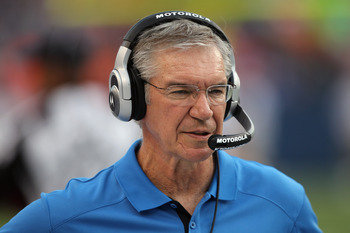 Doug Pensinger/Getty Images
I heard a lot more criticism of Gunther Cunningham from Lions fans than I heard from anyone else, so I hope those in this camp take this one to heart.
Gunther Cunningham is the architect of the first respectable defense the Lions have had in at least a decade, probably more. People fear what the Lions can do. They get sacks, negative yardage plays, turnovers. The defense scores points, consistently.
Why do people want to boot the man responsible for this?
Now, I'll grant that the Lions finished in the bottom third of the league in both rushing and passing defense, and that doesn't strike fear in the hearts of anyone. But people forget so easily that the Lions were fielding a top-10 defensive unit through the first half of the season.
So what happened? Well, for starters, they had four games against two of the three most potent offenses in football (Packers and Saints). They also had games against the sixth (Chargers), seventh (Panthers) and ninth-best (Raiders) offenses in the league.
So seven of the Lions' last nine games came against top-10 offenses (you can look it up yourself). That might inflate the numbers a bit.
Oh, but there's more. Ndamukong Suh was suspended for two-and-a-half of those games, Chris Houston was hobbled with injury, Louis Delmas and Nick Fairley were in and out of the lineup, Amari Spievey played hurt most of the latter half of the season, and Justin Durant missed time with a concussion.
Of course, injuries don't tell the whole story, but neither do stats. And the story is that the Lions' defense, for all its flaws, was a net positive in 2011. So maybe lay off the guy chiefly responsible for making it happen?
The Lions Only Need to Worry About Stopping the Pass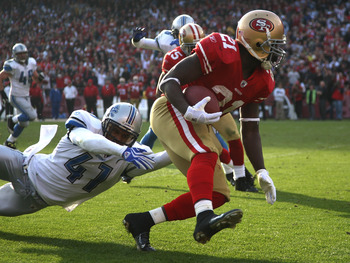 Jed Jacobsohn/Getty Images
Fun fact: The Lions' rush defense was ranked worse (23rd) in 2011 than the Lions' pass defense (22nd).
Neither is anything to hang your hat on proudly, but it's something interesting to consider, especially for a team whose fans seem to be thinking "cornerback or bust" in the draft.
I am, of course, in no way against the prospect of picking up a talented new cornerback in this year's draft, but the need for one is vastly overblown, at least in the short term.
It's not like I don't understand all the cries for corner help. The secondary was practically non-existent during the last two games of the season, and the Lions consequently gave up over 900 yards through the air to Matt Flynn and Drew Brees.
I won't discount that as a very good reason to bolster the secondary, but does anybody remember losing to the 49ers? How we all learned about what the "wham" play was all week because the 49ers ran it about 20 times and gained some 15 yards with it each time?
Now, I'm not saying the Lions need to draft another defensive lineman to stop the run. That area of the team is doing just fine.
But what I am saying is even if the Lions don't invest a first-round pick in a cornerback, let off the secondary a little. They may have given up a bunch of yards late in the season, but they were also fifth in the NFL with 21 interceptions and led the league with five of those returned for touchdowns. It's not great, but it's not as bad as the last two games made it look.
Cliff Avril Is Easily Replaceable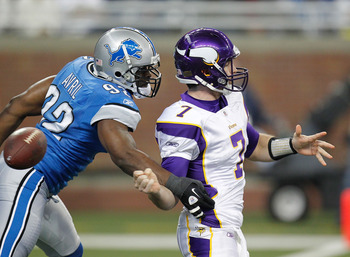 Gregory Shamus/Getty Images
Let's take a look at Cliff Avril's 2011 accomplishments. 11 sacks, six forced fumbles and what was effectively a postseason-clinching pick-six in 16 games.
And he's not rushing from the blind side, which is typically the stat-heavy position.
This is what Avril brought to Detroit in 2011, and for that, he wants to get paid. That's understandable, of course, as the understanding is that NFL-caliber pass-rushers get paid, period. And it's equally understandable that the Lions would balk at Avril's demands, as they were.
What is not understandable is people who would rather ship him out of town than keep him. Now, I'll admit I've been back and forth on this issue, but not once have I thought the Lions would be better off or unaffected by Avril's departure.
I mean, everyone realizes this is the team's best pass-rusher we're talking about, right? Sure, he probably sees more than his share of one-on-one matchups because of the Lions' strength in the middle, but those are still, you know, one-on-one matchups.
That is to say, Avril still needs to beat the man in front of him, and he does, with great regularity. He's not just a free-rusher off the edge.
Even more impressive is Avril's uncanny ability to earn the elusive fumble-sack. Considering Avril lines up and effectively rushes right at the quarterback's face, his ability to sneak up on the quarterback undetected and knock the ball loose is staggering.
And sure, sacks are big plays. But considering how turnovers are the most influential statistic in football, fumbles are much bigger. And there aren't very many people who have Avril's ability to earn both, no matter who else is on the defensive line.
Keep Reading

Detroit Lions: Like this team?