Kentucky vs Indiana: Live Score, Reaction and Analysis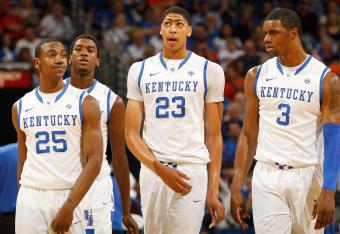 Chris Graythen/Getty Images
No. 1 seed Kentucky will try to avenge an early-season loss at Indiana tonight in the South regional semifinal.
Indiana handed Kentucky one of its two losses this season on Dec. 10. The 73-72 victory in Assembly Hall ended with a buzzer-beating three-pointer by Christian Watford.
It was Indiana's signature win of the year and one of Kentucky's two blemishes.
Player of the Year candidate Anthony Davis leads an extremely talented Kentucky team. Many have dubbed his John Calipari's most talented team. Whether that's true or not, these Wildcats have been the best team in the country all year. Now they have to keep it going in March.
Kentucky ended up blowing out Western Kentucky and Iowa State, even though the those teams (namely Iowa State) hung around for a little while.
Indiana, on the other hand, hasn't had as easy of a road. After a comfortable victory over New Mexico State, the Hoosiers needed a come-from-behind win against VCU. It was one of the best comebacks in the tournament, if not the best.
These teams are tough, and they know each other. It promises to be a great game.
Be sure to stay tuned for live score updates, reaction and instant analysis.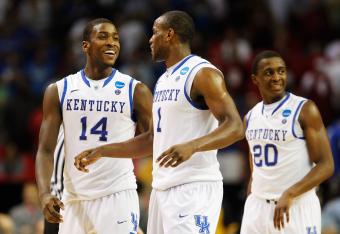 Kentucky played great tonight, and they will be incredibly tough to beat. They will play Baylor in Atlanta on Sunday. Be sure to stay with B/R for everything March Madness.
Thanks for joining me during for this great game.
Kentucky put in a championship-caliber performance tonight. Davis sat for most of the first half, and he didn't do much offensively in the second half; however, the Wildcats still dominated from start to finish.
Everyone on Kentucky played well, but Kidd-Gilchrist was the best player on the floor. He never allowed Indiana get close enough to take the lead.
Watford did his best to keep Indiana around, but it just wasn't enough. Unfortunately, they were just the inferior team. With that said, look out for the Hoosiers next year.
Leaders:
Points: UK Kidd-Gilchrist 24, IU Watford 27
Rebounds: UK Davis 12, IU Zeller 7
Assists: UK Teague 7, IU Hulls 9
Key Stats:
Free throws: UK 35-37, 13-17
Rebounds: UK 37, IU 28
Those stats were the difference-makers in the game, and that's why Kentucky is the best team in the country.
After a miss, Indiana gives up on fouling. Kentucky is going to the Elite Eight.
Final: Kentucky 102, Indiana 90.
Zeller puts in an easy one against a standing Kentucky defense. Smart not to foul there. Indiana takes a timeout. Crean was getting in a senior from his first class to commit a foul. A nice gesture to get in a guy that's dedicated himself to the program. It's too bad it's under these circumstances. Another two makes from the line. 16 straight.
UK 102, IU 90 0:35
An Indiana miss is rebounded by Davis. He heads to the line for two, and he hits them both. 14 straight makes for the Wildcats.
UK 100, IU 88 0:45
Kentucky couldn't keep the ball in so they call a timeout. After the timeout, Miller gets the ball in to Lamb, who is heading to the line for two. He hits them both. That's 12 straight makes from the Wildcats at the line.
UK 98, IU 88 1:00
Zeller has a big dunk, and Indiana decides not to foul. Easy layup for Lamb. Miller fouls Watford on the perimeter. Very dumb foul by the senior. Watford hits them both.
UK 96, IU 88 1:01
Watford hits a huge three, and Sheehey fouls out. Teague goes to the line for two, and he hits them both.
UK 94, IU 84 1:38
Sheehey picks up his fourth foul after that layup. Kidd-Gilchrist hits both free throws for the double bonus.
UK 92, IU 81 1:59
Kentucky has been keeping the ball up around the halfcourt, and Indiana is forced to foul. Watford picks up his fourth and Teague hits both for the double bonus. Indiana gets a quick layup.
UK 90, IU 81 2:00
Kidd-Gilchrist gets another offensive rebound, his fifth of the night. He goes to line for two, and he hits them both. He has a double-double now, further proving that he has been the best player on the floor.
UK 88, IU 79 2:50
Indiana has had a few chances on this possession, but they can't get the ball in the basket. The ball gets knocked out, and they get it back. Abell goes to the line for two, and he makes them both
UK 86, IU 79 3:24
Kentucky gets an easy bucket, and they are just trying to pull away. Indiana hasn't let them so far. Still, there's only so much time left on the clock.
UK 86, IU 77 3:49
Oladipo fouls out with 15 points. He's been very good tonight, but he will have to fire them up from the bench. They're definitely going to miss him on the defensive end. Lamb goes to the line for the bonus, and he hits them both.
UK 84, IU 77 4:49
Indiana scores. Bad possession by Kentucky. Zeller puts back a Watford miss.
UK 82, IU 77 5:00
Zeller picks up his third foul, and Davis is going to the line. He hits one of two. Kentucky can't quite get it back to double digits.
UK 82, IU 73 6:15
Great finish from Kidd-Gilchrist. He's been great tonight. Davis alters a shot on the other end. After a poor possession from Kentucky, Watford hits a long three-pointer. Just keeping it close.
UK 81, IU 73 6:20
Like I said earlier, every time this game starts to get out of hand, Indiana seems to find a way to pull it back in. Kentucky is clearly the superior team, but Indiana is just good enough to keep the game close. If it's close, anything can happen.
**Sorry about the cliches. With a close game, they're bound to keep coming.
Big collision between Zeller and Jones. No call. It might've been a charge, but Jones hit the ground pretty easily. I like the no call.
UK 79, IU 70 7:47. Timeout.
Indiana draw up the biggest play of the game for Zeller. He spins and Davis swats it out of play. Watford misses a layup, and Davis finishes a putback. This game is about to get out of hand.
UK 79, IU 66 8:43
Indiana gets a nice basket, but Kidd-Gilchrist gets a second-chance layup and is heading to line for a three-point play. Crean decides to use a timeout, which he desperately needs. Indiana needs to start getting stops, or this game is going to get out of hand.
UK 76, IU 66 9:50. Indiana Timeout.
Kentucky has had a long possession. After about 30 seconds, they pick up a foul and take the ball underneath. After a missed layup, Davis gets the rebound and is going to the line. Oladipo picks up his fourth foul and has to head to the bench. Davis hits both free throws.
UK 74, IU 64 10:25
Indiana gets a good shot out of the timeout, but it clanks off the front of the rim. An offensive rebound and good cut get them a layup. Kentucky comes right back with a layup.
UK 72, IU 64 11:00
After a few Lamb free throws, Kentucky just looks too tough right now. Even though Indiana is still shooting well, they've had to work for every single basket. Kentucky is just scoring too easily right now.
The Hoosiers kept it to single digits, which is huge. However, I don't know if they have enough firepower to make this comeback. With that said, they have the time and the scorers to get it done. We'll see.
UK 70, IU 62 11:58. Timeout
A lazy turnover for Kentucky coming out of the timeout, and Indiana escapes a chance to go down double digits. Watford has a big flush to get a little momentum going.
UK 68, IU 62, 13:00
This article is
What is the duplicate article?
Why is this article offensive?
Where is this article plagiarized from?
Why is this article poorly edited?