NCAA Tournament Schedule 2012: Key Matchups in Saturday's Elite Eight Games
March 24, 2012

Jim Rogash/Getty Images
We're just four games away from reaching the Final Four, and half of those will be taken care of later today.
There are two Elite Eight tilts on Saturday's docket: No. 7 Florida vs. No. 4 Louisville and No. 2 Ohio State and No. 1 Syracuse. The latter matchup indicates that all went according to plan in the East Region, and the former matchup indicates that all sorts of carnage ensued in the West Region.
We're going to find out a lot about the four teams in action today, and much will hinge on some key matchups in each of the two games.
Here's quick rundown on the matchups that will determine each game.
No. 7 Florida vs. No. 4 Louisville (4:30 p.m. ET on CBS)
Florida's Backcourt vs. Peyton Siva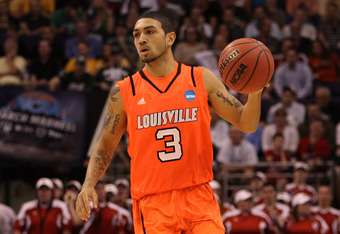 Christian Petersen/Getty Images
Louisville's offense hinges on the play of point guard Peyton Siva. Bottling him up is the biggest key to beating the Cardinals, but bottling him up is something that is much easier said than done. Even when Siva is not scoring, he's making a difference.
This was very much the case against Michigan State in the Sweet 16. Siva only had four points on 2-of-9 shooting, but he had nine assists and caused a lot of confusion slipping in and out of Michigan State's defense. 
Florida is not known for its defense, and the Gators haven't had to worry about facing a player like Siva to this point in the tournament. If their guards can't keep Siva in front of them, they're going to lose control of this game in a hurry.
Louisville's Perimeter Defense vs. Florida's Shooters
The Gators are an above-average three-point shooting team, as they shot an even 39 percent from distance during the regular season. They have a multitude of shooters who can knock down shots from beyond the arc.
But Louisville is a tough nut to crack. The Cardinals allowed their opponents to shoot just 30 percent from three during the regular season, and they were last seen holding the Spartans to 5-of-21 shooting from beyond the arc.
The Cardinals will have no trouble whatsoever keeping the Gators in check if they put the clamps on Florida's three-point shooting, so the Gators will have to find a way to get some open looks.
Billy Donovan vs. Rick Pitino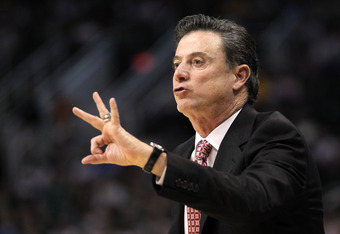 Jamie Squire/Getty Images
This is a classic "Master vs. Student" matchup. Donovan used to play under Pitino at Providence, and then coached under him at Kentucky.
Donovan has never beaten Pitino in head-to-head matchups. The two coaches have squared off six times, and Pitino has won each game. Clearly, he has Donovan's number.
That's obviously subject to change, but only if Donovan shows Pitino something he's not expecting. If Donovan's Gators get outclassed, it's because Pitino's Cardinals were not caught off-guard out on the court.
No. 2 Ohio State vs. No. 1 Syracuse (7:05 p.m. ET on CBS)
Ohio State's Man-to-Man vs. Syracuse's Half-Court Offense
Scoring buckets out of a half-court offense is not Syracuse's forte. The Orange are at their best when they're pushing the ball in transition.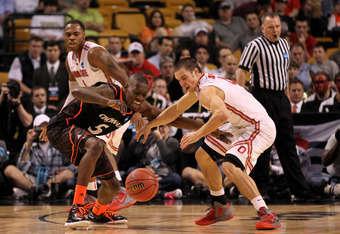 Jim Rogash/Getty Images
Ohio State won't give the Orange too many transition opportunities, so it will be able to force the Orange into earning their points. 
The Orange showed against Wisconsin that they can score against a tough defense, and they did that by being unusually efficient. Syracuse shot 55 percent from the floor, which is not par for the course for the Orange.
If the Buckeyes force the Orange into taking tough shots, they won't fall like they did against Wisconsin. That will level the playing field to Ohio State's liking.
Ohio State's Frontcourt vs. Syracuse's Size
Things were too easy for the Buckeyes against Cincinnati in the Sweet 16. The Bearcats were unable to keep Jared Sullinger and Deshaun Thomas in check, and that resulted in an easy victory for Ohio State.
The Buckeyes won't be so lucky against Syracuse. The Orange don't have Fab Melo, but they have enough size and depth in their frontcourt to compete against Ohio State's star forwards.
However, Sullinger and Thomas are talented enough to exploit Melo's absence, something that Syracuse's previous tournament opponents have no been able to do. This could be the matchup that dooms Syracuse.
William Buford vs. Syracuse's Backcourt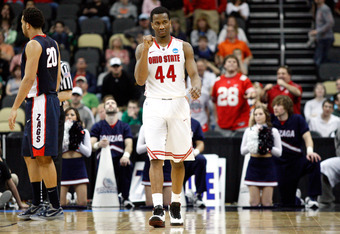 Jared Wickerham/Getty Images
William Buford tends to get overshadowed by Sullinger and Thomas, but there's a chance he'll stand out in a bad way in this game. 
Buford isn't always careful with the basketball, and that will get him in a lot of trouble against Syracuse. The Orange will look to trap Buford and force him into coughing up the ball, and that will lead to crucial transition opportunities. Buford needs to be aware of this and not force himself into any corners.
Plus, Buford is hit or miss from distance. If his shots aren't falling, there's going to be too much pressure on Sullinger and Thomas to handle the scoring.