Jay Bilas Bracket: Dissecting Remainder of Analyst's NCAA Tournament Predictions
March 23, 2012

Jonathan Daniel/Getty Images
Like millions of other Americans, ESPN's Jay Bilas filled out a bracket at the beginning of the 2012 Men's Basketball NCAA Tournament. Like nearly all of those people, his bracket has taken some hits. But we can't do anything about the past. Here, let's take a look forward at what Bilas will get right, and what he won't be so happy with. 
West Region:
Bilas' Original Prediction: Michigan State over Missouri
Not exactly starting with a bang here, as there isn't much to comment on. Both teams are out and deserve to be. 
Dixon's Prediction: This was certainly a wild region and that's going to continue through the Elite Eight. No team in the country is as impressive as Florida right now and Louisville will not have the offensive depth to match a team with five double-digit scorers. The Gators will claim the region, going to the Final Four as a No. 7 seed. 
East Region:
Bilas' Original Prediction: Ohio State over Vanderbilt
This is where things get interesting. Obviously, Vanderbilt didn't quite work out the way he predicted, but the regional champ is still going. 
Dixon's Prediction: Obviously, he didn't quite get the final match up right, but he did get the regional champ right, which is all that matters. 
Ohio State is just a better team than Syracuse, despite the higher seed. They would be better even if Fab Melo was in the lineup, but without Melo's presence, it is hard to see the Orange doing anything substantial against OSU in the paint. 
Midwest Region:
Bilas' Original Prediction: North Carolina over Kansas
He went pretty chalk here, obviously. This would be a dream for the ratings, as these are two traditional powers, and Roy Williams left Kansas for North Carolina several years ago. It would be interesting to see what Bilas would say with Kendall Marshall's injury.
Dixon's Prediction: I have the benefit of hindsight, and I am going to use it. North Carolina will beat Ohio, but their injuries are just too great to overcome. I don't know if Marshall will play in the final, but him plus a banged-up John Henson will be too much to overcome. North Carolina will be stopped just short of a Final Four.
As far as Kansas, this team is headed right towards an upset, and it's going to happen in the Sweet 16. North Carolina State is playing hot basketball and Kansas is lacking consistency. The Wolf Pack will beat both historic programs and take a trip to the Final Four. They have a lot of scoring and more importantly, confidence.
South Region:
Bilas' Original Prediction: Kentucky over Duke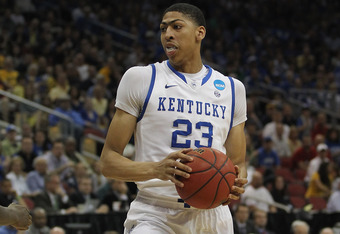 Jonathan Daniel/Getty Images
Much like the West Region, one-half of this got wrecked in the first round. For Bilas' sake, at least his predicted champ survived until the end in this one. 
Dixon's Prediction: Bilas nailed it on the head. There is no way that Indiana will beat Kentucky twice in the year. Geographically, you have to think that the Atlanta crowd will be partial to the Wildcats, and that's all the difference they'll need. The incentive is there, and that will be more than enough. 
Now, I am predicting Baylor to beat Xavier in the Sweet 16, but as far as Kentucky is concerned, it doesn't matter. This team is just too strong at this point and they are going to blow through this region.
Final Four:
Bilas' Original Predictions: North Carolina over Ohio State. Kentucky over Michigan State.
Obviously, we have a little bit of disagreement as to what these games will be, but let's stick with the theme of dissecting his predictions. 
But as far as Ohio State goes, I don't see any possible Final Four match up that they would not win. None of the teams in the Midwest Region are as good as they are, and they will make up one half of the National Championship Game. 
As far as the other half goes, Bilas got the loser wrong, but Kentucky will be in the final. They are the best team in the country and there isn't a remaining team that matches up well enough to beat the Wildcats. 
National Final:
Bilas: Kentucky over North Carolina
Dixon: Kentucky over Ohio State
Obviously, we differ on who will make the final, but Bilas has the right team winning it all. Kentucky has too much length and too many weapons. They are as close a thing to a dominant team as college basketball will see in the one-and-done era. 
John Calipari will get his first National Championship, and the Anthony Davis, Michael Kidd-Gilchrist duo will be too much to overcome. There isn't a single team in the country that can really exploit Kentucky, and they will win the whole thing.