2012 NBA Free Agents: 7 Biggest Bargains in the Open Market
March 23, 2012

Al Bello/Getty Images
Looking ahead to the summer months after we celebrate a new NBA champion, several NBA players will hit the open market looking for new teams.
This years class won't be loaded with star talent, with Deron Williams really the only big name on the open market.
There will be some bargains out there though, and it's those hidden gems that usually can make or break an NBA team. Here's a look at the biggest bargains that will be on the free agent market this summer.
Carlos Delfino, Milwaukee Bucks
Delfino is an unrestricted free agent following the season and is a nice little player to grab that won't cost a ton of money.  He's a wing player that can knock down the corner three and is a pretty good defender on the perimeter. Delfino could be a solid role player for a good team.
Ersan Ilyasova, Milwaukee Bucks
Ilyasova is making a shade over $2.5 million this season and his production (12.3 PPG, 8.7 RPG) suggest that he's in for a raise. It won't be that huge of a raise though and considering how many big men in the league have bad contracts paying them much more, whatever you can lock up Ilyasova for is a bargain.
Omer Asik, Chicago Bulls
Teams that will be in need of a backup center can't go wrong with targeting Asik. He rebounds and plays defense well and won't cost a ton of money, considering he's only making $1.86 million this season.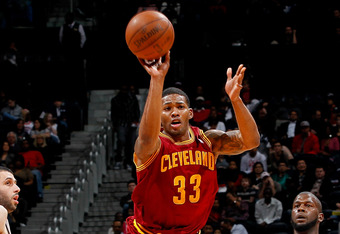 Kevin C. Cox/Getty Images
Alonzo Gee, Cleveland Cavaliers
Gee will be an unrestricted free agent this summer and is a guy that Cleveland would be wise to keep around. He's due a raise from the $854k he's making this season, but even a modest hike in pay makes him a bargain signing. He's a solid wing guy that can attack the basket and play defense.
Jared Jeffries, New York Knicks
No one is looking at Jeffries for offense, but he's a solid veteran that comes in and plays defense and takes a ton of charges. He's not the most popular guy in the Big Apple, but for the veteran's minimum, he's a guy that comes in and knows his role.
Steve Novak, New York Knicks
Novak's another Knicks role player that will be on the market, and whatever he makes is a bargain. The guy can flat out shoot the ball and has been a big reason for the Knicks turnaround this season.
Danny Green, San Antonio Spurs
Green is a solid guard who can shoot the ball and play defense. He flies under the radar so he won't command a ton of money in the offseason, but in the right situation, his production likely outperforms his salary.