Paul Pierce Didn't 'Tebow,' He 'Tulloch'd': The Devolution of a Prayer
May 2, 2012

Kevin C. Cox/Getty Images
When Paul Pierce "Tebowed" after knocking down free throws that sealed a Game 2 Celtics playoff victory over the Hawks, he embodied the mess of religion in sports.
Whenever Tim Tebow is asked these days about the eponymous phenomenon of prayerful (or prayer-like) bending on one knee during a sporting event, he chuckles and reminds everyone that he wasn't the first to do so and he won't be the last.
Still, when Tebow genuflected after his "miracle in Miami," an act that tebowing.com founder Jared Kleinstein replicated and propagated around the world, he probably didn't imagine how swiftly it would float from its religious moorings.
Tebow learned quickly, and first-hand, that what he insists was a heartfelt act of humility and gratitude could be appropriated for less reverent purposes.
As the Lions were devouring the Broncos the week following the inception of "Tebow time," Lions' LB Stephen Tulloch got up in Tebow's holy grill with a post-sack Tebow pose that had Jamele Hill of ESPN calling foul.
She argued that Tulloch had crossed the line by mocking Tebow's faith.
Tulloch insisted, in turn, that no such disrespect was intended and Tebow assured that none was taken.
Tebowing has long since derailed from exclusively religious tracks, so I assume even the devout would find Pierce's Tebowing relatively benign.
Plus, pop culture trends move so quickly that Pierce's post-free-throw pose looked more like a throwback to a different time.
It also, to be honest, seemed kind of fun: perhaps there was some intentional irony involved in Tebowing as a culmination for something a fifth grader could do. (Easy now, Celtics fans; I mean hit free throws, not generate anything approximating Pierce's offensive sizzle.)
Still, that we have athletes lightheartedly mimicking a once-prayerful move in a way that at least some interpret as showing up their opponents exposes the seedier side that has been lurking within Tebowing from the very beginning (good intentions notwithstanding).
Think back, for example, to Marion Barber's quiet retirement from the NFL during a week of deafening media roar about Tebow's trade to the Jets.
Barber knows what it is like to be a pitiable prop in someone else's miracle.
Barber played seven seasons as a running back in the NFL, but, sadly, I will remember him as the man who inexplicably stepped out of bounds to give the Broncos new life in the dying minutes of a game the Bears appeared to have in hand.
On a later play, Barber was stripped of the ball, after which Tebow ran out onto the field singing a Christian hymn. Tebow pushed the Broncos toward Matt Prater's prodigious field-goal range and another "miracle" comeback went soaring through the uprights.
Marion Barber looked utterly dejected.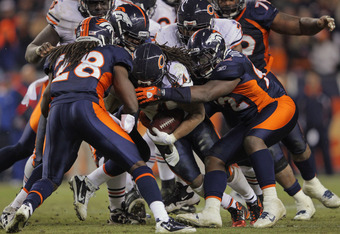 Doug Pensinger/Getty Images
This is the problem with Tebowing after a victory or some other accomplishment: it suggests that a god takes sides in games.
Sacred forces align to give Tebow glory and Barber ignominy—doesn't seem fair.
If Tebow, or any other religiously-inclined athlete, wants to recapture the original intent of taking a prayerful individual knee in the sports world, perhaps they should "Tebow" only after losses, when there is no doubt that a player is celebrating her or his need for grace, comfort and character.
Or it might be time for religious athletes to retire Tebowing for good, and leave it for the Pierces and Tullochs of the sports world, who just want to have some fun while they are winning.