NCAA Tournament 2012: Live Reaction, Scores and Highlights for South Region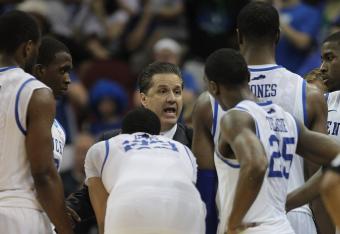 Jonathan Daniel/Getty Images
Hey folks! Keep it here on Bleacher Report for live updates on tonight's NCAA tournament Sweet 16 games from the South Region.
Here's today's lineup:
No. 10 Xavier 70, No. 3 Baylor 75 (Final)
No. 4 Indiana 90, No. 1 Kentucky 102 (Final)
Can Xavier pull off another upset and stay in the tournament as one of three double-digit-seeded teams?
Can Kentucky continue to barrel past opponents and prove their dominance in the tournament?
Find out tonight, in what's going to be an action-packed Friday night!
And it's over! The Wildcats win the game 102-90 and earn the opportunity to play against Baylor on Sunday for the Final Four.
Be sure to watch No. 3 Baylor vs. No. 1 Kentucky on Sunday!
Thanks for joining this blog. It was a pleasure giving everyone updates. Have a great night, everybody!
Anthony Davis' second free throw gives them 100 points on the night. It's the 13th time they've done that in their tournament history.
Indiana 90, Kentucky 100
Marquis Teague runs past the half-court press and gets an easy deuce to make it a ten point game with 61 seconds to go.
Indiana 86, Kentucky 96
Down by 11, Watford hit a big three to cut the lead to eight. Indiana has started the fouling game with 1:38 remaining. Sheehey committed the foul and he's out of the game now.
Indiana 84, Kentucky 92
Less than three minutes to go, Kentucky still has a large lead. Indiana is going to need to make some big buckets and play some defense, something they haven't been able to do all night.
Indiana 79, Kentucky 88
Miller's tenth point of the hat (17th of the game) gives Kentucky a nine-point lead with under four minutes to go.
Indiana 77, Kentucky 86
A foul on Oladipo ends his night. That's his fifth. We'll see how Indiana responds without one of their stars.
Oladipo scored 15 points on the night and he's a solid defender.
Indiana 77, Kentucky 82
A rare turnover by Kentucky leads to a putback by Zeller, who now has 16 points in the ball game.
Indiana 77, Kentucky 82
Less than six minutes to go and Cody Zeller has scored to slice the lead to seven.
Indiana 75, Kentucky 82
Watford finally hits a bucket and it's a huge one. His three cuts the Kentucky lead to eight.
Indiana 73, Kentucky 81
Kidd-Gilchrist hits the 20 point mark after a slow start to the ball game.
Indiana 70, Kentucky 81
Zeller's score means that the Hoosiers have now scored four answered, cutting the lead to single-digits. They haven't gotten much help from Christian Watford in this half, who was absolutely lethal in the first half.
Indiana 70, Kentucky 79
Kentucky has sucked the life out of the Hoosiers. Anthony Davis with a huge second chance basket and the Wildcats are now up their 13, which is their biggest lead of the night.
Indiana 66, Kentucky 79
Impressive stat of the night: Kentucky only has four turnovers all night.
It's been an unbelievable offensive outburst for both teams.
Indiana 66, Kentucky 77
Oradipo commits his fourth personal foul and heads back to the bench. Anthony Davis makes both free throws as Kentucky takes a double-digit lead.
Indiana 64, Kentucky 74
Cody Zeller continues to do a good job on Anthony Davis, who has yet to score in the second half.
Darius Miller has stepped up in his place, though, with 15 points on 5-for-7 shooting.
There are eight guys combined for both teams that have double-figures in scoring.
Indiana 62, Kentucky 70
Christian Watford scores his first two points of the second half with a dunk form the baseline. He scored 17 in the first half.
Indiana 62, Kentucky 68
Great hustle play by Kidd-Gilchrist, who fought for a loose ball and called a timeout on the floor.
Indiana 60, Kentucky 68
13:37 2nd Half
The fast pace continues as Sheehey makes a reverse lay-up, followed by a Kidd-Gilchrist basket. I wasn't lying when I said this game has an NBA feel to it.
Indiana 60, Kentucky 66
Darius Miller hits another three to help maintain an eight-point lead after Jordan Hulls was making a run for Indiana.
Indiana 56, Kentucky 64
A tough three by Darius Miller gives Kentucky an eight-point lead.
Indiana 51, Kentucky 59
The second half begins as both teams exchange baskets. Davis is back on the court after sitting out 64 minutes of real time.
Indiana 49, Kentucky 52
Keys to the Second Half:
Indiana:
Cody Zeller must stay out of foul trouble.
Watford must continue his offensive explosiveness and be the catalyst for the Hoosiers.
It will be crucial to stay out of foul trouble as a whole and prevent Kentucky to get into the bonus early.
Unleash Victor Oladipo. He started off strong in the first half, but slowed down a bit later.
Kentucky:
Anthony Davis must stay out of foul trouble.
In case he doesn't, the team must have the confidence that they can win without Davis. They still have the lead without their best player, so that's a positive that they should build on.
Play defense! Indiana shouldn't be scoring 58 percent on the nation's best defense. Oftentimes, the Hoosiers would catch the Wildcats off guard and easy buckets in the paint. That can't happen.
They need to take advantage of the Hoosiers' tendency to foul and pound it inside more often. If they can head to the line to a greater extent, they can really extend the gap.
Key Observations:
Despite being in the bonus for most of the first half, Kentucky only had 10 free throw attempts. They failed to establish a paint presence.
What the Wildcats did well was scoring on transition and catching the Hoosiers off guard after they would score.
Michael Kidd-Gilchrist finished the half strong after starting off 0-for-3. He ended up making four of his last six shots and had 11 points and 5 rebounds.
Terrence Jones was also a factor. He led the team in 12 points and had four rebounds.
Kentucky led the nation in field goal defense, but Indiana is shooting over 58 percent.
Christian Watford played well while Cody Zeller was out because of foul trouble. Watford lead the game with 17 points on 6-for-11 shooting.
John Calipari benched Anthony Davis for the entire second half. In his interview, Calipari sarcastically said that Indiana was shooting 97 percent and that Kentucky's defense needs to step up. He also expressed confidence in his team in playing without Davis.
This article is
What is the duplicate article?
Why is this article offensive?
Where is this article plagiarized from?
Why is this article poorly edited?