Ohio State vs. Syracuse: Sweet 16 Glory Will Be Short-Lived for Orange
March 24, 2012

Elsa/Getty Images
Syracuse has defied brackets that had them floundering amid the Fab Melo fallout. The brilliant run will end against an Ohio State team that is just too great a mismatch.
Syracuse had to turn into a different team entering the NCAA tournament, changing their ability to play a fine half-court set to a more pressing sensibility.
They are shooting lights out form the field and were the impetus to Wisconsin's failure in the Sweet 16. The Badgers were supposed to stifle the one last weapon at Syracuse's disposal with tough defenses that turn the hottest teams cold. 
In the end, the Orange shot 55 percent from the field and staved off disaster that we all thought was coming. Simply, Fab Melo was too integral to this team to see them master their way deep into March. 
We were wrong. 
Syracuse has proved yet again to have the grit and tenacity to skirt any issue on their roster, until now. They will match up with a team that proved to be as formidable as any Sweet 16 team. 
Ohio State cruised against a very good Cincinnati team that many thought would get over on the Buckeyes with a balanced and unrelenting attack.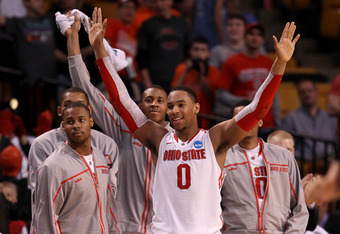 Elsa/Getty Images
Instead, the Buckeyes showed that they had more talent and could lean on some of the nation's best in Jared Sullinger and Deshaun Thomas. 
Sullinger may get the press, but Thomas gives the Buckeyes two big men that Syracuse must now acknowledge down low. 
Thomas finished the Sweet 16 rout with 26 points and seven rebounds while Sullinger went off for 23 points and 11 boards. 
The issue is that a player like Sullinger can bring out the defense with a fine perimeter shot that he never got going against the Bearcats. 
If he gets hot from distance, Syracuse will be all over the place making sure he has a body on him at all times. 
Without Melo, Syracuse is facing the first real mismatch of the tournament. Players like Scoop Jardine and CJ Fair are playing great ball right now, and will make this a back-and-forth war that will go down to the final moments. 
There is just too little in the middle to stave off an OSU team that rebounds 41.7 times a game in the tournament to Syracuse's 31.7. 
The game will come down to a battle in the paint, and the Buckeyes are dominating that right now. 
Syracuse has given us all a pleasant surprise in their run with out one of the best big men in the nation, but it all ends in the next round.