New York Jets Trade Drew Stanton to Indianapolis Colts
March 23, 2012

Jason Miller/Getty Images
Drew Stanton has gotten his wish.
According to the Jets' official Twitter feed, the team has agreed to trade Stanton to the Indianapolis Colts:
#RL The Jets have announced they have traded QB Drew Stanton to the Indianapolis Colts. Terms of the trade were undisclosed.

— New York Jets (@nyjets) March 23, 2012
The New York Daily News reported on Thursday that Stanton wanted to be released or traded following the Jets' trade for Tim Tebow.
What It Means
This is one less headache that the Jets have to deal with.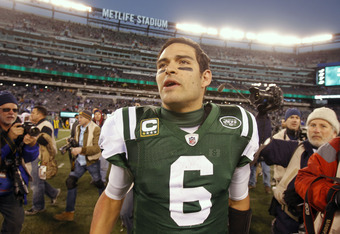 Rich Schultz/Getty Images
Stanton signed with the Jets on a one-year deal last week, with the plan being for him to take over as Mark Sanchez's primary backup. That all changed when the Jets dealt for Tim Tebow, with the mind to make him Sanchez's backup and to use him in special Wildcat formations.
Stanton didn't appreciate being bumped down in the pecking order. He made that known, and now he's gone. It was an easy call for the Jets.
In Indianapolis, Stanton will likely end up backing up Andrew Luck, who is the consensus favorite to be the No. 1 pick in the draft.
What Happens Next
Not a whole heck of a lot. There would have been more drama to this story if Stanton had actually stuck around in New York, as that would have left him brooding about being the Jets' third-string quarterback behind Sanchez and Tebow.
Now the Jets can get on with their lives, which will be complicated enough seeing as how they have to worry about figuring out how best to use Tebow without simultaneously pushing Sanchez aside. It's a very sensitive situation.
If Stanton ultimately ends up being Luck's backup, he can rest easy knowing he's looking up at a very good quarterback, as opposed to two mediocre ones.