Terry Callihan: 'We Produce Better Numbers Than Strikeforce and Bellator'
November 25, 2016
Every fighter deserves respect.
Unfortunately, that doesn't always happen.
But, if you fight for Terry Callihan—respect is a priority.
"When I first started out in the mixed martial arts industry, I really saw how a lot of fighters were being mistreated," Callihan told Bleacher Report.
"I would travel and have none of my expenses paid for. Not hotel, gas, or anything. I got to the point where I wasn't going to be traveling around anymore so I decided to create my own place," said Callihan. "A place that respects the fighters and takes care of them."
As a result, Spartan Fighting Championship was born.
However, it wasn't exactly smooth sailing from the get-go as Callihan had his hands full trying to compete against larger promotions.
SFC was booming, but not nearly enough.
Callihan decided a change needed to be made.
"The first thing I did was take over the matchmaking. I felt like we needed a change," said Callihan. "As the owner and promoter, I also took over some of the social media obligations."
"I hired some great people and its really been off the charts since. It's been a great experience," said Callihan.
Callihan will once again have the opportunity of promoting his prestigious promotion when Spartan Fighting Championship 13 kicks off on April 6 at the Big Sandy Superstore Arena in Huntington, W.Va.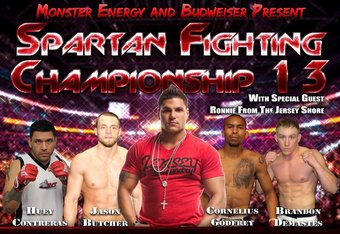 It is Callihan's hope that the 9,000-seat arena will be at least three-fourths full when arguably the biggest event in SFC history begins.
"Expectations are having the arena 75 percent full for this show. I truly believe that will happen considering the fights that are on there," said Callihan. "We have two of the best guys in the business fighting that night in Jason Butcher and Cornelius Godfrey."
"I've said it before and I'll say it again, Jason Butcher and Cornelius Godfrey have unbelievable talent and potential. Once they get a little more experience, they have the talent to be some of the best in the world," said Callihan. "They're that good."
As Callihan and the SFC continue to emerge as a legitimate threat in the MMA industry, they'll need to compete with the UFC, Strikeforce, and the Bellators of the world.
However, according to Callihan, SFC may have already arrived.
"If you look at the people we're putting in the stands compared to when Bellator or Strikeforce fights in our region, we have a better turnout. Our attendance has been above both of theirs," said Callihan. "We've had four fighters on our cards who've fought for Bellator and Strikeforce, and our fighters have beaten the Strikeforce and Bellator guys every time."
"We have a great pool of talent and I'm excited for the future."
For additional information, follow Garrett Derr on Twitter.