Florida vs. Louisville: Why Florida Is Guaranteed to Win the 2012 NCAA Title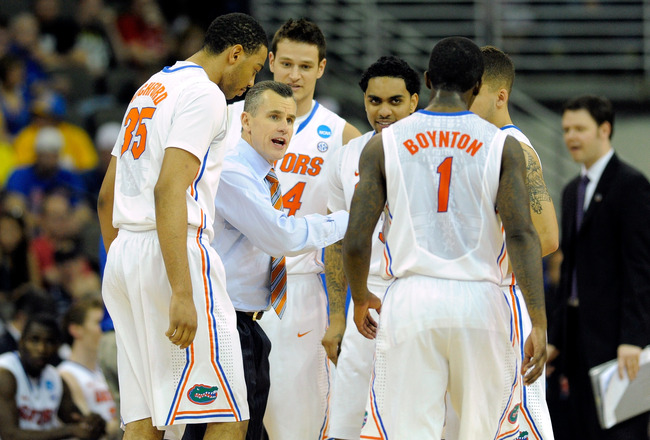 Eric Francis/Getty Images
Every time Rick Pitino and Billy Donovan meet on a basketball court, it always turns out in Pitino's favor.
To the tune of 6-0 since the two have both been basketball coaches.
Today's game between Louisville and Florida has more riding on it than just a friendly game between a mentor (Pitino) and his prized student (Donovan). The outcome will result in the Final Four, a trip to New Orleans and possibly an elusive national title for the victor.
Both coaches, one of the old school variety, the other possibly the best of the "younger" generation, will meet as two schools that were not part of the huge hoopla before the start of the 2012 NCAA tournament. Most saw them as an afterthought.
Maybe we should ask how these analysts feel now that these two teams have defied odds to get to where there are now.
And when the dust settles, could it be the student who finally bests his teacher? If so, it could mean a national title in Florida's future. It would also be the third in six years. Some people might call that a dynasty in terms of college sports.
Here are some reasons Florida will win the 2012 NCAA Title if they get past the Cardinals today.
Easy Road to the Elite Eight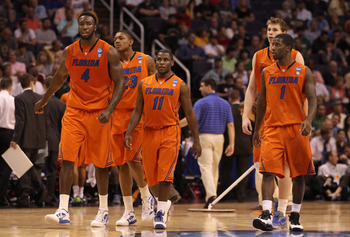 Christian Petersen/Getty Images
They were supposed to face Missouri in the second round. It's been a fairly easy road for this team. Florida has won by 70 points combined in their first three games.
After losing a third time to Kentucky and being ousted in the SEC tournament, Florida regrouped and committed itself to playing good basketball.
This has been Donovan's finest coaching job. These players aren't Joakim Noah, Corey Brewer and Al Horford, but Donovan has still put together a great team.
Players Are Stepping Up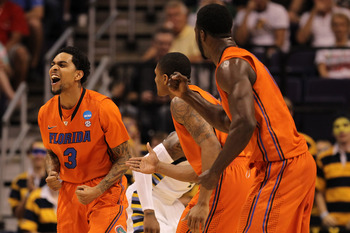 Jamie Squire/Getty Images
Will Yeguete, the team's best defensive player, went down with an injury a month ago.
Donovan needed to find players to take his place.
He found them in Casey Prather, Mike Rosario and Scottie Wilbekin.
Actually, the team started to come together and looked like a real machine in the SEC tournament.
It proves how good Donovan is as a coach.
Defense Is Playing Amazing Ball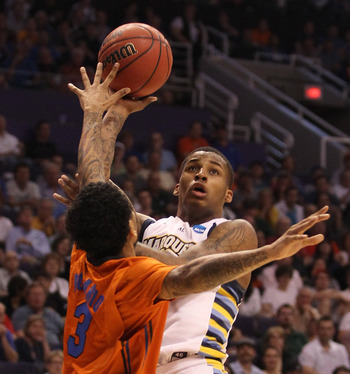 Christian Petersen/Getty Images
Surprisingly, the offense isn't playing all that well, and they are still winning.
The defense is what is keeping them alive in the tournament.
Look for that to continue, but if the the offense finds its rhythm, look out.
Bradley Beal
Jamie Squire/Getty Images
In the last month, Bradley Beal, a freshman, has become the leader of this club.
Not since Joakim Noah has a player stepped up and taken charge like he has.
Beal has proven to be a scorer as well, averaging 15 points per contest in the last month.
Even though he is a freshman, he makes this team go.
Donovan Determination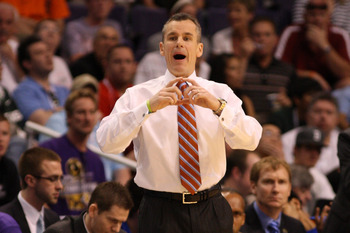 Christian Petersen/Getty Images
At some point, the teacher bows to the student.
We may see this today. If it were a Kentucky team, things may be a different story, but I get the sense it is time for Donovan step forward, ahead of his mentor.
The NCAA proves to be a stomping ground for events like that.
And this situation is just ripe for the picking.
Keep Reading