Elite 8 2012: Ohio State Will Be First Team to Expose Syracuse
March 23, 2012

Jared Wickerham/Getty Images
The determined Syracuse Orange have been able to get to the Elite Eight despite the loss of defensive anchor Fab Melo.
But the Orange haven't been particularly dominant, and by the time Ohio State is done with them, we won't be able to ignore their flaws.
What Jim Boeheim has been able to do with Syracuse after Melo was deemed ineligible has been remarkable. He's found a way to get contributions from Rakeem Christmas and Baye Keita, while keeping opposing offenses at bay.
But the Orange face an entirely different animal in Ohio State in the Elite Eight, and they won't be able to cover up their deficiencies in the low post anymore.
Now, let me say one thing. Ohio State has been inconsistent this season, which is why I don't see them making it to the National Championship Game. The Buckeyes built a big lead against Cincinnati in the Sweet 16, only to find themselves all of a sudden trailing with just over 11 minutes remaining in the game.
In that sense, I expect the Buckeyes to go through some scoring droughts against a solid defensive team in Syracuse.
But let me also say another thing. This Buckeyes team has the talent to go on offensive barrages, too. They went on a 17-1 run against the Bearcats to end Thursday's game.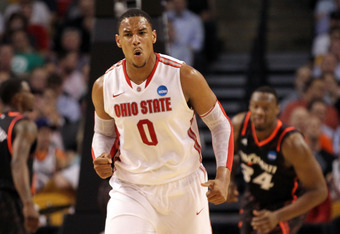 Jim Rogash/Getty Images
Led by Jared Sullinger, Ohio State will be the true test for Syracuse's bigs on Saturday. Sullinger was matched up against a legit big man in Yancy Gates on Thursday, only to explode for 23 points and 11 rebounds. Gates, who averaged 12.4 points and 9.2 rebounds during the regular season, finished with seven points and five rebounds.
There's also Deshaun Thomas, who has been a monster in the NCAA tournament. He scored 26 points and grabbed seven rebounds against Cincinnati. He's averaging 25 points, 8.6 rebounds and 1.6 blocks in three tournament games.
Syracuse made a decent player, in Wisconsin center Jared Berggren, look like a superstar on Thursday. Berggren scored 17 points, scoring both inside and outside. The Orange also grabbed only 23 rebounds.
In Sullinger and Thomas, Syracuse is going to have a nightmare on its hands it won't be able to overcome.
Follow me on Twitter. We can talk about Ohio State vs. Syracuse.